Why Was Office Depot, Inc. Stock Down 17% in April?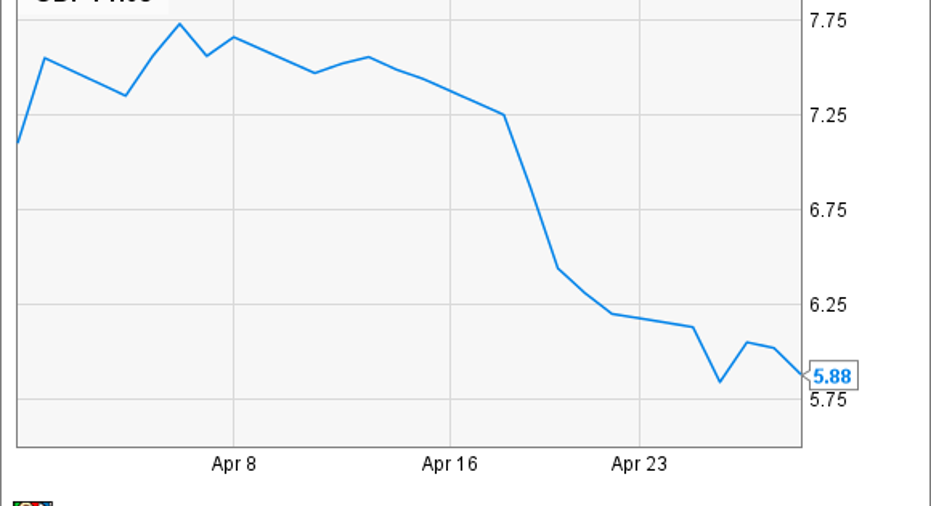 Office Depot desperately wants to sell itself.
The office supply chain has a deal in place to be acquired by rival Staples , but the Federal Trade Commission (FTC) has strongly opposed the sale. That has left the company in a weird sort of limbo where it may be sold to Staples or where it could end up remaining an independent company.
This situation has not been good for the company: It's dragged down both its earnings and its share price.
Image source: YCharts.com.
What: Office Depot reported sales of $2.5 billion in Q1 2016, a 9% drop from $3.9 billion in the same period in 2015. Earnings per share came in as it did in Q1 2015, at $0.08, but CEO Roland Smith was negative on the numbers.
"The protracted regulatory review of the pending Staples acquisition continues to have a substantial disruptive impact on our business," he said Roland Smith in the earnings release. "Our North American Business Solutions Division and International Division are more affected by this disruption and accordingly, both failed to meet our sales and profit expectations this quarter. In spite of the uncertainty surrounding the acquisition, our associates around the world continue to demonstrate focus, drive and dedication as we finalize this process."
That pessimism plus the general uncertainty surrounding the company sent its shares down from a March 31 close of $7.10 to finish the month at $5.88, a 17.18% drop, according to data provided by S&P Global Market Intelligence.
So what: These numbers are not all that bad, and given the climate Office Depot operates in, they could be considered pretty good. The problem is that it's hard to be bullish on the stock when the fate of the company remains unknown.
It's possible the Staples deal will be denied, which leaves Office Depot in a precarious position. It would likely try to sell itself to another buyer, but that would take time and force a company that was preparing to be swallowed up by its bigger rival to operate on its own for longer.
Now what: The future of this stock will depend on whether Staples can get the FTC to back down. That seems possible, but so far, the agency has rejected any concessions the company has offered in order for the deal to be approved.
An end to the saga may be in sight, though, as a Staples court case against the FTC will be ruled on soon.
"Regarding the pending Staples acquisition, we expect U.S. federal district court Judge Sullivan to render his decision by May 10, 2016," said Smith. "We continue to believe that this transaction provides substantial benefits to our shareholders and all our customers."
One way or another, the judge's decision will provide some clarity and either allow Office Depot to become part of Staples or force it go on by itself.
The article Why Was Office Depot, Inc. Stock Down 17% in April? originally appeared on Fool.com.
Daniel Kline has no position in any stocks mentioned. He mostly buys his office supplies online and not from Staples or Office Depot. The Motley Fool has no position in any of the stocks mentioned. Try any of our Foolish newsletter services free for 30 days. We Fools may not all hold the same opinions, but we all believe that considering a diverse range of insights makes us better investors. The Motley Fool has a disclosure policy.
Copyright 1995 - 2016 The Motley Fool, LLC. All rights reserved. The Motley Fool has a disclosure policy.