Why Warren Buffett Thinks Berkshire Hathaway Stock Is Worth At Least $206,500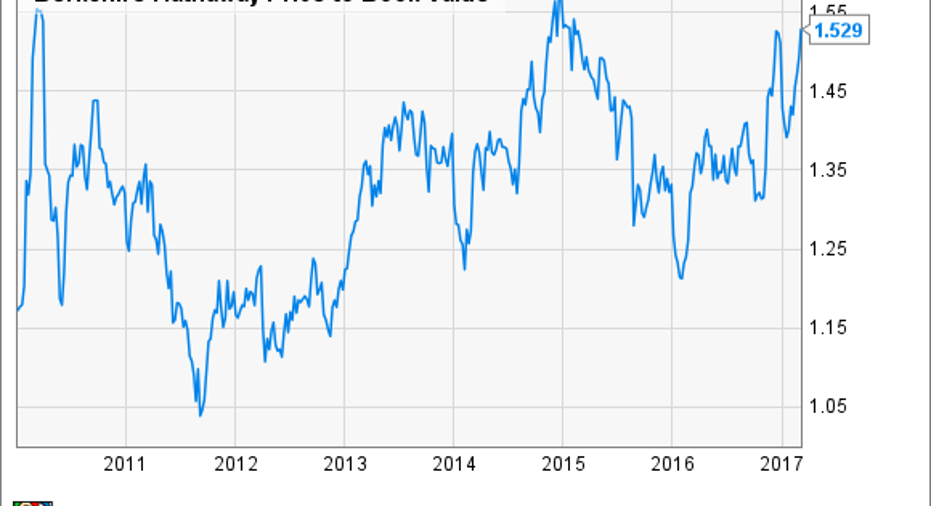 Warren Buffett's exact method for valuing a stock, including Berkshire Hathaway (NYSE: BRK-A) (NYSE: BRK-B) isn't public information. However, Buffett has given us a concrete price level -- 120% of Berkshire's book value -- where he would consider the stock cheap enough to buy large quantities of shares back with Berkshire's own capital. Here's why Buffett thinks Berkshire's stock is worth so much, and why his buyback threshold should matter to you as an investor.
Berkshire Hathaway's book value, and why Warren Buffett thinks it's worth more
Over the 52-year history of the modern Berkshire Hathaway, the company's per-share (A shares) book value has grown from $19 to $172,108, including 10.7% growth during 2016 alone. However, Warren Buffett feels that his company is worth substantially more than this amount.
Image Source: The Motley Fool.
The reason has to do with the accounting rules that make some of Berkshire's assets look like they're worth less than they actually are.
Specifically, when Berkshire's business model transitioned from owning marketable securities (stocks) to buying entire companies in the 1990s, the accounting practices Berkshire was forced to use resulted in a gradual deviation between the company's book value and the actual value of its assets. I don't want this to turn into an accounting lesson, so the simple description of the discrepancy is that the way Berkshire accounts for companies it controls doesn't reflect their true value as time passes. In a nutshell, losing businesses are required to be written down as they fail, but winning businesses are never revalued upward.
Berkshire certainly has had some goodwill write-offs over the years. And not surprisingly, many of the businesses Berkshire has acquired have done quite well, but this fact is not reflected in the company's book value. The result is a natural, gradual widening of the gap between Berkshire's book value, and the company's intrinsic value per share. It's impossible to know for certain how much Berkshire's shares are truly worth -- after all, if I asked 10 analysts to figure it out, I'd probably get 10 different numbers -- but Buffett has said that Berkshire's intrinsic value "far exceeds" its book value at this point.
Buffett says this explains why Berkshire's stock performance over the years has exceeded its book value gains by a wide margin.
Berkshire's share repurchase policy
We all know that Warren Buffett likes to buy his stocks cheap. Or more specifically, Buffett loves to buy "wonderful companies at fair prices", and it's fair to assume he thinks his Berkshire Hathaway is a pretty wonderful company.
So, when Buffett and Berkshire's board say that they would buy back large quantities of Berkshire stock if it were trading for 120% of book value or less, we can infer that Buffett believes the shares would be highly attractive at that price level, which would translate to about $206,500 for Berkshire's Class A shares or just under $138 for the more widely owned B shares.
Even Buffett acknowledges that it's impossible to precisely determine Berkshire's intrinsic value, so this figure represents a "significant discount" to the company's calculation in order to account for any difference in the actual and calculated intrinsic value. In other words, 120% of book value would be a cheap price to pay for Berkshire stock, whatever valuation method you use.
Now, Berkshire doesn't get down to this low of a valuation often -- in fact, the last time it was reached was in 2012. However, market conditions having nothing to do with Berkshire can (and have) created such opportunities in the past.
BRK.B Price to Book Value data by YCharts
What it means to you as an investor
Obviously, Berkshire Hathaway trades for a significant premium to its book value right now, so this discussion may seem irrelevant to investors. At more than 150% of book value, Berkshire isn't exactly expensive from a historical standpoint, but it's pretty far above Buffett's definition of "cheap."
However, the point is that nobody knows how much Berkshire Hathaway's true intrinsic value is, but it's clearly more than its book value. By publicly stating that he would be willing to use Berkshire's capital to buy back shares at 120% of their book value, Warren Buffett is putting a solid number to the question "when would Berkshire shares be considered cheap?"
If history is any indicator, there's a strong chance that Berkshire could plunge to this level or less sometime in the coming years. So, keep this price level in mind, as it's the level you could get in on the Buffett stock at a price that the Oracle of Omaha himself would be glad to pay.
10 stocks we like better than Berkshire HathawayWhen investing geniuses David and Tom Gardner have a stock tip, it can pay to listen. After all, the newsletter they have run for over a decade, Motley Fool Stock Advisor, has tripled the market.*
David and Tom just revealed what they believe are the 10 best stocks for investors to buy right now... and Berkshire Hathaway wasn't one of them! That's right -- they think these 10 stocks are even better buys.
Click here to learn about these picks!
*Stock Advisor returns as of February 6, 2017
Matthew Frankel owns shares of Berkshire Hathaway (B shares). The Motley Fool owns shares of and recommends Berkshire Hathaway (B shares). The Motley Fool has a disclosure policy.