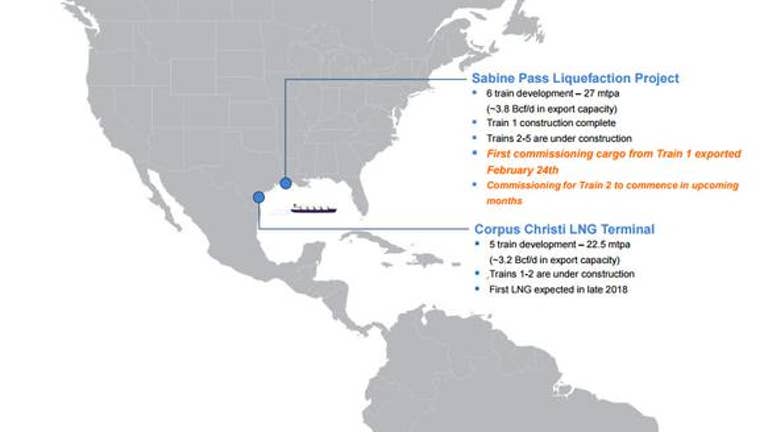 Like many energy names, Cheniere Energy (NYSEMKT: LNG) has struggled in the current depressed commodity environment. In the face of all this, Cheniere became the first company in the continental U.S. to export LNG on February 24, 2016. As Cheniere's chairman and interim CEO Neal Shear said, "This historic event opens a new chapter for the country in energy trade and is a significant milestone for Cheniere as we prepare Train 1 for commercial operations."
Cheniere has grown incredibly over the past ten years with revenue increasing from $7 million in 2008 to $270 million, but, I believe, the best years are still ahead of it. Does this leading LNG exporter present an opportunity? Yes, and here's why:
High capital outlays and geographic advantage give the company significant moatCheniere is building the largest U.S. LNG export projects in the U.S., and it's at the forefront of LNG exporting in the United States. Cheniere's Sabine Pass LNG Terminal, located in Louisiana, is on a deep water shipping channel, less than four miles from the Gulf Coast in the U.S. The company owns the Creole Trail Pipeline that interconnects the Sabine Pass and interstate pipelines, giving the company an enormous geographic advantage in procuring natural gas for exportation. The Corpus Christi LNG Terminal has similar characteristics but is located in South-East Texas.
Source: Cheniere investor presentation
Cheniere will benefit from the massive up-front capital needed to build these LNG terminals. All-in-all, Cheniere will invest $30 billion for nine LNG trains that can produce around 40 mtpa. This massive capital outlay is a huge barrier to entry that many competitors will be unable to overcome.
All these things give Cheniere a significant advantage over the competition, however, the regulatory burden may be the most important aspect regarding future competition:
Cheniere was the first company to get this license, giving them a big "head-start" in the race to export LNG from the U.S. The company will have a near-monopoly the next few years, until other competitors "catch-up" and bring new export facilities to market.
Source: Cheniere investor presentation
Long-term growth waveCheniere should benefit handsomely from one of the fastest growing industries in the world. Demand is expected to increase to 300 mtpa in 2030, a CAGR of 4.8%. LNG is a growing and evolving marketplace with existing and new markets adding to the rise in demand. Also, one of the things that attracts me so much to Cheniere is the company's potential market share in the estimated U.S. LNG market by 2025.
Source: Cheniere investor presentation
Wood Mackenzie, for example, has issued a projection showing the global LNG market increasing "50% between 2015 and 2020 ... one of the fastest growing in the world." Many countries that use LNG are waiting for lower cost solutions, and with the U.S. being the cost leader in the category, Cheniere is uniquely positioned to help get U.S.-based LNG to the global market.
On that note, Cheniere is benefiting short-term from the global arbitrage in U.S. LNG prices. As an LNG exporter, it's critical for the U.S. to be the low-cost producer of natural gas so there can be a price arbitrage between US gas prices and Global markets. There exists a healthy arbitrage between US landed LNG prices versus that of international markets.
Japan: $8.50/MMBtu
Asia and the Middle East: $6-$8/MMBtu
European Union: $5.35/MMBtu
U.S.: $1.62/MMBtu
Obviously, there is a higher landed price for exporting US gas across the globe, but you can see there is still a sizable gap between the U.S. and global gas market.
What this Fool believesCheniere is a long-term play -- its shares aren't for those looking to make a quick buck. The company has fallen over 50% the past 12 months alone and sits near 52-week lows as the market continues to worry about the company's debt obligations. I'm not saying Cheniere has a fortress of a balance sheet by any means. But remember, Cheniere just started exporting LNG this year. Cash flow will only increase from here as the company should be able to pay down debt at an increased rate going forward.
Management has guided for roughly $1.6 billion in pre-tax cash flow once the capacity is built up with seven trains. Management also estimates $270 million in CapEx annually for the next 20 years. Let's say the CapEx is double that figure, it still leaves the company with more than $1 billion in FCF. That FCF figure would have shares trading at a P/FCF of fewer than nine times current levels based on the current market cap of $8.34 billion (enterprise value of $26.41 billion). If the company were able to generate this free cash flow number in the next 3 to 5 years, shares would be extremely undervalued at current levels. With the capacity for another 11 trains, these cash flows will only rise as the company increases the number of trains.
NOTE: the company has significant NOLs over $3 billion, so I anticipate a low effective tax rate in the years ahead.
Source: Cheniere investor presentation
Even with all of the negativity surrounding the company, I believe the company will stay afloat, survive, and thrive going forward. Ultimately, the future potential of the company comes down to free cash generation and the future of LNG exports across the globe, which looks quite lucrative right now.
Shares look appealing at a projected price to free cash flow of less than nine times (based on management projections in 2016-2018). There may be some setbacks from time to time in the company -- it's only natural. But I see lots of upside in this company going forward.
The article Why Wall Street is Dead Wrong About Cheniere Energy originally appeared on Fool.com.
Luke Neely has no position in any stocks mentioned. The Motley Fool has no position in any of the stocks mentioned. Try any of our Foolish newsletter services free for 30 days. We Fools may not all hold the same opinions, but we all believe that considering a diverse range of insights makes us better investors. The Motley Fool has a disclosure policy.
Copyright 1995 - 2016 The Motley Fool, LLC. All rights reserved. The Motley Fool has a disclosure policy.