Why Wal-Mart Dumped Visa At Its Canadian Stores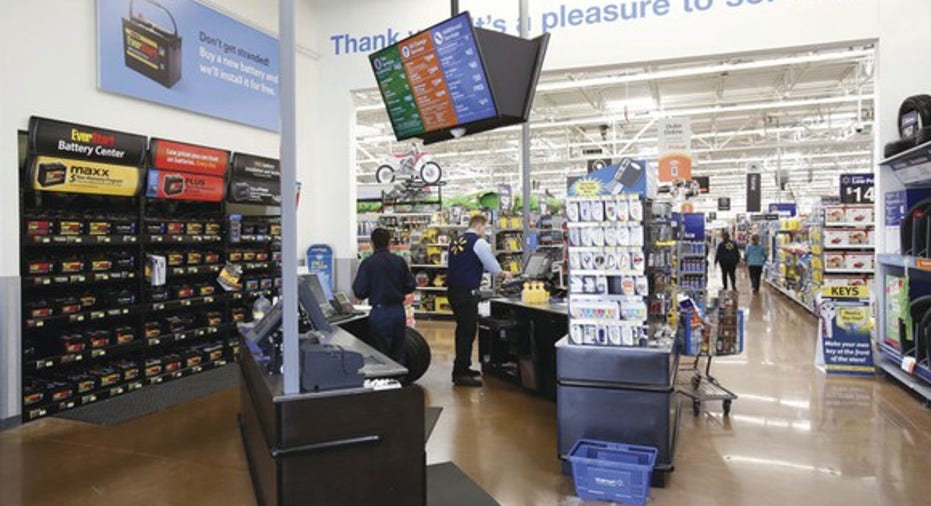 Wal-Mart recently announced that it will no longer accept Visa cards at its Canadian stores after failing to reach an agreement on "acceptable" swipe fees. The new policy will take effect on July 18 in its Thunder Bay, Ontario locations before rolling out in phases across more than 370 stores nationwide.
Image source: Wal-Mart.
Visa's swipe fees in Canada range from 1.42% to 2.08%, which seems comparable to Mastercard's 1.44% to 2% fees. However, Mastercard offers much lower rates (as low as 1.26%) to larger retailers if they exceed a net purchase volume of $3 billion. Wal-Mart Canada didn't address those figures in its press release, but noted that it paid "over $100 million in fees to accept credit cards" every year, and that lower swipe fees were "necessary" to keep prices low.
Why Wal-Mart and Visa can't get along
Back in 2013, a U.S. federal judge approved a $5.7 billion class action settlement between merchants and Visa and Mastercard. But Wal-Mart, Target, and Amazon opted out of the settlement for the freedom of pursuing damages on their own.
The following year, Wal-Mart suedVisa for $5 billion in a U.S. District Court. The twosides seemed to be negotiating a settlement last October, but Wal-Mart's new ban on Visa cards in Canada suggests that those talks have fallen apart.
Wal-Mart's ban in Canada suggests that it might even dump Visa's cards in other markets like the U.S. Losing the world's top retailer would hurt Visa, but Visa likely thinks that Wal-Mart can't block the world's biggest payments processing network without alienating customers. Wal-Mart sued Visa again this May, claiming that the payments network was preventing it from having an extra safeguard against fraud, by disallowing shoppers to enter PIN codes for chip-enabled debit cards.
Image source: Pixabay.
How this affects mobile payments
Wal-Mart's ongoing battles with Visa have greatly shaped its attitude toward NFC (near field communications) mobile payment solutions like Apple Pay and Alphabet's Android Pay. Wal-Mart still blocks NFC payments at its stores because they are processed as credit card transactions with the standard swipe fee.
That's why Wal-Mart and a consortium of retailers called MCX launched their own QR code-based mobile payments platform called CurrentC in 2012. CurrentC bypasses credit card networks and uses an older platform called an automated clearinghouse, which is much slower but can cost 90% less than credit card swipes.
However, CurrentC never caught on because the app had to be linked to personal checking accounts, gift cards, or retailers' private-label payment cards. The QR codes were also considered inefficient compared to the simple tap-and-pay function of NFC chips.
Mixed signals from Wal-Mart
Last December, Wal-Mart seemingly gave up on CurrentCby unveiling Walmart Pay, a new mobile app for iOS and Android which works with all credit cards, debit cards, and Walmart gift cards across the U.S.
The app still uses QR codes instead of NFC, but its compatibility with major credit cards indicates that it's willing to pay credit card companies swipe fees from its mobile app.However, by integrating Walmart Pay with its core app, which had 22 million users at the end of last year, the retailer hopes to track customer purchases and offer targeted promotions. Wal-Mart probably believes that data will provide its credit card swipes with more added value than simple card transactions. Wal-Mart also insists that it still hasn't given up on CurrentC entirely.
Image source: Wal-Mart.
It's all about the margins
Wal-Mart popularized "everyday low prices", but that strategy now faces intense pressure from e-tailers with lower overhead costs. Wal-Mart already matchesthe prices of any online retailer, including Amazon, but it's also spending billions on wage hikes and e-commerce investments.
Wal-Mart finished last quarter with an operating marginof 4.5%, compared to 4.9% a year ago. Total operating income fell 7.1% annually. The company expects those contracting margins to cause its earnings to decline upto 12% this year.
Cutting costs in areas like swipe fees could offset those declines. Wal-Mart is clearly declaring war against Visa with its ban in Canada, but it's unclear if the company is bold enough to implement that ban in a bigger market like the U.S. Therefore, investors in both companies should keep a close eye on this game of chicken to see which company flinches first.
The article Why Wal-Mart Dumped Visa At Its Canadian Stores originally appeared on Fool.com.
Suzanne Frey, an executive at Alphabet, is a member of The Motley Fool's board of directors. Leo Sun owns shares of Amazon.com. The Motley Fool owns shares of and recommends Alphabet (A shares), Alphabet (C shares), Amazon.com, Apple, MasterCard, and Visa. The Motley Fool has the following options: long January 2018 $90 calls on Apple and short January 2018 $95 calls on Apple. Try any of our Foolish newsletter services free for 30 days. We Fools may not all hold the same opinions, but we all believe that considering a diverse range of insights makes us better investors. The Motley Fool has a disclosure policy.
Copyright 1995 - 2016 The Motley Fool, LLC. All rights reserved. The Motley Fool has a disclosure policy.