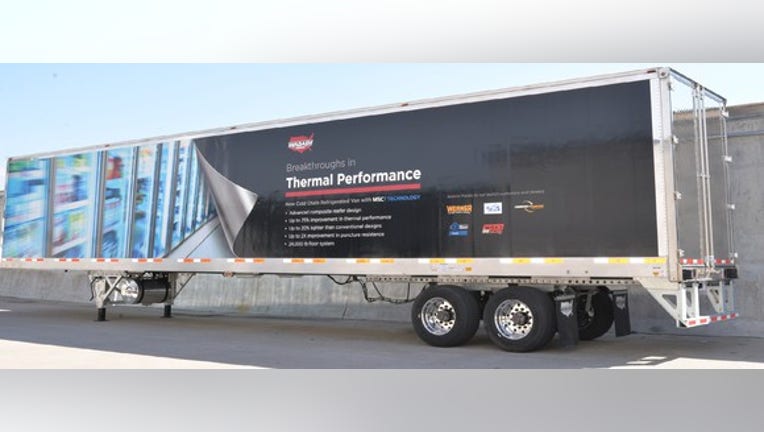 A new refrigerated van introduced by Wabash in 2016. IMAGE SOURCE: Wabash National.
What happened
Shares of Wabash National Corporation (NYSE: WNC) were up 14% as of 1:00 p.m. EST on Wednesday after the semi-trailer and liquid transportation systems manufacturer released mixed fourth-quarter 2016 results and strong forward guidance.
So what
Quarterly revenue fell 15% year over year, to $462.1 million, with strong customer pick-up driving higher-than-expected trailer shipments of 60,950. That translated to a 29.1% decline in adjusted net income, to $24.2 million. Adjusted net income per share fell 25.5%, to $0.38. Analysts, on average, were expecting lower revenue of $450.9 million and slightly higher adjusted earnings of $0.39 per share.
"We are extremely pleased with our consolidated results for 2016 as we set new records in gross profit, gross profit margin, operating income and operating margin," added Wabash CEO Dick Giromini. "The overall strength in the Company's operating performance highlights the significant progress made through our growth and diversification initiatives driven by our long-term strategic plan to transform the Company into a diversified industrial manufacturer with a higher growth and margin profile, while leveraging our expertise in lean and six sigma optimization initiatives."
Now what
Wabash also enters 2017 with a backlog of orders totaling $802 million, up 25% sequentially from Q3. Combined with Wabash's new product introductions, operational efficiency initiatives, and a healthy forecast for industry demand, Wabash now expects full-year new trailer units to be 51,000 to 55,000, which should translate to 2017 adjusted earnings of $1.40 to $1.55 per share. By comparison, Wall Street was only modeling 2017 earnings of $1.34 per share.
In the end, then, it's no surprise investors were willing to overlook Wabash's slight bottom-line shortfall relative to expectations in Q4. Assuming the company is able to continue to capitalize on strong industry demand, I suspect Wabash shares have more room to run higher going forward.
10 stocks we like better than Wabash National When investing geniuses David and Tom Gardner have a stock tip, it can pay to listen. After all, the newsletter they have run for over a decade, Motley Fool Stock Advisor, has tripled the market.*
David and Tom just revealed what they believe are the 10 best stocks for investors to buy right now... and Wabash National wasn't one of them! That's right -- they think these 10 stocks are even better buys.
Click here to learn about these picks!
*Stock Advisor returns as of January 4, 2017
Steve Symington has no position in any stocks mentioned. The Motley Fool has no position in any of the stocks mentioned. The Motley Fool has a disclosure policy.