Why Vonage Holdings, 8x8, and RingCentral Plunged in March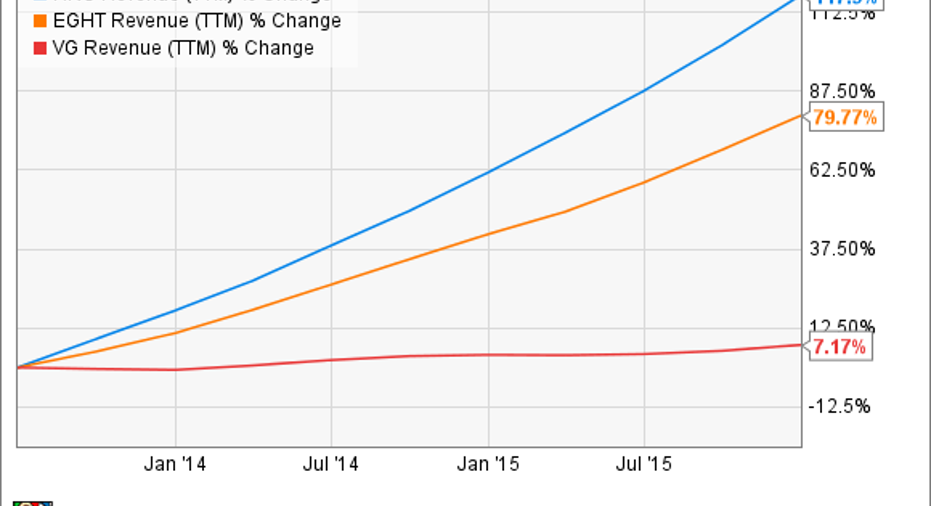 Image source: Pexels.
What: The stock of three Voice over Internet Protocol providers fell last month. Shares of Vonage Holdings fell 14.9% in March, according to data from S&P Global Market Intelligence. By the end of the month, the stock had fallen 22% year to date and 38% from 52-week highs. Voice-over-IP rival RingCentral also fell 14.9% in March. That stock has plunged 33% since early January, and sits 39% below yearly highs. Meanwhile, sector peer 8x8 dropped 13.5% lower in March. That stock has held up better over a longer time span, falling just 4% in 2016 -- but still sits 22% below 52-week highs.
So what: The largest plunge for all three of these VoIP providers was around March 8, when PC Magazine published a roundup of the best VoIP services. While RingCentral and Vonage fared well in the review, a pair of Skype-branded alternatives from Microsoft walked away as the biggest winners. In particular, Skype's bang for the buck trounced the stronger feature sets found in RingCentral and Vonage Business.
8x8 was not included in PC Mag's article, but its services and pricing levels are comparable to RingCentral or Vonage Business. So investors were quick to apply the popular magazine's conclusions to this stock as well.
Now what: Cloud-based communications are feature-packed and cheap compared to traditional landlines. From that perspective, specialists like Vonage and 8x8 are leaders and veterans in a promising market.
On the other hand, larger and financially stronger businesses have picked up on the same opportunity. RingCentral and friends are now facing challenges from Microsoft and many other titan-sized technology experts. The proof is in the pudding, and these VoIP experts must continue to show that they can deliver healthy business results in head-to-head competition with true giants.
None of them actually reported quarterly results in March, so investors latched onto third-party information instead. RingCentral's next report will come on April 27, and the others will follow in May. For your reference, here's how they have performed in recent years:
RNG Revenue (TTM) data by YCharts
RNG Revenue (TTM) data by YCharts
The article Why Vonage Holdings, 8x8, and RingCentral Plunged in March originally appeared on Fool.com.
Anders Bylund has no position in any stocks mentioned. The Motley Fool recommends MSFT. Try any of our Foolish newsletter services free for 30 days. We Fools may not all hold the same opinions, but we all believe that considering a diverse range of insights makes us better investors. The Motley Fool has a disclosure policy.
Copyright 1995 - 2016 The Motley Fool, LLC. All rights reserved. The Motley Fool has a disclosure policy.