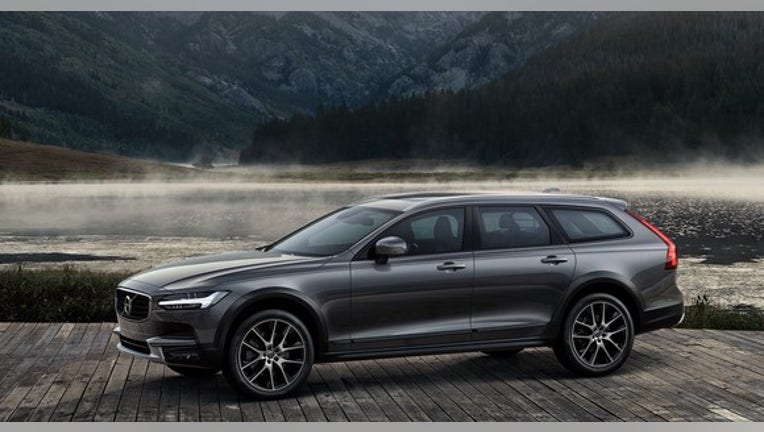 New models like the V90 Cross Country have Volvo Cars on an upswing amid signs the Swedish automaker is preparing for an IPO. Image source: Volvo Cars.
Swedish automaker Volvo Cars said this week that it has raised 5 billion Swedish krona ($532 million) from the sale of "preference shares" to a group of Swedish institutional investors, a move the company said was a step toward an initial public offering.
Wait. Volvo isn't public?
This confuses many investors, so let me explain.
Volvo AB (NASDAQOTH: VOLVY) is a public company, a major manufacturer of trucks, buses, construction equipment, and big engines for marine and industrial applications. It used to make cars, too -- but it sold its car-making unit to Ford Motor Company (NYSE: F) in 1999.
That car-making unit is Volvo Cars. Ford sold it to Chinese automaker Geely Automobile Holdings Limited (NASDAQOTH: GELYF) in 2010 as part of then-CEO Alan Mulally's effort to streamline Ford's global product portfolio.
Long story short: Volvo AB isn't Volvo Cars. Volvo Cars is a wholly owned subsidiary of Geely. Geely is public, but Volvo Cars isn't -- at least right now.
Okay, so what is this fundraising deal about?
Volvo Cars said it sold newly issued "preference shares" to three Swedish institutional investors, two pension funds, and an insurance company. It said these shares may either be repurchased by the company or converted into "listed ordinary shares" (e.g., publicly traded common stock) at the discretion of "the majority shareholder" in the company.
The share sale followed two bond issues earlier in 2016, all intended to diversify Volvo Cars' long-term funding sources -- but it's the first issue of equity shares since Geely bought the company.
Why do we think this has anything to do with Volvo Cars going public?
The company said it does. Here's what Volvo Cars said in the press release announcing the sale of the preference stock: "Today's move is another step toward Volvo Cars' long expressed ambition to act as a listed company."
It's no secret that CEO Hakan Samuelson has wanted to take Volvo Cars public for a while. The company has begun releasing quarterly financial results as if it were public. Officially, Geely has said there are "no plans" for a Volvo Cars IPO, but the stock issue indicates that things are moving in that direction.
How is Volvo Cars doing?
There's room for improvement, but the company is on a clear upswing thanks to some strong new models, particularly the new top-of-the-line 90 Series range. Sales are up, and margins are improving.
Here's how its third-quarter numbers compared with year-ago results.
Data source: Volvo Cars. Financial results are shown as millions of Swedish krona. (1 krona = $0.11 as of December 22.)
Its operating profit margin of 5% (6.1% through the first three quarters of 2016) is low compared with its German luxury-car rivals, all of which target operating margins in the 8% to 10% range. But it's substantially improved from the year-ago period, and the company is on track for its best full-year operating margin since it was acquired by Geely.
Should investors keep an eye on this?
I think so. I think it's fair to say Volvo Cars has performed better over the last couple of years than most analysts would have expected. There's still room for improvement around margins, but overall, the company is in a fairly strong position.
Volvo Cars' current product line is well-regarded by critics, its brand is still very strong, and its partnerships withUber TechnologiesandAutoliv(NYSE: ALV) aroundself-driving technologieswill help it stay in step with its German rivals and new high-tech industry entrants.
Long story short: A Volvo Cars IPO could be an interesting opportunity for investors eyeing the intersection of technology and autos.
10 stocks we like better thanWal-MartWhen investing geniuses David and TomGardner have a stock tip, it can pay to listen. After all, the newsletter theyhave run for over a decade, the Motley Fool Stock Advisor, has tripled the market.*
David and Tomjust revealed what they believe are the10 best stocksfor investors to buy right now...and Wal-Mart wasn't one of them! That's right -- theythink these 10 stocks are even better buys.
Click hereto learn about these picks!
*StockAdvisor returns as of December 12, 2016.The author(s) may have a position in any stocks mentioned.
John Rosevear owns shares of Ford. The Motley Fool owns shares of and recommends Ford. The Motley Fool recommends Autoliv. Try any of our Foolish newsletter services free for 30 days. We Fools may not all hold the same opinions, but we all believe that considering a diverse range of insights makes us better investors. The Motley Fool has a disclosure policy.