Why Volkswagen's Settlement Won't End Its Uncertainty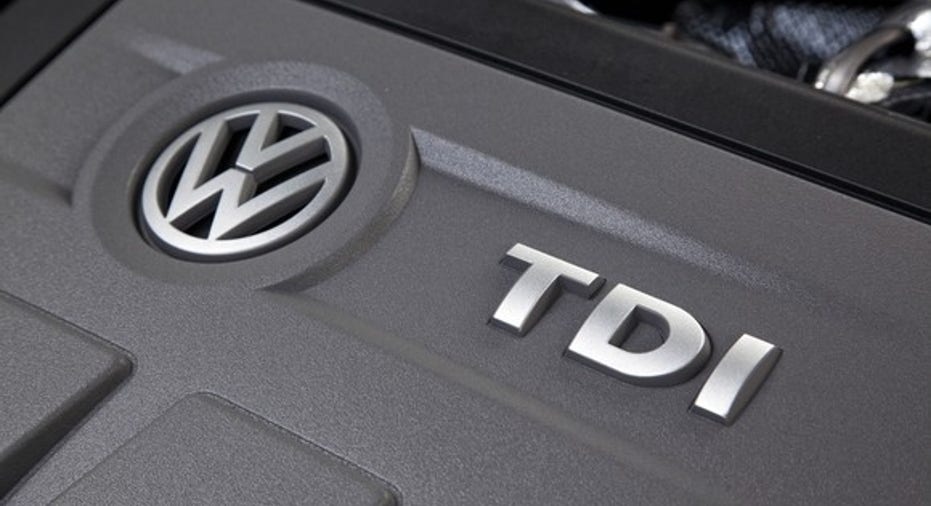 VW has agreed to settle claims related to 2009-2015 vehicles sold in the U.S.with its 2.0 liter four-cylinder TDI engine, shown. It's a big step, but it doesn't end VW's diesel woes. Image source: Volkswagen.
Volkswagen has reached a deal to settle a slew of claims related to its diesel-emissions scandal. Here's what investors need to know.
How much will this cost VW?
It could cost VW as much as $15.3 billion. Here's how that breaks down:
VW will set up a settlement fund with a maximum value of $10.033 billion to compensate owners of 2009-2015 vehicles with the 2.0 liter TDI engine. All owners will get a cash payment of between $5,100 and roughly $10,000. In addition, VW will offer to buy back the vehicles at the cars' values as of September 2015, before the scandal broke. Those with current leases can opt to terminate the leases without penalty. Alternatively, customers can choose to keep their vehicles and have them repaired to comply with the Clean Air Act.
VW will pay $2.7 billion over the next three years into an "environmental trust" that will make grants to clean-air projects in U.S. states. The idea is that this fund will offset the impact of the excess emissions from the offending engines over the last several years.
VW agrees to invest $2 billion over 10 years in zero-emissions vehicle (ZEV) infrastructure, access, and awareness initiatives in the U.S.
VW will pay $603 million to settle claims filed by a slew of U.S. states, Puerto Rico, and the District of Columbia.
If all owners opt for the buyback, it'll cost VW the full $15.3 billion, but it's possible the final bill will be considerably less.
What does this settlement settle?
It settles civil claims specific to vehicles powered by the the 2.0 liter TDI engine that were brought by the U.S. Environmental Protection Agency (EPA), the California Air Resource Board (CARB), the U.S. Federal Trade Commission (FTC), and owners of the affected cars (via a class action lawsuit).
What claims are still outstanding in the U.S.?
This settlement doesn't cover potential civil and criminal actions instituted by the U.S. Department of Justice. Nor does it cover any claims related to the other cheating diesels, the VW, Audi, and Porsche models equipped with 3.0 liter TDI V6 engines. That's separate set of civil claims filed by the EPA and state environmental regulators, the FTC, and owners via a class action suit.
Is this good news or bad news for VW?
On one hand, it's good news: It's a lot of money, but it settles the worst of the charges in the U.S. in a way that should satisfy owners of the affected cars. For VW, it's a big step toward putting the scandal in the rearview mirror.
On the other hand, the settlement has the potential to open a huge can of worms.
VW is still facing civil and criminal charges related to the diesel scandal in many other countries. If some of those countries decide to use the U.S. settlement as a template for their own settlements, forcing VW to buy back thousands or millions of vehicles at September 2015 values, this will get really expensive in a hurry.
VW is unlikely to go out of business entirely. It's a hugely important employer in Germany, and I can't imagine the German government would allow it. But it's not hard to see how expenses related to the scandal could swamp VW to the point where it needs a government bailout of some kind.
Is it time for investors to think about buying beaten-up VW shares?
I'm still advising against it.
Even setting aside the potential for a Brexit-related recession in Europe, and concerns about VW's shareholder-unfriendly corporate governance, VW still isn't looking like a buy to me because there's still a lot of uncertainty around the final cost of the scandal.
If other jurisdictions decide to force VW to offer buybacks, that could add billions to the price tag, potentially crippling VW to the point where the German government might have to step in. Even in the U.S., there's still another big shoe to drop: The Justice Department hasn't yet had its say.
It's still possible the expenses related to this mess could set back VW's effort to develop the advanced technology it will need to be competitive in a few years. That, in turn, would raise big doubts about the company's long-term prospects for growth. Until we have more clarity, I'd advise steering clear.
The article Why Volkswagen's Settlement Won't End Its Uncertainty originally appeared on Fool.com.
John Rosevear has no position in any stocks mentioned. The Motley Fool has no position in any of the stocks mentioned. Try any of our Foolish newsletter services free for 30 days. We Fools may not all hold the same opinions, but we all believe that considering a diverse range of insights makes us better investors. The Motley Fool has a disclosure policy.
Copyright 1995 - 2016 The Motley Fool, LLC. All rights reserved. The Motley Fool has a disclosure policy.