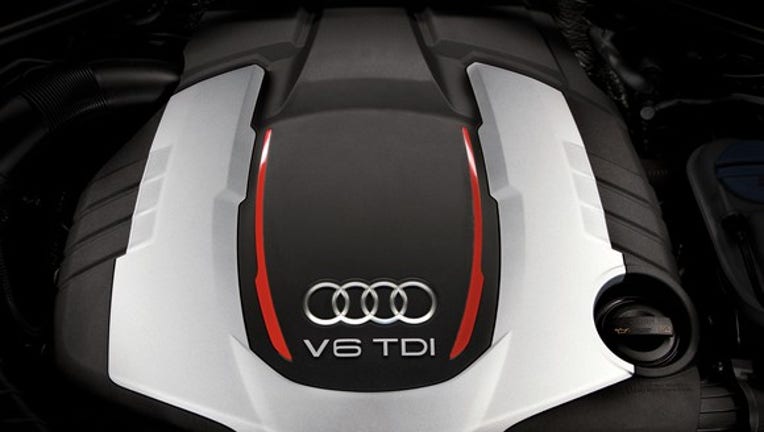 Volkswagen AG(NASDAQOTH: VLKAY) has admitted that many Audis have software that lowers the vehicles' carbon dioxide (CO2) emissions when an emissions test is underway, according to a Reuters report.
This software isn't related to the code that's at the heart of Volkswagen's diesel-emissions cheating scandal. It's a new find, and it could expose VW and its luxury brand up to a completely separate set of charges in the U.S. and Europe.
The U.S. Environmental Protection Agency (EPA) has already opened a new investigation into the software, according to reports.
What we know about this latest software discovery
Germany's Bild am Sonntag newspaper first reported last week that the powerful California Air Resources Board (CARB) discovered the software inquestionwhile testing an Audi equipped with an automatic transmission. The software lowers CO2 emissions by detecting whether a vehicle's steering wheel is being turned as it would be while driving on a road.
Audi's strong-selling Q5 SUV is one of the models reported to containsoftware that lowers CO2 emissions under testing. Image source: Audi.
According to the Bild report, the software was used in some diesel and gasoline Audi models in Europe for years. The models inquestion include Audi's A6 and A8 sedans, as well as the popular Q5 SUV.
It's not yet clear whether the software was deliberately designed to cheat emissions tests or whether it had another (legitimate) purpose. That's what the EPA's investigation is reportedly working to determine right now.
Reuters is also reporting that the U.S. law firm Jones Day, which was commissioned by VW to conduct an outside investigation of the diesel-cheating scandal, will question Audi CEO Rupert Stadler about the new allegations.
Why this is different from the diesel scandal
The cheating software in VW's diesel-powered vehicles manipulated the level of oxides of nitrogen in the exhaust, lowering the emissions when it detected that a government test was underway. Oxides of nitrogen are pollutants that contribute to the formation of smog. Levels in vehicle exhaust are regulated very strictly in the United States under the Clean Air Act and even more strictly in smog-prone California -- but the limits are less strict in Europe.
This newly found software, on the other hand, appears to manipulate the levels of CO2, a greenhouse gas implicated in global warming. CO2 emissions are strictly regulated in both the U.S. and Europe, and this new find has reportedly attracted scrutiny from German regulators as well as the EPA and CARB.
Where VW's diesel-cheating scandal stands
The EPA and CARB are currently trying to negotiate a settlement around the roughly 85,000 VW, Audi, and Porsche vehicles in the U.S. that are equipped with a 3.0-liter diesel V6 engine and a version of the diesel-emissions cheating software. The 3.0-liter V6 emits as much as nine times the legally allowed level of oxides of nitrogen in normal driving, but appears to comply with the limit under test conditions. The parties have a court hearing in San Francisco on Nov. 30.
VW is working to settle U.S. government charges that its 3.0-liter TDI diesel V6 engine incorporated emissions cheating software. Image source: Audi.
Earlier this year, VW agreed to a sweeping $15.3 billion settlement covering nearly 500,000 vehicles in the U.S. powered by a 2.0-liter four-cylinder diesel engine that is at the heart of the scandal. Owners of those vehicles received buyback offers as well as additional compensation of up to $10,000.
VW is also facing a criminal investigation by the U.S. Department of Justice and others around the world.
What is this new find likely to mean for VW?
It's not clear yet. If the EPA determines that this newly found software is a "defeat device" as defined under the Clean Air Act, VW will be open to a whole new set of civil charges -- and obliged to recall and repair all of the affected vehicles in the United States. It may also face similar consequences in Europe.
How much would all that cost? It's far too early to say, but the safe bet is that it won't be cheap.
Forget the 2016 Election: 10 stocks we like better than Volkswagen Donald Trump was just elected president, and volatility is up. But here's why you should ignore the election:
Investing geniuses Tom and David Gardner have spent a long time beating the market no matter who's in the White House. In fact, the newsletter they have run for over a decade, Motley Fool Stock Advisor, has tripled the market.*
David and Tom just revealed what they believe are the ten best stocks for investors to buy right now... and Volkswagen AG (ADR) wasn't one of them! That's right -- they think these 10 stocks are even better buys.
Click here to learn about these picks!
*Stock Advisor returns as of November 7, 2016
John Rosevear has no position in any stocks mentioned. The Motley Fool has no position in any of the stocks mentioned. Try any of our Foolish newsletter services free for 30 days. We Fools may not all hold the same opinions, but we all believe that considering a diverse range of insights makes us better investors. The Motley Fool has a disclosure policy.