Why Viacom, Ophthotech, and Southwestern Energy Slumped Today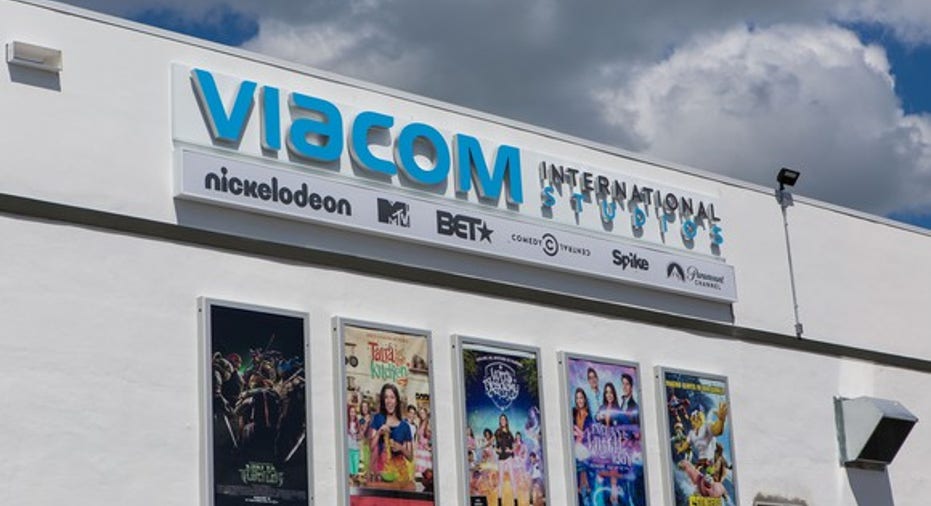 Monday gave investors a slight pause from the breakneck pace of the stock market rally over the past month. Even though the Dow Jones Industrials posted a modest 40-point rise to climb further into all-time record territory, other major market benchmarks pulled back slightly, largely because investors apparently took a break from the enthusiasm that has created so much bullishness lately. Amid the mixed performance from the broader market, some stocks were decidedly negative, and Viacom (NASDAQ: VIAB), Ophthotech (NASDAQ: OPHT), and Southwestern Energy (NYSE: SWN) were among the hardest-hit stocks on the day. Below, we'll look more closely at these stocks to tell you why they did so poorly.
Image source: Viacom.
Viacom's deal falls apart
Viacom's class B shares fell 9% after the media company's proposed merger with CBS (NYSE: CBS) fell through. Reports surfaced Monday morning that Shari Redstone, who is vice-chair of both Viacom and CBS, had changed her mind about a possible merger and instead believes that the two companies will fare better as independent entities. Viacom later in the afternoon named Bob Bakish to take the CEO role, further signaling its intent to go it alone. CBS Les Moonves had reportedly wanted voting control of the company, but the Redstones apparently weren't willing to include that as part of the deal. In any event, CBS shares climbed Monday, indicating that investors have more optimism about the network's ability to move forward on its own than they have in Viacom's future prospects.
Ophthotech takes a huge hit
Ophthotech plunged 86% in the wake of news that its Fovista treatment for wet age-related macular degeneration had failed to reach its primary endpoint in two phase 3 clinical trials. The two trials had looked at Fovista's safety and effectiveness when administered in combination with Genentech's Lucentis, and the trials showed mixed results in producing better vision as measured on a standardized reading chart, none of which were statistically significant. Safety data analysis showed that the combination therapy was generally well tolerated after a year of treatment, but poor results on secondary endpoints for visual acuity shot down the main investing thesis for many shareholders owning the stock. Unless something changes dramatically in the near future, Ophthotech can count on having a cloudy outlook for the near future.
Natural gas sinks Southwestern
Finally, Southwestern Energy dropped 9%. The energy company suffered along with natural gas prices on Monday, which fell almost $0.22 to $3.53 on the futures markets. Forecasts for more moderate winter temperatures caused the declines, but natural gas has generally been doing extremely well, hitting a two-year high late last week. Southwestern Energy has long been among the lowest-cost producers of natural gas, and even the modest rebound in prices could be enough to help it make more of its potential wells profitable. Although the rebound in oil prices has largely overshadowed the more favorable conditions in the natural gas market, Southwestern Energy could climb higher if long-term outlooks continue to call for greater energy demand generally.
10 stocks we like better than Viacom When investing geniuses David and Tom Gardner have a stock tip, it can pay to listen. After all, the newsletter they have run for over a decade, Motley Fool Stock Advisor, has tripled the market.*
David and Tom just revealed what they believe are the 10 best stocks for investors to buy right now... and Viacom wasn't one of them! That's right -- they think these 10 stocks are even better buys.
Click here to learn about these picks!
*Stock Advisor returns as of Nov. 7, 2016
Dan Caplinger has no position in any stocks mentioned. The Motley Fool has no position in any of the stocks mentioned. Try any of our Foolish newsletter services free for 30 days. We Fools may not all hold the same opinions, but we all believe that considering a diverse range of insights makes us better investors. The Motley Fool has a disclosure policy.