Why Vera Bradley, Inc. Stock Plunged Today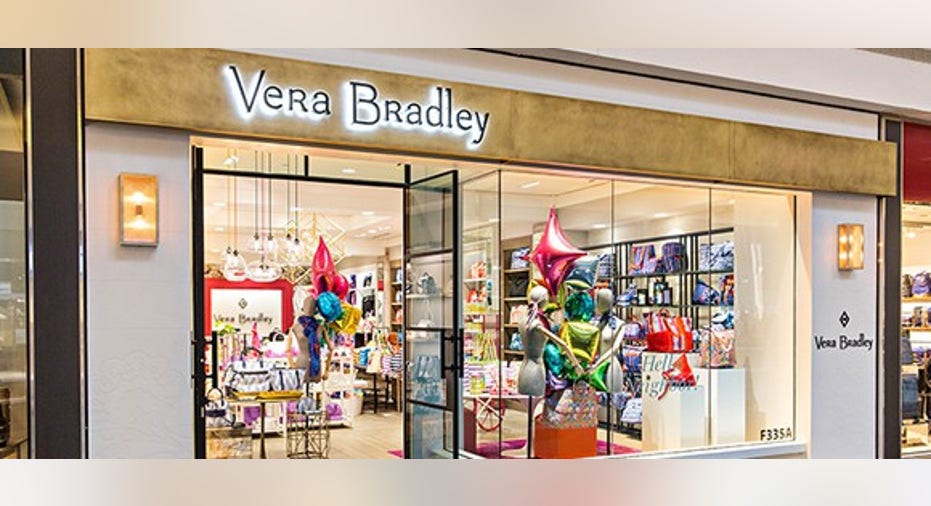 Image source: Vera Bradley, Inc.
What happened
Shares of Vera Bradley, Inc. (NASDAQ: VRA) were down 11.7% as of 3:30 p.m. EST Wednesday after the luggage and handbag design company released weaker-than-expected fiscal third-quarter 2017 results.
So what
Quarterly revenue was flat from the same year-ago period, at $126.7 million, below the company's guidance of $128 million to $133 million. That translated to adjusted net income of $7.2 million, or $0.20 per share, down from adjusted net income of $10.3 million, or $0.27 per share in last year's fiscal Q3.
More specifically within Vera Bradley's top line, direct segment revenue climbed 2.3% year over year, to $86.1 million, as new store growth more than offset a 5% decline in comparable sales, while indirect segment revenue fell 4.6%, to $40.6 million, as lower orders from specialty retail accounts were only partially offset by strength at certain key department store and non-department store accounts.
Vera Bradley CEO Robert Wallstrom noted consumer engagement has improved thanks to his company's new brand positioning, from marketing initiatives and the opening of a new SoHo flagship store.
"However, the overall retail environment remains challenging," Wallstrom said. "Third-quarter diluted EPS was modestly below our guidance range, primarily due to continued weakness in the specialty channel and incremental promotional activity in our factory stores."
Sales at verabradley.com were also weaker-than-expected due to lower levels of retirement product.
Now what
For the current quarter, Vera Bradley expects revenue of $135 million to $140 million, down from $154.1 million in the same year-ago period. That should result in diluted earnings per share of $0.23 to $0.25, down from $0.82 per share in last year's fiscal Q4. By comparison, analysts' consensus estimates called for higher fiscal Q4 revenue of $158.8 million, and higher earnings per share of $0.47.
This was a disappointing quarter, followed by an underwhelming outlook for the key holiday period. As such, it's no surprise to see shares of Vera Bradley plunging Wednesday.
10 stocks we like better than Vera Bradley When investing geniuses David and Tom Gardner have a stock tip, it can pay to listen. After all, the newsletter they have run for over a decade, Motley Fool Stock Advisor, has tripled the market.*
David and Tom just revealed what they believe are the 10 best stocks for investors to buy right now... and Vera Bradley wasn't one of them! That's right -- they think these 10 stocks are even better buys.
Click here to learn about these picks!
*Stock Advisor returns as of Nov. 7, 2016
Steve Symington has no position in any stocks mentioned. The Motley Fool has no position in any of the stocks mentioned. Try any of our Foolish newsletter services free for 30 days. We Fools may not all hold the same opinions, but we all believe that considering a diverse range of insights makes us better investors. The Motley Fool has a disclosure policy.