Why Vera Bradley, Inc. Dropped Nearly 14% in April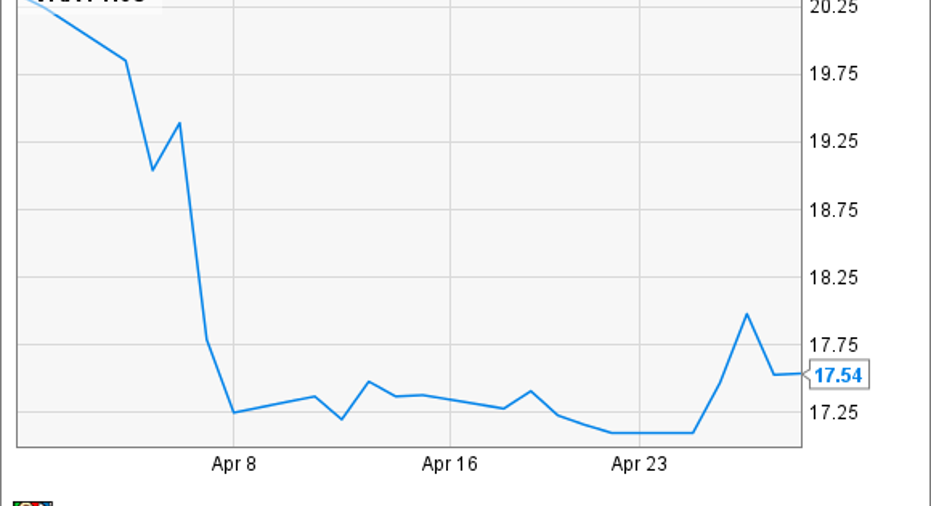 Vera Bradley released its annual report at the end of March, which sent its stock plunging downward.
What: Even though it merely confirmed what had already been reported in the company's Q4 earnings report, the release of the handbag, luggage, and accessories company's annual report clearly did not please the market. It was released on March 29, 2016, which coincided with the company's share price going in the wrong direction, though it did take a couple of days for the big plunge to happen.
The stock price stood at $20.01 at market close on March 29 and finished the month on March 31 at $20.34, at which point the market seemed to have digested the bad news. From that $20.34 March close, the stock dropped steadily in April, closing out the month at $17.54, a 13.8% drop, according to data provided by S&P Global Market Intelligence.
Image source: YCharts.com.
So what:Vera Bradley is in a time of transition, and its net revenues decreased by 1.3% to $502.6 million in fiscal 2016 compared to $509 million in fiscal 2015. Those are not terrible numbers, but the company did show other signs of weakness.
While its company-owned or "direct" sales channel grew by 4.7%, that was due to adding stores. Comparable sales, which include e-commerce, actually fell by 10.6%. In addition, indirect segment sales fell by 12.7% to $151.3 million in fiscal 2016 compared to $173.4 million in fiscal 2015.
Now what:The share price fell in April for short-term thinking reasons. The company is in the midst of a multi-year repositioning of its brand, and CEORobert Wallstrom sounded very confident that the plan was on track in the company's Q4 earnings release. He noted that the numbers for the quarter were within guidance. He also expressed strong hope for better results going forward.
"We took a very disciplined approach to enhancing gross profit in fiscal 2016, and we are especially proud of our 370 basis point gross profit percentage increase for the year," he said.
Realistically, nothing happened during the company's fiscal 2016 to make investors think the long-term turnaround plan won't work, Wallstrom hit his numbers, and the company made strides toward changing its distribution and its brand positioning. As a shareholder, April was a bad month, but if you had faith in the multi-year plan, then you should still believe.
The article Why Vera Bradley, Inc. Dropped Nearly 14% in April originally appeared on Fool.com.
Daniel Kline has no position in any stocks mentioned. He owns no handbags that he can recall. The Motley Fool has no position in any of the stocks mentioned. Try any of our Foolish newsletter services free for 30 days. We Fools may not all hold the same opinions, but we all believe that considering a diverse range of insights makes us better investors. The Motley Fool has a disclosure policy.
Copyright 1995 - 2016 The Motley Fool, LLC. All rights reserved. The Motley Fool has a disclosure policy.