Why Valspar, Square, and Valeant Pharmaceuticals Jumped Today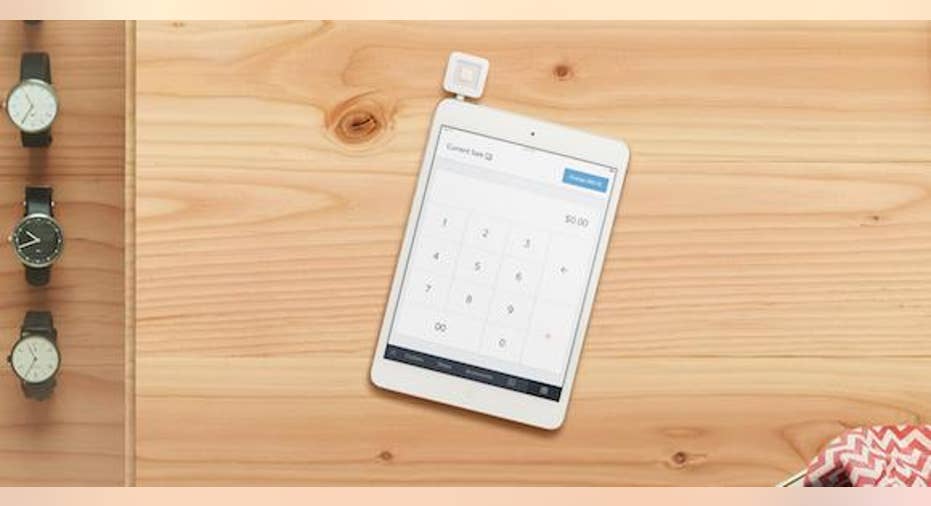 Image: Square.
Monday brought more good news to the overall stock market, as the Dow Jones Industrials posted their seventh straight daily gain. Modest advances of about a tenth of a percent for the major market benchmarks came from a generally favorable environment in the commodity markets, where oil prices gained further ground, and investors seem generally comfortable with the prospects for the U.S. economy to continue on its upward track. In addition, good news from individual stock names helped add to the positive mood on Wall Street, and Valspar , Square , and Valeant Pharmaceuticals were among the best-performing stocks of the day.
Valspar soared 23% after getting a buyout bid from rival paint-maker Sherwin-Williams. The two companies announced on Sunday afternoon that Sherwin-Williams would acquire Valspar for $113 per share in cash, and they said that the resulting combined company would "have highly complementary paints and coatings offerings" that would also take advantage of Valspar's geographic and industrial diversity to expand into regions and product lines to which Sherwin-Williams has traditionally lacked exposure. Valspar CEO Gary Hendrickson sees the transaction as "positioning Valspar to enter its next phase of growth and success." Yet the stock closed nearly $10 per share below the offering price for the deal, showing that there's at least some doubt as to whether it will go through as initially conceived.
Square gained 11% as speculation grew that the electronic-payments provider might gain the attention of potential acquirers in the financial services arena. The company has a relatively high short interest position, and some have pointed to the prospects of a short squeeze as possibly justifying the stock's move Monday. Yet others can point to Square's efforts to claim its share of the fast-growing mobile payments business as justification for some of the longer-established players in the industry to take an interest in the upstart. Until the conjecture turns into solid news, however, Square could continue to see volatile share-price movements as investors continually assess its merger and acquisition prospects.
Finally, Valeant Pharmaceuticals jumped 7%. The beleaguered pharmaceutical firm said that CEO Michael Pearson will leave the company once a replacement is appointed, and a director resigned to provide a spot for activist investor Bill Ackman to sit on the Valeant board of directors. Valeant has gone through a lot of turmoil recently, with the latest hit coming from concerns about technical default on its debt resulting from its failure to file its annual report in a timely manner. Yet Valeant said it would file its report by April 29, and some investors believe that by aggressively moving forward with changes at the executive level, the company can move past its problems and reestablish itself as a successful leader in the industry. Nevertheless, given the huge drop in its stock over the past year, Valeant has a lot of ground to cover to reassure investors fully.
The article Why Valspar, Square, and Valeant Pharmaceuticals Jumped Today originally appeared on Fool.com.
Dan Caplinger has no position in any stocks mentioned. The Motley Fool owns shares of and recommends Valeant Pharmaceuticals. The Motley Fool recommends Sherwin-Williams. Try any of our Foolish newsletter services free for 30 days. We Fools may not all hold the same opinions, but we all believe that considering a diverse range of insights makes us better investors. The Motley Fool has a disclosure policy.
Copyright 1995 - 2016 The Motley Fool, LLC. All rights reserved. The Motley Fool has a disclosure policy.