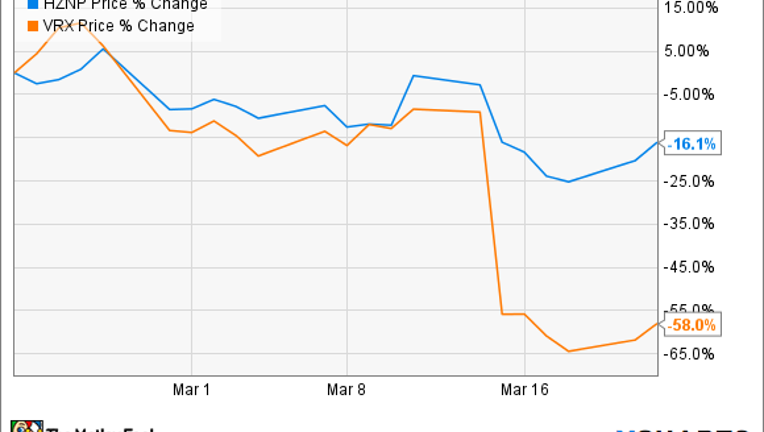 Source: Flickr via user stockmonkeys.com.
What's happening: Shares of Valeant Pharmaceuticals finally saw a green day yesterday, gaining 10% on extraordinary volume for the stock. The company's shares have been getting blasted during the last few weeks as a result of accounting errors stemming from the drugmaker's fuzzy relationship with themail-order pharmacy Philidor Rx Services LLC.
In brief, Valeant stated that an internal probe discovered that the company had accidentally booked sales of some drugs twice during the last year or so, forcing the company to restate past earnings reports and delay the release of its annual report for 2015. They key issue is that this delay could result in the drugmaker receiving a notice of default on some of its outstanding debt instruments.
Valeant's internal accounting issues unfortunately have weighed heavily on fellow specialty pharma companies like Horizon Pharma -- a drugmaker that has been accused of using a similar business model to Valeant, centering around the use of mail-order pharmacies and patient-assistance programsthat lower the threshold for reimbursement for drugs with sky-high price tags:
Why it's happening: Although it's not entirely clear why Valeant's stock rallied yesterday, my quick take is that investors are cheering the addition of Pershing Square's Bill Ackman to the board earlier in the week. As Ackman's fund reportedly owns approximately 9% of Valeant, he certainly has every reason in the world to try to right this sinking ship.
Looking ahead, Ackman should play a pivotal role in helping to select a replacement for embattledCEOMichael Pearson, along with expediting the restatement of the drugmaker's financial reports. However, shareholders need to understand that there are no quick fixes to Valeant's serious problems. After all, the use of patient-assistance programsfor drugs with questionable price tags by both Horizon Pharma and Valeant have caught the attention of U.S. federal agencies in recent months.
As a result, Valeant's core business model of raising the prices of older drugs by eye-popping amounts may not even be viable going forward -- especially in the current politically charged environment. That's why I think investors may want to let the dust settle before trying to catch this plummeting pharma stock.
The article Why Valeant Pharmaceuticals' Stock Rose 10% on Tuesday originally appeared on Fool.com.
George Budwell has no position in any stocks mentioned. The Motley Fool owns shares of and recommends Valeant Pharmaceuticals. Try any of our Foolish newsletter services free for 30 days. We Fools may not all hold the same opinions, but we all believe that considering a diverse range of insights makes us better investors. The Motley Fool has a disclosure policy.
Copyright 1995 - 2016 The Motley Fool, LLC. All rights reserved. The Motley Fool has a disclosure policy.