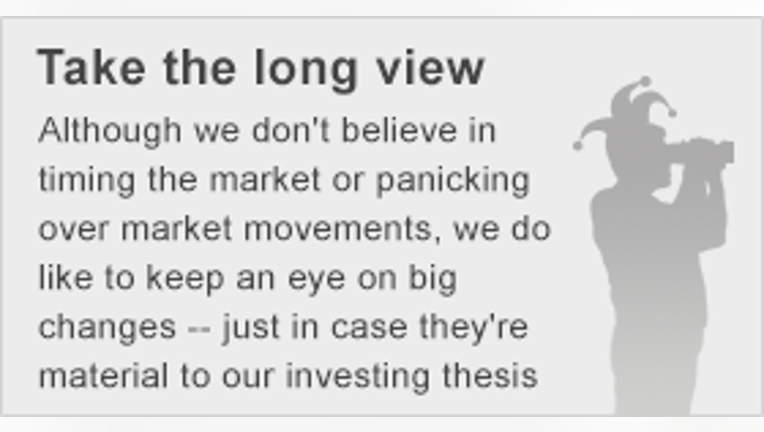 Image source: Valeant Pharmaceuticals
What: After announcing that CEO J. Michael Pearson has been hospitalized and that a consortium of board members and executives will serve as a temporary replacement for Pearson while he's being treated, shares ofValeant Pharmaceuticals tumbled 10% on Monday.
So what: Valeant Pharmaceuticals has been under pressure since questions have been raised about its M&A-hungry business strategy, drug pricing plans, and relationships with drug distributors.
Pearson has been navigating the company through this troubling period by justifying Valeant Pharmaceuticals' business model to investors, including in December at the company's annual investor day, and by defending itself against legislative scrutiny, which includes congressional requests for insight into its pricing policies.
Now what: Pearson, formerly a board member at McKinsey & Company, is highly regarded for his work in turning Valeant Pharmaceuticals into a global drug giant, and filling his shoes, albeit even temporarily, appears to be a big job.
Valeant Pharmaceuticals' board is dividing up Pearson's responsibility between Robert Chai-Onn, its general counsel, Robert Rosiello, its chief financial officer, and Ari Kellen, the person in charge of Valeant Pharmaceuticals U.S. dermatology and contact-lens division. That triumvirate will be overseen by a three-person committee comprised of members of Valeant Pharmaceuticals' board of directors.
The article Why Valeant Pharmaceuticals' Shares Slumped 10% Today originally appeared on Fool.com.
Todd Campbell has no position in any stocks mentioned. Todd owns E.B. Capital Markets, LLC. E.B. Capital's clients may have positions in the companies mentioned. The Motley Fool owns shares of and recommends Valeant Pharmaceuticals. Try any of our Foolish newsletter services free for 30 days. We Fools may not all hold the same opinions, but we all believe that considering a diverse range of insights makes us better investors. The Motley Fool has a disclosure policy.
Copyright 1995 - 2015 The Motley Fool, LLC. All rights reserved. The Motley Fool has a disclosure policy.