Why Valeant Pharmaceuticals' Rebound Fizzled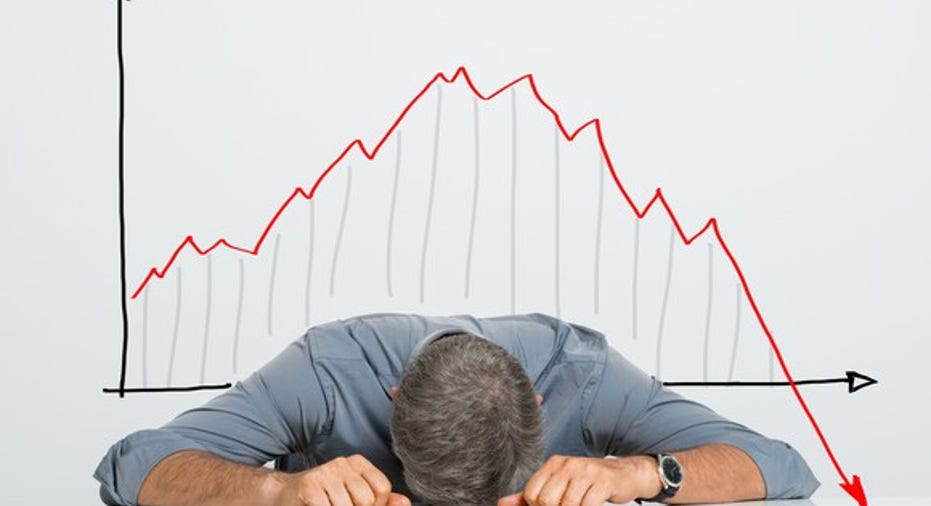 For a few weeks in January, Valeant Pharmaceuticals' (NYSE: VRX) stock outperformed the S&P 500 index. The run didn't last long, though. Here's why Valeant's rebound quickly fizzled.
Anatomy of a letdown
The first phase of Valeant's failed rebound started with the stock's collapse. And did it ever collapse. Valeant has lost over 94% of its market cap since August 2015.
For a rebound to occur, there had to be signs of hope. Valeant provided some reason for investors to hope at the beginning of 2017. On Jan. 9, the company announced that it was selling Dendreon to Sanpower Group for nearly $820 million. The next day, Valeant revealed an even bigger deal to sell its CeraVe, AcneFree, and AMBI skincare brands to L'Oreal for $1.3 billion.
Image source: Getty Images.
These transactions pleased investors. Valeant's management team had promised to sell off non-core assets to reduce debt. The sales of Dendreon and the skincare brands fit perfectly with that goal. Even better, Valeant received good prices in both deals.
The company originally paid $495 million for Dendreon in February 2015. Making a 65% return in roughly two years sounds pretty nice. Valeant sold the skincare brands to L'Oreal for more than 20 times annual earnings for the products. That's not a bad deal at all for Valeant.
Thanks to these two asset sales, Valeant's stock spiked more than 6% in one day. Those gains quickly evaporated, though. Why? I suspect that reality set in for investors. Yes, Valeant had raised nearly $1.8 billion in cash. However, that number seems small compared to the company's debt of more than $30 billion.The sale of Dendreon and the skincare brands underscored just how far Valeant has to go.
What it will take for a real comeback
Investors will need to see two things from Valeant for the stock to mount a real comeback. First, the debt must be reduced significantly. Second, the company's earnings must grow.
Valeant CEO Joe Papa thinks the company can reduce its debt by $5 billion over the next year or so. Selling off Dendreon and some of its skincare brands was a start on achieving this goal. More asset sales are on the way.
Papa has stated in the past that he doesn't want to sell any core assets. That would mean everything other than the company'sBausch + Lomb eye care, dermatology, and consumer products businesses could be on the block. He also uses geography to differentiate core assets from non-core assets. This could mean that commercialization rights to products outside of the North American market could be sold to generate cash.
My view is that lowering the debt by $5 billion is only a start. Valeant must have a solid plan for sustained debt reduction. That's where earnings growth comes into the picture.Selling off assets seems easy in comparison to increasing earnings. Valeant faces challenges on multiple fronts, from lower average selling prices to generic competition.
Two products are especially critical for Valeant's success in improving earnings. The first is Xifaxan, which is approved for treatingirritable bowel syndrome with diarrhea (IBS-D) and travelers' diarrhea. Xifaxan was the crown jewel in Valeant's 2015 acquisition of Salix Pharmaceuticals.
The second key product for Valeant's fortunes is experimental psoriasis drug brodalumab. A decision by the U.S. Food and Drug Administration (FDA) for approval of the drug is expected by Feb. 16.
If Xifaxan reaches its potential and brodalumab wins approval, Valeant could be on track to grow earnings. And if the company's bottom line begins to improve, it will have more money to pay down debt. That's the recipe for a sustained comeback for Valeant's stock.
Looking ahead
Valeant is taking the right steps, in my view. The asset sales announced in January were a good start. I expect Valeant will sell off its Sprout Pharmaceuticals and Amoun Pharmaceuticalbusinesses by the end of 2017 and likely additional products as well. If I'm right, these deals could raise cash of at least $2 billion and probably significantly more than that.
I'm not as optimistic about brodalumab's prospects as CEO Joe Papa is. If it's approved, the drug will probably come with a warning about suicide ideation. That could be enough to scare off some physicians from prescribing it.
Can Valeant's stock rebound in a big way in 2017? It's possible. But until the company proves that it can significantly lower its debt and produce earnings growth, any rebound is at risk for fizzling -- just like the one in January.
10 stocks we like better than Valeant Pharmaceuticals When investing geniuses David and Tom Gardner have a stock tip, it can pay to listen. After all, the newsletter they have run for over a decade, Motley Fool Stock Advisor, has tripled the market.*
David and Tom just revealed what they believe are the 10 best stocks for investors to buy right now... and Valeant Pharmaceuticals wasn't one of them! That's right -- they think these 10 stocks are even better buys.
Click here to learn about these picks!
*Stock Advisor returns as of January 4, 2017
Keith Speights has no position in any stocks mentioned. The Motley Fool owns shares of and recommends Valeant Pharmaceuticals. The Motley Fool has a disclosure policy.