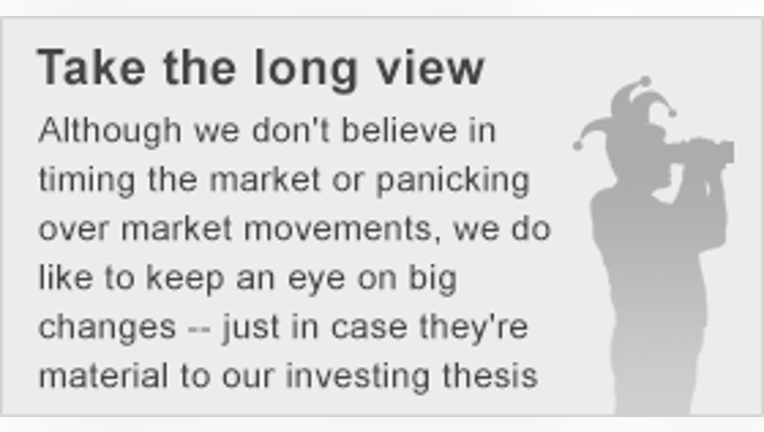 What:2015 was a turbulent year to be a shareholder inValeant Pharmaceuticals.Although everything was going according to plan for most of the year, the company hit a rough patch late in the year that caused its shares to free-fall. Shares ultimately shredded nearly 30% of their starting value for the year, according to data fromS&P Capital IQ.
So what:Financially speaking, the company had a solid year. Revenue and profits grew at impressive rates, easily surpassing expectations, and for most of the year, the company's stock was moving higher.
However, that all began to unravel in August, when its business practices got called into question.Presidential candidatesjumped on the bandwagon soon after and the stock began to crater. The sudden attention broughtshort-sellersinto the mix, and as they started to dig in to the company, they questioned its relationship with the specialty pharmacyPhilidor RX Services, claiming that Valeant was "creating invoices to deceive the auditors and book revenue."
Valeant Pharmaceuticals attempted to defend itself and its business practices, but that wasn't enough to keep its share price from plummeting.
Now what:Valeant Pharmaceuticals is still working on getting back into investors' good graces. In late December, it signed a new fulfillment agreement withWalgreens Boots Alliance, offering the chain a 10% reduction in prices on all of its dermatological and ophthalmological products. Valeant Pharmaceuticals also agreed to sell many of its other healthcare products through Walgreens at greatly reduced prices, which the company estimates will save the healthcare system up to $600 million.
Thus far, it looks like the Walgreens deal has eased investors' fears. Since the deal was announced, the stock has halted its downward movement. However,we recently learned thatCEOMichael Pearson has been placed on indefinitemedical leave, so there's a huge leadership gap at a rocky time in the company's history.
What happens next with this business and stock is anyone's guess, but with so much uncertainty in the air, I think investors should approach this stock with caution.
The article Why Valeant Pharmaceuticals Intl. Inc. Crashed in 2015 originally appeared on Fool.com.
Brian Feroldi has no position in any stocks mentioned. The Motley Fool owns shares of and recommends Valeant Pharmaceuticals. Try any of our Foolish newsletter services free for 30 days. We Fools may not all hold the same opinions, but we all believe that considering a diverse range of insights makes us better investors. The Motley Fool has a disclosure policy.
Copyright 1995 - 2016 The Motley Fool, LLC. All rights reserved. The Motley Fool has a disclosure policy.