Why Vale SA, Rio Tinto Plc, and BHP Billiton Limited Stocks Posted Double-Digit Rallies in January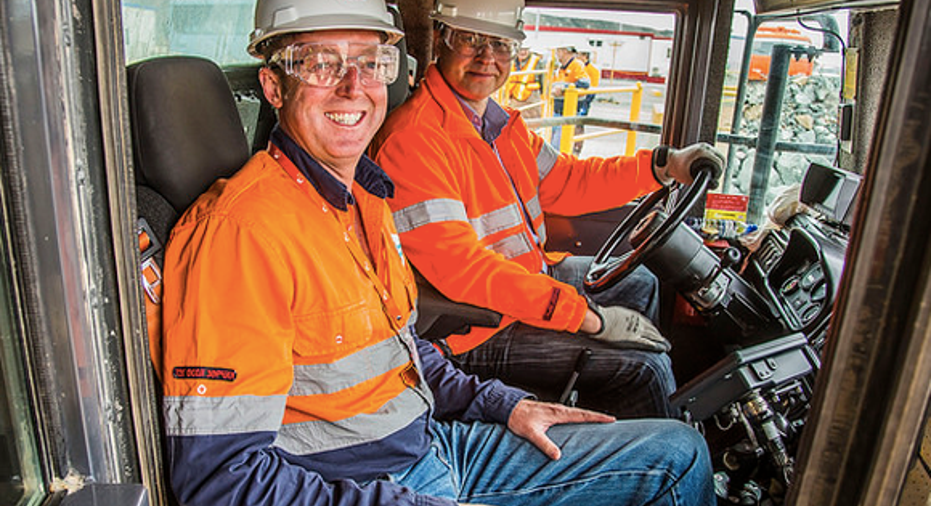 What happened
January was a solid month for gigantic diversified miners Vale SA (NYSE: VALE), Rio Tinto (NYSE: RIO), and BHP Billiton Limited (NYSE: BHP). Investors watched this trio, each of which has a heavy focus on iron ore, advance by 26%, nearly 15%, and roughly 12%, respectively. That continued the trend from 2016, when Rio and BHP advanced 32% and nearly 39%, respectively, and Vale rocketed a massive 130%.
So what
There was a lot going on in January. The first thing to look at for the trio was the rising price of iron ore, which is a huge contributor to the top and bottom lines of all three of these miners. So the 3.6% monthly rise in that metal's price was helpful. But there was more going on than just that, with strength throughout the commodity market. For example, copper, another key product for each, was up around 8% in January.
Image source: Rio Tinto Plc
So supportive commodity markets were an important element in in the January advances of Vale, Rio Tinto, and BHP. But last month was about more than just commodity prices. For example, Vale and BHP took an important step forward in clearing up the uncertainty surrounding the Samarco Mine disaster. And Rio Tinto managed to offload some Australian coal assets. These were big, important moves, too.
A waste-containment dam at the Samarco mine in Brazil failed in late 2015. Mine waste destroyed two towns and killed a number of people. Samarco is a 50/50 joint venture between BHP and Vale. Although the pair came to a relatively quick $5.6 billion agreement with the Brazilian government on a fine and cleanup expectations. A second, larger lawsuit was filed. It compared the disaster to the 2010 Deepwater Horizon Gulf of Mexico oil spill, asking for some $44 billion in damages.
In mid-January an agreement was reached on a timeline for the resolution of that second lawsuit. A "final agreement" is expected to be in place by the end of June. Although it doesn't provide any hint at what the outcome will be, the agreement does at least provide some clarity on how long BHP and Vale will have Samarco hanging over their heads.
Cleanup efforts related to the Samarco Mine disaster. Image source: Vale SA.
Rio Tinto, meanwhile, has been shifting its portfolio of assets around as it looks to focus on the commodities it believes offer the brightest future. Thermal coal doesn't fall into the category, resulting in the company's move in late January to unload Australian subsidiary Coal & Allied Industries to Yancoal Australia for as much as $2.45 billion, depending on timing and other factors.
Not only does this move free up capital that can be put to use elsewhere in the company, but it also reduces Rio's exposure to a dirty fuel option that's coming under increased environmental pressure around the world. It's worth noting that the main market for Coal & Allied Industries' coal is Asia, where the citizens of countries such as China are increasingly demanding that something be done about suffocating pollution levels.
Now what
Gigantic miners such as Vale, Rio, and BHP have benefited from the broad upturn in commodity prices that started in 2016. That's spilled over into 2017, but you have to look beyond that headline to understand what's going on at each of these companies. For example, part of Vale's massive advance in 2016 was fueled by improvements on the balance sheet and continued progress on its massive S11D mine development, in addition to movement on the Samarco mine issue and commodity prices. The events at each of these companies in January show that looking beyond commodity prices remains important.
If you're seeking a gigantic miner with a heavy focus on iron ore, each of these three companies will fit the bill. However, with Vale and BHP still facing Samarco uncertainty until at least June, Rio Tinto should probably be the top option on your list right now. It may not be the one you choose to buy; however, it appears relatively well situated as the new year gets under way. But whatever you choose to do, make sure you dig in past commodity prices so you have a better understanding of what's really going on at these gigantic miners.
10 stocks we like better than Rio TintoWhen investing geniuses David and Tom Gardner have a stock tip, it can pay to listen. After all, the newsletter they have run for over a decade, Motley Fool Stock Advisor, has tripled the market.*
David and Tom just revealed what they believe are the 10 best stocks for investors to buy right now... and Rio Tinto wasn't one of them! That's right -- they think these 10 stocks are even better buys.
Click here to learn about these picks!
*Stock Advisor returns as of February 6, 2017
Reuben Brewer has no position in any stocks mentioned. The Motley Fool owns shares of Companhia Vale. The Motley Fool has a disclosure policy.