Why Urban Outfitters Inc. Shares Slumped 22% Last Month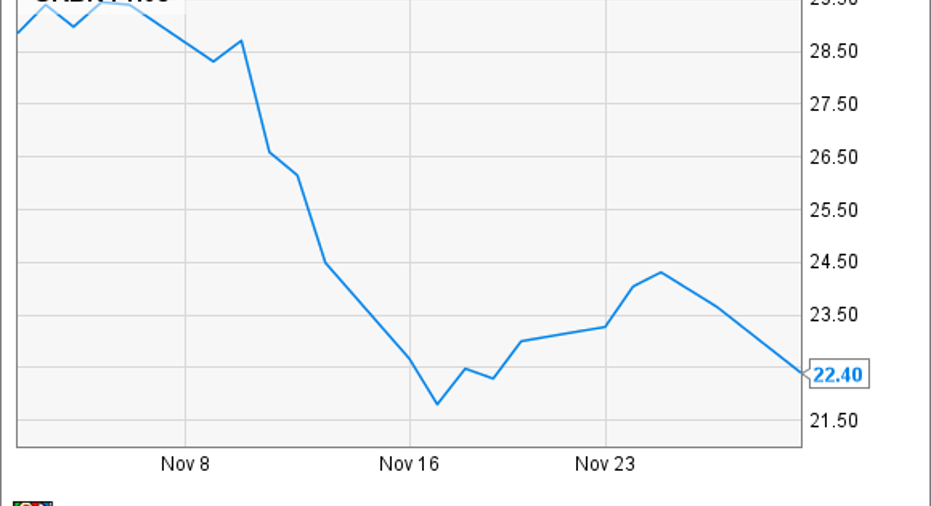 What:Shares of apparel retailerUrban Outfitters were looking out of style last month, falling 22% according to data from S&P Capital IQ.The combination of a weak earnings report with concerns regarding the acquisition of a restaurant company and a general sell-off in the retail sector sent the stock plummeting, as you can see in the chart below:
So what:Urban Outfitters shares began selling off on Nov. 9 and fell through the week as disappointing reports from retail leaders likeMacy'sandNordstromcame out, indicating overall weakness in the apparel sector.
The stock hit bottom the next week on Nov. 17, following the company's earnings release and its announcement on the same day that it would acquire Vetri Restaurants, with plans to expand the Pizzeria Vetri chain as a complement to its clothing stores.
Wall Street seemed to find the pizza news the most puzzling, though many of the headlines misinterpreted the partnership. In hopes of capitalizing on the trend among millennials to spend money on experiences rather than things, Urban plans to incorporate the restaurant into its lifestyle brand as it builds complexes designed to attract young people to shop and eat. For instance, the recently opened Project 2420 in Austin includes an expanded Urban Outfitters, three food and beverage concepts including a Pizzeria Vetri, and a performance space for live music events.
Separately, the company said overall sales improved just 1.4% in the quarter due in part to shipment delays in its wholesale division, but earnings per share still increased 20% to $0.42, assisted by its aggressive share buyback program.
Now what:Though the acquisition of Vetri Restaurants was roundly mocked in the media, the move could help drive traffic to Urban Outfitters stores and bump up the bottom line. The success of new developments like Project 2420 should guide the company's future performance. With pressure from fast fashion competitors like H&M persisiting, there's no guarantee that strong sales growth will return anytime soon -- but the stock is cheap at a price-to-earnings of just 12 times, and its buyback program should ensure the profits continue to improve.
The article Why Urban Outfitters Inc. Shares Slumped 22% Last Month originally appeared on Fool.com.
Jeremy Bowman has no position in any stocks mentioned. The Motley Fool recommends Nordstrom and Urban Outfitters. Try any of our Foolish newsletter services free for 30 days. We Fools may not all hold the same opinions, but we all believe that considering a diverse range of insights makes us better investors. The Motley Fool has a disclosure policy.
Copyright 1995 - 2015 The Motley Fool, LLC. All rights reserved. The Motley Fool has a disclosure policy.