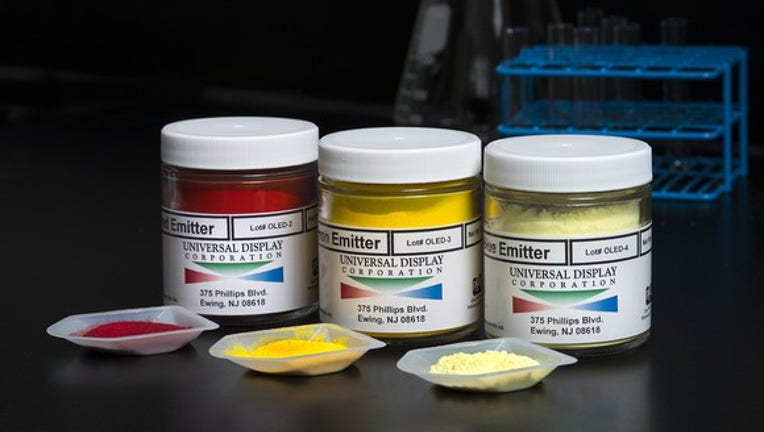 What happened
Shares of Universal Display Corporation (NASDAQ: OLED) were up 24.1% as of 12:30 a.m. EDT on Friday after the OLED technologist announced stellar first-quarter 2017 results.
So what
Quarterly revenue climbed 87.2% year over year to $55.6 million, including 92% growth in material sales to $46.6 million, and a 32% increase in royalty and license fees to $7.0 million. Meanwhile, net income more than quintupled from the same year-ago period to $10.4 million, and earnings per share rose 450%, to $0.22.
IMAGE SOURCE: UNIVERSAL DISPLAY.
CFO Sid Rosenblatt added:
Now what
Rosenblatt also noted that the company expects its "growth trajectory to be positive for the foreseeable future" given massive investments from customers in new manufacturing capacity, as well as accelerating development of electronic devices and lighting solutions that utilize its flagship OLED technology.
What's more, the OLED industry is growing faster than the company previously anticipated. So Universal Display now expects full-year 2017 revenue of $260 million to $280 million, representing year-over-year growth of 30% to 40%. That's also a significant increase from previous guidance for 2017 revenue of $230 million to $250 million.
This was a terrific performance from Universal Display, followed by guidance that leaves investors rightly excited for an earlier-than-expected ramp in its long-term growth story. So even with Universal Display shares trading at a fresh all-time high as of this writing, I think the stock has more room to run higher from here.
10 stocks we like better than Universal DisplayWhen investing geniuses David and Tom Gardner have a stock tip, it can pay to listen. After all, the newsletter they have run for over a decade, Motley Fool Stock Advisor, has tripled the market.*
David and Tom just revealed what they believe are the 10 best stocks for investors to buy right now... and Universal Display wasn't one of them! That's right -- they think these 10 stocks are even better buys.
Click here to learn about these picks!
*Stock Advisor returns as of May 1, 2017
Steve Symington owns shares of Universal Display. The Motley Fool owns shares of and recommends Universal Display. The Motley Fool has a disclosure policy.