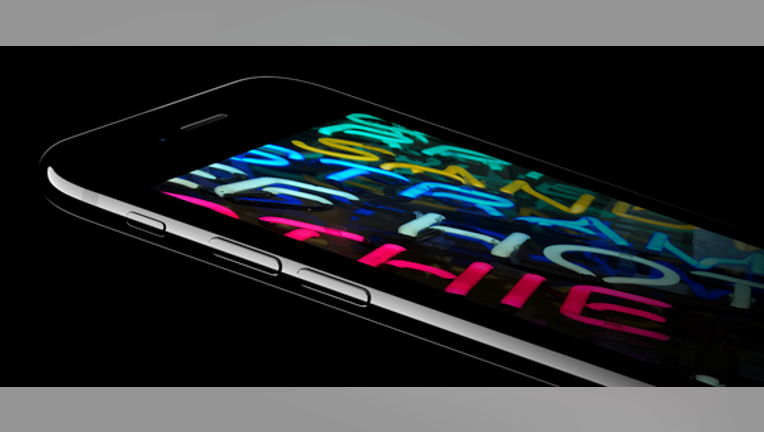 iPhone 7 display. Image source: Apple.
Universal Display (NASDAQ: OLED) shareholders, myself included, are no strangers to volatility. OLED display technology has been heralded as the next big thing for easily a decade, thanks to some inherent benefits such as energy efficiency and the possibility for innovative flexible form factors, among others. But the transition has taken quite a while, as weaknesses have had to be addressed over the years. Uncertain adoption has led to heightened volatility for years, but the transition away from traditional backlit LCDs still seems inevitable, even if it's taking longer than expected.
Today, shares have surged 8% on no news specific to Universal Display; third-quarter earnings were already reported earlier this month. Well, you've probably already guessed the culprit by now: Apple (NASDAQ: AAPL).
Here comes the OLED iPhone 8 Plus
The iPhone 8 in 2017 has long been expected to finally be when Apple makes the switch to OLED displays in its most important flagship product. A Sharp executive effectively confirmed Apple's intentions earlier this month, albeit without specifying a time frame.
This time around, Barclays analysts have put out a research note on what they expect from the iPhone 8 (via MacRumors). Their supply chain research suggests that Apple is looking to remove the display bezel, which will facilitate larger displays in roughly comparable form factors that aren't much larger than the existing models. This bezel-less design could help the company increase display sizes from 4.7-inch to 5-inch on standard models, and 5.5-inch to 5.8-inch on the Plus models. The pertinent part for Universal Display is that only the larger 5.8-inch models are expected to include OLED displays.
Apple is expected to tap Samsung and LG Display, which is unsurprising as those two companies are currently the largest OLED display manufacturers (and also Universal Display's largest customers). Sharp should join the mix within the next two years, and as such will likely announce a long-term commercial agreement with Universal Display to secure pricing on OLED materials, which in itself would be a huge win for Universal Display.
Never underestimate Apple's marketing department
If Apple chooses to make OLEDs an exclusive feature of the Plus models, you can expect the iPhone maker's marketing department to tout all of OLED's benefits. Apple always picks a feature that it reserves for the Plus models in an effort to upsell the Plus. For instance, last year the iPhone 6s Plus got optical image stabilization (OIS), while the 6s did not. This year, the iPhone 7 Plus has a fancy new dual-camera system, which the 7 didn't get (although the regular 7 now gets OIS). We know that iPhone demand is currently heavily concentrated on the 7 Plus, thanks largely to aforementioned dual-camera system, which should push up average selling prices and margins for Apple by shifting the mix toward larger models.
If all of this plays out similarly next year with an OLED iPhone 8 Plus, not only will Universal Display enjoy a ton of revenue upside directly, but Apple would likely bring more attention to OLED displays categorically by focusing its marketing efforts on the inherent benefits. While it's true that most of the major Android OEMs have already adopted OLED to some extent, in which case the benefits of incrementally more awareness could be limited, it never hurts to have Apple market your technology.
Apple would be the last big player to jump in. It seems increasingly likely that this years-long rumor may finally materialize in the near future.
10 stocks we like better than Universal Display When investing geniuses David and Tom Gardner have a stock tip, it can pay to listen. After all, the newsletter they have run for over a decade, Motley Fool Stock Advisor, has tripled the market.*
David and Tom just revealed what they believe are the ten best stocks for investors to buy right now and Universal Display wasn't one of them! That's right -- they think these 10 stocks are even better buys.
Click here to learn about these picks!
*Stock Advisor returns as of November 7, 2016
Evan Niu, CFA owns shares of Apple and Universal Display. The Motley Fool owns shares of and recommends Apple. The Motley Fool has the following options: long January 2018 $90 calls on Apple and short January 2018 $95 calls on Apple. The Motley Fool recommends Universal Display. Try any of our Foolish newsletter services free for 30 days. We Fools may not all hold the same opinions, but we all believe that considering a diverse range of insights makes us better investors. The Motley Fool has a disclosure policy.