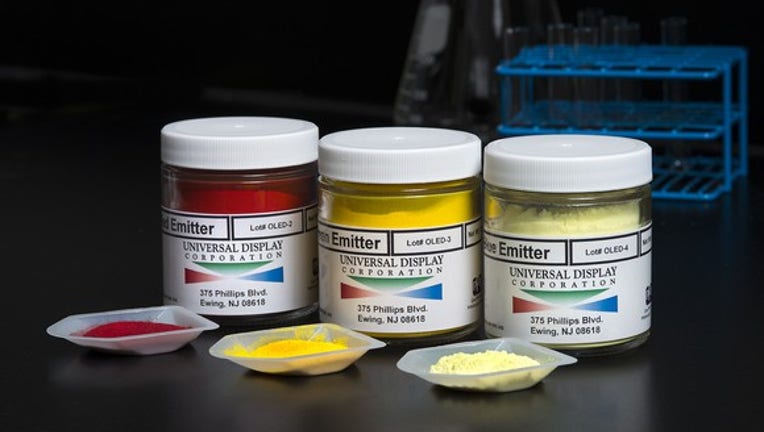 What happened
Shares of Universal Display Corporation (NASDAQ: OLED) were up more than 20% as of 11:30 a.m Friday after the OLED technologist announced strong fourth-quarter 2016 results, its first-ever dividend, and solid forward guidance.
So what
Quarterly revenue rose 19.7% year over year, to $74.6 million, including a 5% increase in material sales, to $29.2 million, and 27% growth in royalty and license fees, to $43.6 million. Universal Display also generated $1.8 million in contract research services revenue thanks to its acquisition of Adesis in mid 2016.That translated to 42.7% growth in net income, to $25.8 million, and a 41% increase in net income per share, to $0.55.
Analysts, on average, were only expecting Universal Display to turn in net income of $0.42 per share on revenue of $68.6 million.
Universal Display saw customers begin to adopt its next-gen OLED emitters this quarter. Image source: Universal Display.
Universal Display CFO Sidney Rosenblatt elaborated on the company's progress, as well as its expansion plans to accommodate future growth:
Now what
Universal Display's board also approved the company's first quarterly cash dividend of $0.03 per share, payable on March 31, 2017 to shareholders of record at the close of business on March 15, 2017.
In addition, Universal Display expects 2017 revenue to be in the range of $230 million to $250 million, or growth of 15.6% to 25.7% from 2016. This includes a $90 million license fee from Samsung Display -- up from $75 million in 2016 and paid in two equal chunks in the second and fourth quarters.
To be fair, today's strong performance shouldn't be entirely surprising. The commencement of the adoption of Universal Display's next-gen emitters lines up with the timeline Universal Display management offered to investors two quarters ago. And three months ago, the company confirmed it was preparing for accelerated growth as high-volume OLED production was expected to ramp in 2017.
But it's also great to see those predictions actually come to fruition. So even with shares trading at an all-time high today -- and with a massive runway for growth in the OLED industry ahead -- I think Universal Display stock has plenty of room to run from here.
10 stocks we like better than Universal DisplayWhen investing geniuses David and Tom Gardner have a stock tip, it can pay to listen. After all, the newsletter they have run for over a decade, Motley Fool Stock Advisor, has tripled the market.*
David and Tom just revealed what they believe are the 10 best stocks for investors to buy right now... and Universal Display wasn't one of them! That's right -- they think these 10 stocks are even better buys.
Click here to learn about these picks!
*Stock Advisor returns as of February 6, 2017
Steve Symington owns shares of Universal Display. The Motley Fool owns shares of and recommends Universal Display. The Motley Fool has a disclosure policy.