Why Universal Display Corporation Stock Popped Today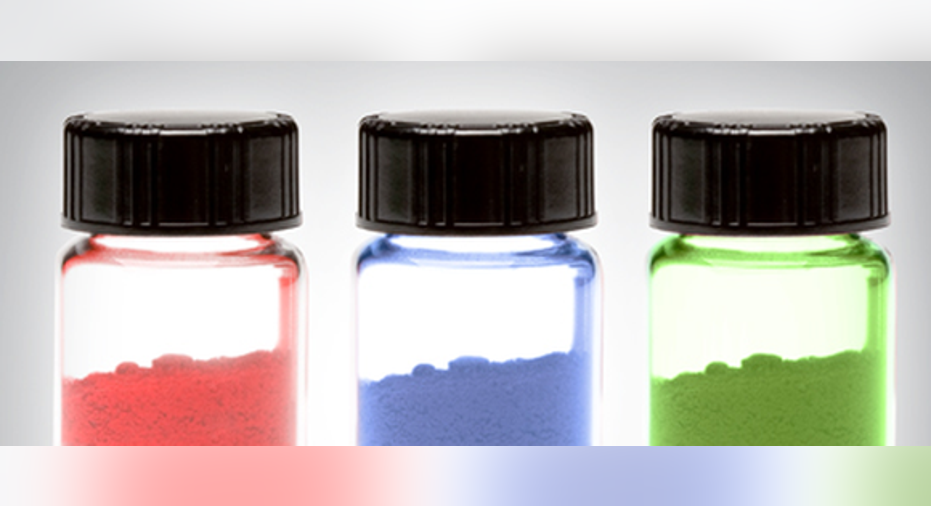 Universal Display's phosphorescent OLED emitter materials Image source: Universal Display
What happened
Shares ofUniversal Display Corporation (NASDAQ: OLED)were up 10.4% as of 3:07 p.m. EST Friday following a report that iPhone display supplier Japan Display is in talks to receive financing with the likely aim of shifting its manufacturing lines to mass produce OLED displays.
So what
Citing "people familiar with the matter,"The Wall Street Journalreportedtoday that Japan Display is in "advanced talks" for a $703 million "bailout" from the government-backed Innovation Network Corp. of Japan. Innovation Network Corp., for its part, is Japan Display's single largest shareholder, with a 36% stake in the company.
Now what
That's not to say the funding is guaranteed to be used for Japan Display's OLED manufacturing -- alternatively, it could be used to improve Japan Display's LCD capabilities to better compete with OLED as the cutting-edge display technology becomes more ubiquitous. But it would hardly be surprising consideringAppleis widely expected to transition its iPhone line to OLED by 2018,even reportedlystriking an OLED supply dealwith Universal Display customerSamsungDisplay earlier this year.
Moreover, during Universal Display's quarterly conference call last week, CEO Steven Abramson noted, "Japan has re-emerged in the past few months with increased development and investment activity, raising our optimism for Japanese OLED mass production in 2018, 2019, and beyond."
As such, I would be shocked if Japan Display was requesting this financing with anything but bolstering its OLED manufacturing capabilities in mind. And over the long term, Universal Display is arguably the greatest beneficiary of the move.
Forget the 2016 Election: 10 stocks we like better than Universal Display Donald Trump was just elected president, and volatility is up. But here's why you should ignore the election:
Investing geniuses Tom and David Gardner have spent a long time beating the market no matter who's in the White House. In fact, the newsletter they have run for over a decade, Motley Fool Stock Advisor, has tripled the market.*
David and Tom just revealed what they believe are the ten best stocks for investors to buy right now and Universal Display wasn't one of them! That's right -- they think these 10 stocks are even better buys.
Click here to learn about these picks!
*Stock Advisor returns as of November 7, 2016.
Steve Symington owns shares of Apple and Universal Display. The Motley Fool owns shares of and recommends Apple. The Motley Fool has the following options: long January 2018 $90 calls on Apple and short January 2018 $95 calls on Apple. The Motley Fool recommends Universal Display. Try any of our Foolish newsletter services free for 30 days. We Fools may not all hold the same opinions, but we all believe that considering a diverse range of insights makes us better investors. The Motley Fool has a disclosure policy.