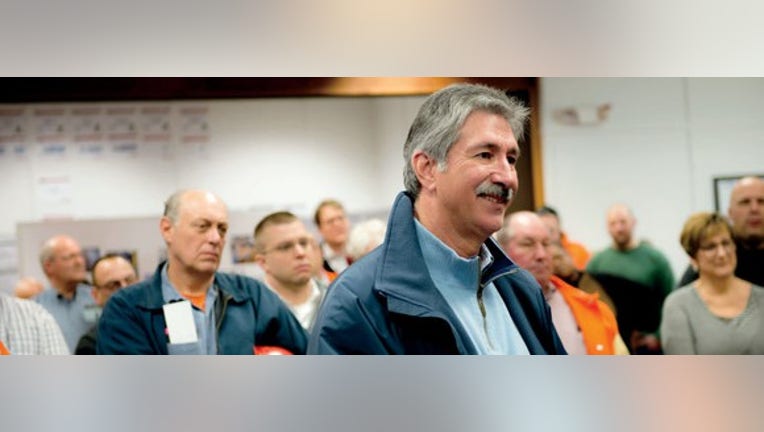 U.S. Steel CEO Mario Longhi at the company's Irvin Plant. Image Source: United States Steel Corp.
What: United States Steel Corp.'s shares fell a dramatic 28.7% last month. Although that's a big number, they ended the month up over 75% for the year. In other words, it's been something of a roller-coaster ride in 2016.
So What: U.S. Steel reported first-quarter earnings on April 26th. The reading wasn't all that good, despite the commodity rally that started in mid-January. For example, the iconic company lost $2.32 per share (including a number of one-time items). On the positive side, the company reported that operating cash flow was positive.
Now What: U.S. Steel is still struggling to adjust its operations to the current market environment, notably through its Carnegie Way plan. But the company's results show that improvement is slow. And a volatile commodity market isn't helping matters.
Most investors interested in steel stocks would be better off researching better-positioned mills.However, there was plenty of comment about the still-difficult market conditions. There was also this little note from CEO Mario Longhi: "We expect market conditions to change, and as changes occur during the balance of 2016, we would expect our adjusted EBITDA to change consistent with the pace and magnitude of changes in market conditions."
Well, one of the biggest changes in the month of May was what looked like the bursting of a speculative bubble in steel and iron ore in China. As prices for steel dropped, so did U.S. Steel's shares.
The article Why United States Steel Corp. Stock Fell Nearly 29% in May originally appeared on Fool.com.
Reuben Brewer has no position in any stocks mentioned. The Motley Fool has no position in any of the stocks mentioned. Try any of our Foolish newsletter services free for 30 days. We Fools may not all hold the same opinions, but we all believe that considering a diverse range of insights makes us better investors. The Motley Fool has a disclosure policy.
Copyright 1995 - 2016 The Motley Fool, LLC. All rights reserved. The Motley Fool has a disclosure policy.