Why United Continental Stock Surged 23% in November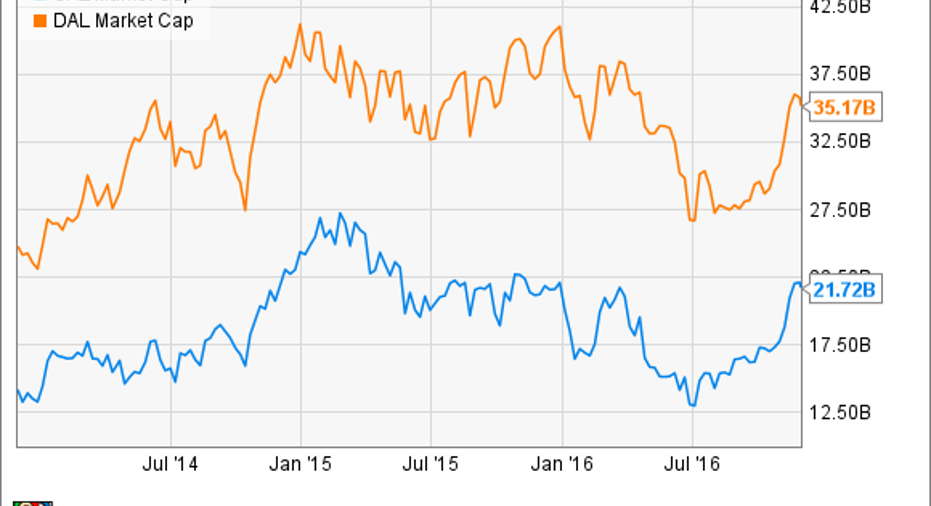 What happened
November was a good month for the stock market, as investors quickly decided that President-elect Donald Trump is likely to kick-start economic growth through a combination of tax cuts and higher infrastructure and military spending.
Airline stocks performed particularly well in November. Shares of U.S. airline giant United Continental (NYSE: UAL) jumped 23% during the course of the month, according to data from S&P Global Market Intelligence.
United Continental November stock performance, data by YCharts.
So what
A good portion of United Continental stock's rise last month was driven by the broader election-related market rally. However, investors were also pleased by the strategic plans that United executives revealed during the company's investor day presentation on Nov. 15.
United Continental's management team identified a variety of profit improvement opportunities that could collectively add $4.8 billion in operating profit over the next several years. Some of the most important initiatives include putting more seats on each plane, fixing United's revenue management system, and rolling out a new fare structure that will get rid of carry-on bag privileges for customers buying the cheapest fares.
If these initiatives succeed, they could allow United to leapfrog Delta Air Lines (NYSE: DAL) to become the most profitable legacy carrier by 2020. Right now, Delta's market cap is about 60% higher than that of United, despite United's stronger stock performance in the past few months. This means United Continental stock has a lot of room to run if the company can meet its targets.
United Continental vs. Delta Air Lines market cap, data by YCharts.
Now what
That said, besting Delta's profitability will be extremely challenging. For one thing, Delta is far more dominant in its hub markets than United, which better insulates it from competitive pressures. Furthermore, the entire airline industry is likely to see profit margins decline over the next few years as fuel and labor costs rise while ultra-low-cost carriers continue to enter new markets with rock-bottom fares.
United Continental stock currently trades for 11 times forward earnings. That's not expensive, but it isn't especially cheap, either. Considering that the airline industry is a pretty risky place, investors might want to wait for a pullback before considering an investment in United Continental.
10 stocks we like better than United Continental Holdings When investing geniuses David and Tom Gardner have a stock tip, it can pay to listen. After all, the newsletter they have run for over a decade, Motley Fool Stock Advisor, has tripled the market.*
David and Tom just revealed what they believe are the 10 best stocks for investors to buy right now... and United Continental Holdings wasn't one of them! That's right -- they think these 10 stocks are even better buys.
Click here to learn about these picks!
*Stock Advisor returns as of November 7, 2016
Adam Levine-Weinberg is long January 2017 $40 calls on Delta Air Lines. The Motley Fool has no position in any of the stocks mentioned. Try any of our Foolish newsletter services free for 30 days. We Fools may not all hold the same opinions, but we all believe that considering a diverse range of insights makes us better investors. The Motley Fool has a disclosure policy.