Why Under Armour Ltd. Is Down in 2016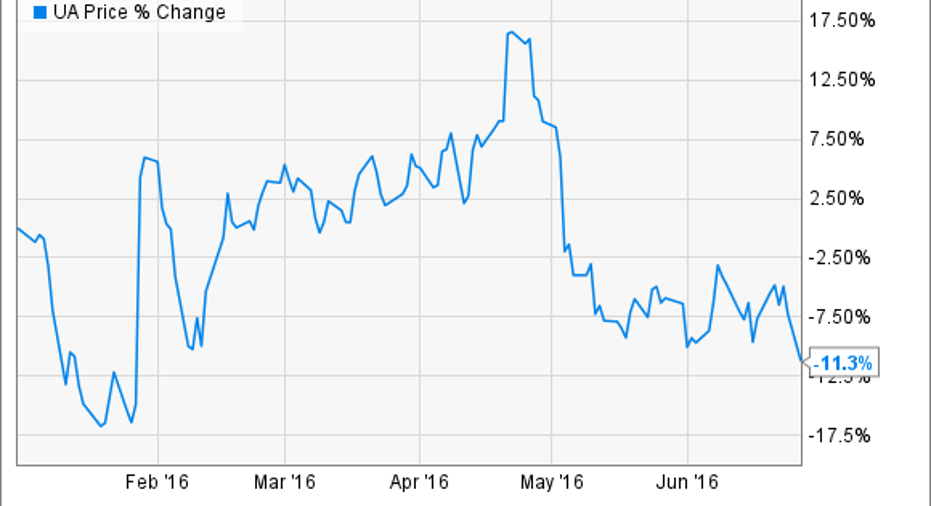 What: Athletic-apparel specialist Under Armour's stock is down 11% so far in 2016, according to data provided by S&P Global Market Intelligence.
Prices as of Jun. 27.UA data by YCharts
That dip isn't as bad as it sounds, though. The broader market is down this year, and rival Nike has endured an even worse slump, falling 16% since Dec. 31.
So what: Under Armour's operating trends are looking healthy. It last posted a 30% sales spike, marking its 24th straight quarter of 20% or better growth, which is impressive considering that one of its largest customers, Sports Authority, filed for bankruptcy protection in the period. By contrast, Nike expanded revenue by 8% in Q1, for a slowdown from the prior year's double-digit gains.
Image source: Under Armour.
Under Armour's profitability has ticked down this year, slipping to 46% of sales from 47% a year ago. Like Nike, the retailer has been caught with excess inventory in the U.S. market and so needed to slice prices on select products to make room for new merchandise.
Now what: The company doesn't hold a candle to its largest rival in terms of marketing budgets: Nike's $3 billion it spends to support its brands each year is close to what UA expects to book in total sales in 2016.
Still, it will have a significant presence in this year's Olympic Games and is just now rolling out an ad campaign featuring swimming champion Michael Phelps. The timing couldn't be better for Under Armour, given that its international sales are taking off as it tests the global appeal of its clothing and footwear brands. Thanks to solid momentum both at home and in outside markets, CEO Keven Plank and his executive team project a $5 billion sales year in 2016 -- up 26% over last year's result. Profits will probably rise at a slower pace (up roughly 23%), but that's to be expected for a company with so many attractive options for investing in growth.
The article Why Under Armour Ltd. Is Down in 2016 originally appeared on Fool.com.
Demitrios Kalogeropoulos owns shares of Nike. The Motley Fool owns shares of and recommends Nike and Under Armour (A Shares). The Motley Fool owns shares of Under Armour (C Shares). Try any of our Foolish newsletter services free for 30 days. We Fools may not all hold the same opinions, but we all believe that considering a diverse range of insights makes us better investors. The Motley Fool has a disclosure policy.
Copyright 1995 - 2016 The Motley Fool, LLC. All rights reserved. The Motley Fool has a disclosure policy.