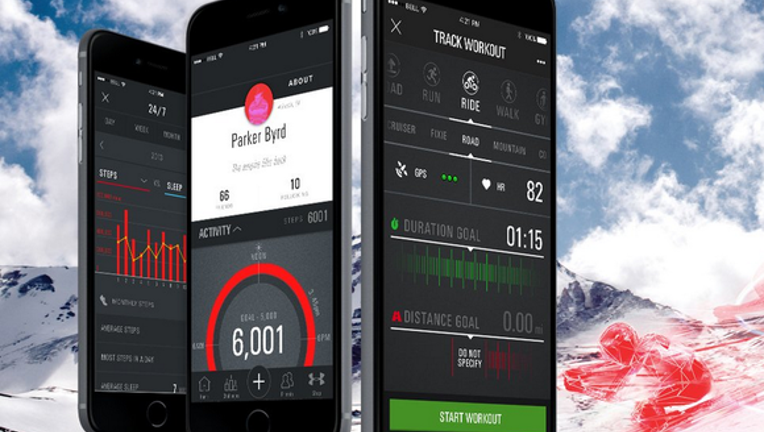 Chief Digital Officer Robin Thurston was among Under Armour's recent executive departures. Image source: Under Armour
What:Shares of Under Armour Inc. fell 14.1% in the month of May,according to data provided byS&PGlobal Market Intelligence, spurred primarily by worries over recent executive turnover.
So what: More specifically, Under Armour stock plunged around 8% on May 4, 2016, after the company announced both its Chief Merchandising Officer, Henry Stafford, and its Chief Digital Officer, Robin Thurston, have decided to leave the company.
For perspective, Stafford joined Under Armour in 2010 as head of Under Armour's core apparel business. He'll be replaced on an interim basis by Kip Fulks, who focuses on "key development areas for the business" including overseeing Under Armour's global marketing efforts.
Meanwhile, Thurston joined the company as the co-founder of fitness app MapMyFitness, which Under Armouracquired for $150 millionto help accelerate its connected fitness initiatives in late 2013. Thurston will be replaced by fellow MapMyFitness co-founder Michael Lee, who currently serves as senior VP of Under Armour North America Digital, where he oversees digital product strategy for Under Armour Connected Fitness.
Now what:No specific reason was given for either departure, leaving investors to worry over the risk of a rift in management and strategic execution as Under Armour works to extend its enviable six-year streak of achieving at least 20%+ top-line growth. After all, when Under Armour accelerated its goal late last year to reach $7.5 billion in revenue by 2018-- representing a hearty compound annual growth rate of 25% from 2015 -- management cited increased clarity into its opportunities to capitalize on connected fitness as one significant catalyst for that acceleration.
To be honest, however -- and as a longtime Under Armour shareholder myself -- the only executive departure that would cause me to seriously rethink my thesis would be that of Under Armour's founder and CEO, Kevin Plank. That's not to say Stafford and Thurston won't be missed, but given Under Armour's long track record of outperformance with Plank at the helm, I see no reason the company won't continue to thrive going forward.
The article Why Under Armour, Inc. Stock Plunged 14.1% in May originally appeared on Fool.com.
Steve Symington owns shares of Under Armour (A and C shares). The Motley Fool owns shares of and recommends Under Armour (A Shares). The Motley Fool owns shares of Under Armour (C Shares). Try any of our Foolish newsletter services free for 30 days. We Fools may not all hold the same opinions, but we all believe that considering a diverse range of insights makes us better investors. The Motley Fool has a disclosure policy.
Copyright 1995 - 2016 The Motley Fool, LLC. All rights reserved. The Motley Fool has a disclosure policy.