Why Under Armour Inc. Shares Dove 28% in January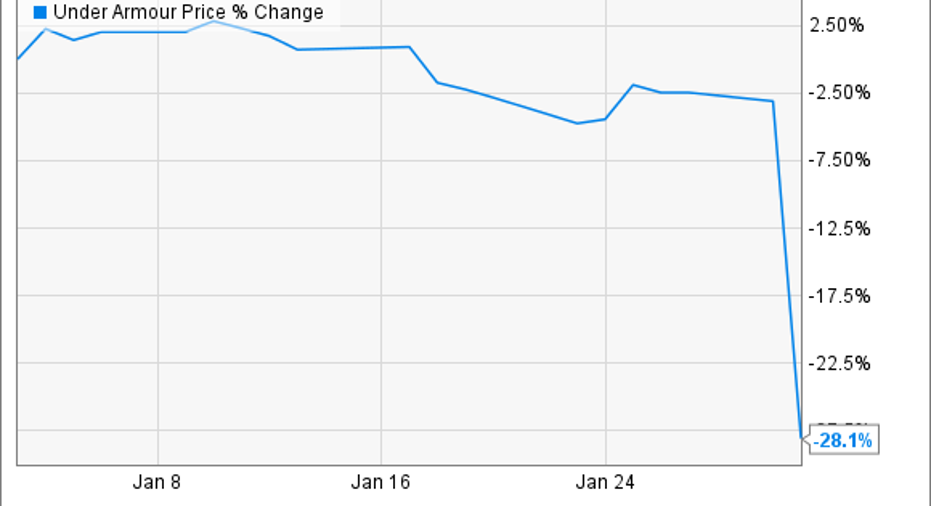 What happened
Sports apparel and footwear specialist Under Armour (NYSE: UA) (NYSE: UAA) lost 28% last month, according to data provided by S&P Global Market Intelligence.
The slump added to a rough run for shareholders lately, as the stock has declined nearly 60% over the last 12 months. Rival Nike (NYSE: NKE) has also trailed the market, but not by nearly as wide a margin.
So what
Under Armour's January swoon came thanks to surprisingly weak fourth-quarter earnings results that forced management to lower its broader outlook. Revenue rose by just 12%, compared to the 22% increase that CEO Kevin Plank and his team had projected. It was the first quarter in nearly seven years that the company hadn't boosted revenue by at least 20%.
Profits also took a beating. Gross profit margin sank by 4 percentage points to 45% of sales. That was enough to keep Under Armour just above Nike on the metric, but the gap is closing fast. Nike last posted a 1% drop in gross margin to 44% of sales. Meanwhile, Under Armour is now at its lowest profitability level in over a decade, thanks what executives described as "aggressive" price cuts needed to manage inventory amid soft demand.
Now what
A key bright spot in Under Armour's previous quarterly report, in which it lowered its long-run profit outlook, was its judgment that sales would still grow at a 20% pace over the next two years, and company would reach $7.5 billion in annual revenue by 2018. January's report changed that narrative, though, as executives now see sales rising at about half that pace in 2017.
Image source: Getty Images.
Taken together, the two downgrades mean that Under Armour will likely grow slower than expected and produce unusually weak earnings over the next two years. Its global market opportunity remains huge, and so long-term investors shouldn't panic. But expectations for the retailer's quick transition into a Nike-like global powerhouse need to be pulled back.
10 stocks we like better than Under Armour When investing geniuses David and Tom Gardner have a stock tip, it can pay to listen. After all, the newsletter they have run for over a decade, Motley Fool Stock Advisor, has tripled the market.*
David and Tom just revealed what they believe are the 10 best stocks for investors to buy right now... and Under Armour wasn't one of them! That's right -- they think these 10 stocks are even better buys.
Click here to learn about these picks!
*Stock Advisor returns as of January 4, 2017
Demitrios Kalogeropoulos owns shares of Nike and Under Armour (C shares). The Motley Fool owns shares of and recommends Nike, Under Armour (A shares), and Under Armour (C shares). The Motley Fool has a disclosure policy.