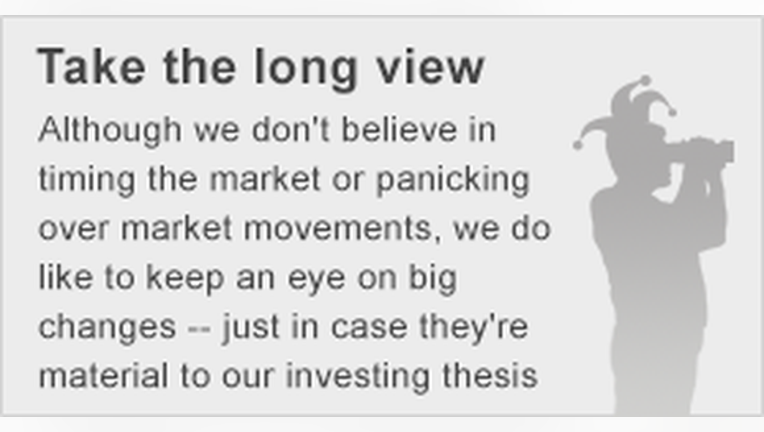 Image source: Ulta Salon, Cosmetics & Fragrance.
What: Shares of Ulta Salon, Cosmetics & Fragrance jumped on Friday after the company reported its first-quarter results. Ulta beat analyst estimates across the board, with comparable sales growing at a breakneck pace. At 11:15 a.m. EDT the stock was up about 9.5%.
So what: Ulta reported quarterly revenue of $1.07 billion, up 23.7% year over year and about $40 million higher than the average analyst estimate. Retail comparable sales rose 13.9% year over year, while e-commerce sales surged 38.8%. Total comparable sales, which includes e-commerce sales, rose 15.2%. Traffic rose 11%, while average ticket rose 4.2%.
Earnings per share came in at $1.45, up 39.4% year over year and $0.16 better than analyst expectations. Higher revenue and a 150 basis-point improvement in gross margin drove Ulta's earnings beat. Operating margin rose to 13.7%, up from 12.4% during the same period last year.
In addition to reporting positive results, the company raised its guidance for the full year. Comparable sales growth is now expected to be roughly 10% to 12%, up from a previous range of 8% to 10%. The company aims to grow per-share earnings by a low-twenties percentage, up from previous guidance calling for an 18% to 20% increase.
Now what: With much of the retail industry in a funk, Ulta's first quarter delivered in a big way. The company plans to open about 100 new net stores this year, increasing its square footage by about 11%. Combined with rapid comparable sales growth, Ulta expects revenue to grow by a high-teens percentage this year.
Ulta CEO Mary Dillon explained the elements driving the company's success. "Several positive factors are coming together to drive the momentum in our business, exemplified by the best comparable sales growth in our history as a public company. These include healthy consumer demand in the beauty category, our unique format and offering which are supporting sustained share gains, and effective collaboration across the enterprise to ensure strong execution of our growth strategies."
The article Why Ulta Salon, Cosmetics & Fragrance Stock Soared Today originally appeared on Fool.com.
Timothy Green has no position in any stocks mentioned. The Motley Fool owns shares of and recommends Ulta Salon, Cosmetics & Fragrance. Try any of our Foolish newsletter services free for 30 days. We Fools may not all hold the same opinions, but we all believe that considering a diverse range of insights makes us better investors. The Motley Fool has a disclosure policy.
Copyright 1995 - 2016 The Motley Fool, LLC. All rights reserved. The Motley Fool has a disclosure policy.