Why Ubiquiti Networks Inc. Stock Stumbled 21.3% in February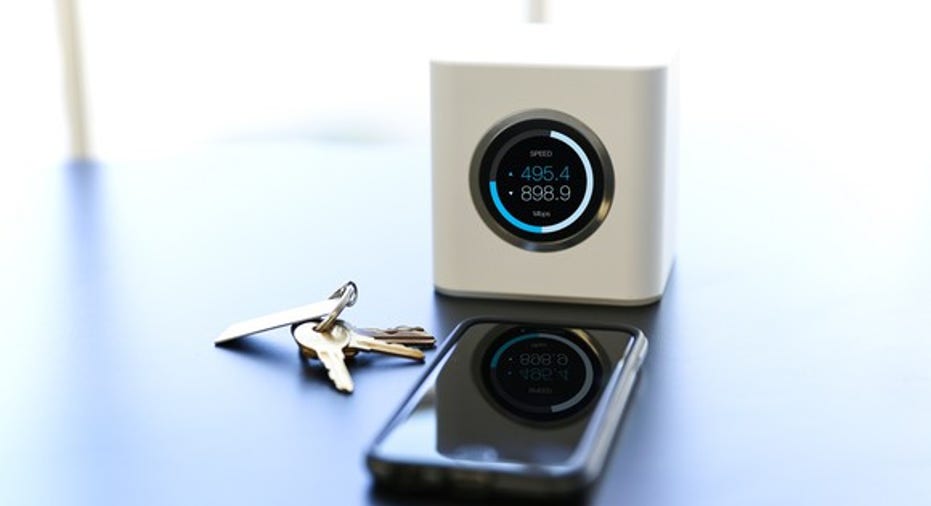 What happened
Shares of Ubiquiti Networks Inc.(NASDAQ: UBNT) declined 21.3% in the month of February,according to data provided byS&P Global Market Intelligence, after the network communications platform specialist announced disappointing fiscal Q2 2017 earnings.
So what
More specifically, Ubiquiti's quarterly revenue grew 31.9% year over year, to $213.5 million. That resulted in 20.9% growth in adjusted net income, to $60.1 million, and a 24.1% increase in adjusted net income per share, to $0.72. By comparison, Ubiquiti's guidance was for lower revenue of $200 million to $210 million and higher adjusted earnings per share of $0.73 to $0.79.
Ubiquiti Networks' sleek new AmpliFi wireless router. Image source: Ubiquiti Networks.
According to CEO Robert Pera during the subsequent conference call, the company's margins suffered for three primary reasons. First, Pera says Ubiquiti "misexecuted" the initial launch of its consumer-centric AmpliFi products, with last-minute production issues requiring a redesign that resulted in higher air shipment costs to ensure its channels would be filled with AmpliFi stock in time for the holiday season. Next, Ubiquiti had to be aggressive pricing its certain AirOS 8.0 products to drive adoption after backward compatibility issues were resolved with its older airMAX ac products. And finally, Ubiquiti is investing heavily in inventory centers in both the U.S. and Europe to reduce lead times and ensure channels remain adequately stocked for its operator community.
Now what
Ubiquiti also offered guidance for current-quarter revenue of $210 million to $220 million (above estimates at the time for $204.4 million) and adjusted earnings per share of $0.73 to $0.79 (compared to estimates for $0.77).
In the end, I tend to agree with Ubiquiti management's belief that it is prudent to sacrifice profits to ensure its latest products continue to take market share and drive growth. But our stock market isn't so patient. So while it's hardly surprising to see shares pull back hard given Ubiquiti Networks' execution issues last quarter, I think the drop represents a compelling opportunity for long-term investors to open or add to a position in Ubiquiti Networks stock.
10 stocks we like better than Ubiquiti NetworksWhen investing geniuses David and Tom Gardner have a stock tip, it can pay to listen. After all, the newsletter they have run for over a decade, Motley Fool Stock Advisor, has tripled the market.*
David and Tom just revealed what they believe are the 10 best stocks for investors to buy right now... and Ubiquiti Networks wasn't one of them! That's right -- they think these 10 stocks are even better buys.
Click here to learn about these picks!
*Stock Advisor returns as of February 6, 2017
Steve Symington has no position in any stocks mentioned. The Motley Fool recommends Ubiquiti Networks. The Motley Fool has a disclosure policy.