Why U.S. Steel, EnteroMedics, and McEwen Mining Slumped Today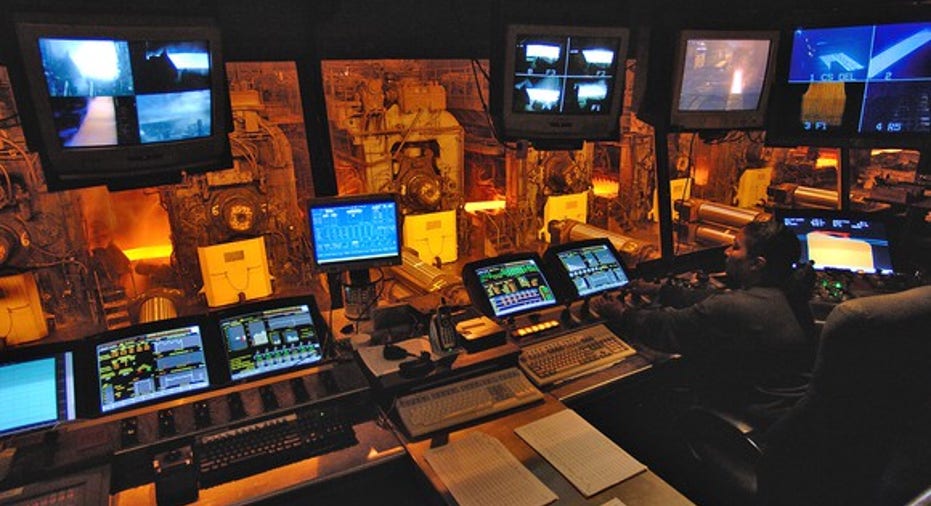 The stock market lost more ground on Friday, but major market benchmarks still managed to post healthy gains as 2016 drew to a close. Double-digit percentage gains for the year continued the bull market, and investors generally enjoyed positive momentum despite the sluggish levels of trading activity during the inter-holiday week. Nevertheless, some stocks suffered more precipitous declines, and U.S. Steel (NYSE: X), EnteroMedics (NASDAQ: ETRM), and McEwen Mining (NYSE: MUX) were among the worst performers on the last trading day of the year. Below, we'll look more closely at these stocks to tell you why they did so poorly.
Image source: U.S. Steel.
U.S. Steel: Too far, too fast?
U.S. Steel fell 5% as investors appeared to reassess the extent to which the steel company has climbed in the wake of the presidential election. Since early November, shareholders in U.S. Steel and its industry peers have gotten much more optimistic about the prospects for steelmakers, especially in light of announced policies promoting spending on infrastructure and construction projects. Yet with the stock having more than doubled since Nov. 2, some investors apparently decided that taking profits sooner rather than later was the prudent move, despite the tax impact from not waiting until next week to do so. Even after today's decline, U.S. Steel will have to see impressive success in tapping into anticipated higher demand in order to justify the share-price increase it has already seen -- let alone produce any further gains from current levels.
EnteroMedics moves lower from its reverse split
EnteroMedics plunged 18%, continuing its decline from earlier in the week. The Minnesota-based medical device company did a 1-for-70 reverse stock split, raising its share price from $0.04 per share to $2.80 following the move. However, what happens with many companies is that reverse splits often simply make it easier for short-sellers to continue to make negative bets against a company. That's been the case for EnteroMedics, which has dropped by nearly 30% since the split. One positive consequence has been that the company has retired nearly $19 million in convertible notes by issuing stock. Whether shares will hold their ground here or continue to fall remains to be seen, but with substantial losses, EnteroMedics needs to get its fundamental business in order if it wants to recover fully.
McEwen gives back its gains
Finally, McEwen Mining dropped 12%. The mining company had been among the market's biggest winners in Thursday's trading, with rising prices in the gold market helping to spur speculation that the conditions for the mining industry might start looking up in 2017. Yet today, investors reversed course in their view on precious metals, sending bullion prices lower and taking away all of yesterday's gains for McEwen and then some. Gold did manage to produce a yearly advance in 2016, but many are worried about fundamentals for the industry in light of rising interest rates and a strong U.S. dollar. Investors in McEwen can expect further volatility for the foreseeable future.
10 stocks we like better than United States Steel When investing geniuses David and Tom Gardner have a stock tip, it can pay to listen. After all, the newsletter they have run for over a decade, Motley Fool Stock Advisor, has tripled the market.*
David and Tom just revealed what they believe are the 10 best stocks for investors to buy right now...and United States Steel wasn't one of them! That's right -- they think these 10 stocks are even better buys.
Click here to learn about these picks!
*Stock Advisor returns as of Nov. 7, 2016.
Dan Caplinger has no position in any stocks mentioned. The Motley Fool has no position in any of the stocks mentioned. The Motley Fool has a disclosure policy.