Why Twitter's New Ad Format Costs $1 Million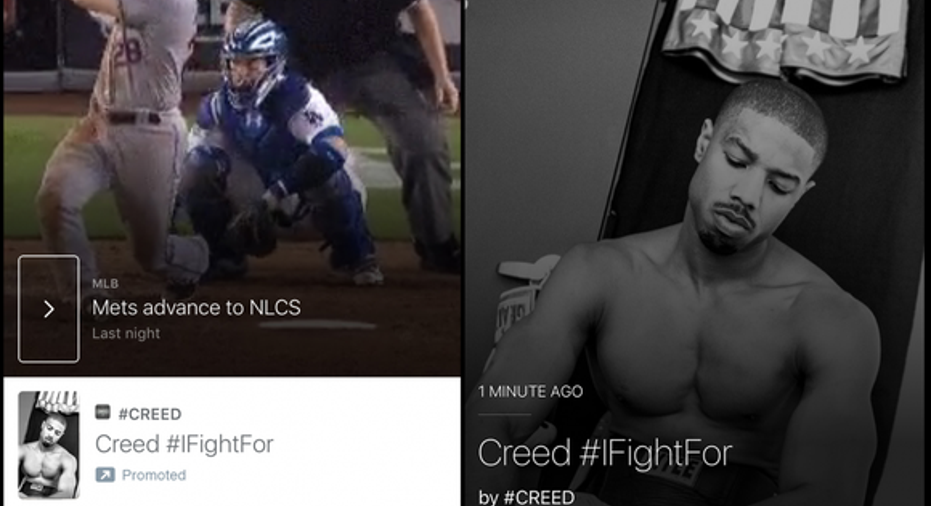 Just a couple of weeks after introducing the highly anticipated Moments feature, Twitter announced that it will offer advertisers the chance to buy the rights to curate a Moment themselves. The new Moments format allows Twitter to curate the best content on Twitter about a specific subject and tell the full story. Likewise, Promoted Moments let a brand tell their story, providing a compelling ad format.
Twitter's first Promoted Moment was for the movie "Creed." Source: Twitter.
But such an ad format will cost advertisers a pretty penny. Digiday reports that the asking price is currently set at $1 million. Brands don't even pay that much for a spot during Sunday Night Football -- the most watched weekly broadcast in America. While Twitter is capable of charging a premium in the early going, its prices will eventually come down.
The price is whatever customers are willing to payThere's good reasons for Twitter to charge $1 million for a Promoted Moment. Of course, the best reason is that advertisers are still willing to buy units at that price. But the reason there are buyers at that price is important to understand.
First, Twitter is making a big push with Moments. It's running an ad campaign including television commercials for the new feature, and it's opened Moments to everyone visiting Twitter whether they log in or don't. As a result, the attention Moments is receiving from Twitter users is relatively large compared with other parts of the company's flagship product, such as Promoted Trends.
Second, Moments is getting a lot of attention because of the novelty factor. On top of that, Promoted Moments are even more novel, so users may check them out through pure curiosity. That provides temporary additional value to the ad units.
Twitter wouldn't be the first social-media company to start out ad units at very high prices. Facebook's Instagram required a significant minimum ad spend to advertise on its network during the early days of monetization. It now uses a bidding system just like Facebook, and it's seen quite a bit of early success, drawing average ad prices nearly twice as high as Facebook's. Instagram still requires a minimum of $100,000 for full service ad campaigns that include using Facebook's ad tech.
Snapchat, meanwhile, started offering ads for its Discover platform at the substantial price of $100 per 1,000 views -- about twice what premium video platforms were charging at the time. Standalone ads for brands to create their own "Story" -- similar to Promoted Moments -- originally cost $750,000 in January.
But those prices don't last foreverLast month, Snapchat lowered the price of a promoted Story to just $100,000. Twitter could see Promoted Moments fall to similar prices after initial demand dries up. For reference, Snapchat has over 100 million daily active users, and Twitter has around 141 million daily users, based on its most recent ratio of DAUs to MAUs provided to its analysts.
To be sure, Twitter is capable of offering advertisers better feedback on how their Promoted Moments perform compared with Snapchat. Snapchat is working to improve in that area, however, and it partnered with Nielsen this summer to provide metrics such as completion rate and brand resonance. Still, Twitter can provide significantly better targeting and measurement features than Snapchat, enabling it to keep prices relatively high.
Twitter won't be able to maintain its million-dollar price tag for Promoted Moments, nor should it try. Strategically lowering the price to increase demand will help it find the equilibrium where it maximizes profit. The marginal cost and opportunity cost of running another Promoted Moment is practically $0 at this point, so any percentage increase in demand is worth an equal percentage decrease in price.
Meanwhile, Twitter can look to other ways of monetizing Moments besides a full-on brand takeover. The format is ripe for interstitial ads, considering it already herds users together by interests. Such ads would operate more like television commercials, and Twitter could charge less because it's more capable of increasing supply.
Twitter investors should be happy with Twitter's ability to garner $1 million for a Promoted Moment, but they shouldn't expect it to last. It will only be a matter of months before that price comes down significantly. In that time, investors should look for Twitter to expand its options to advertise against Moments, especially considering the amount of money it's investing in promoting the new feature and the hype it made in the run-up to its release.
The article Why Twitter's New Ad Format Costs $1 Million originally appeared on Fool.com.
Adam Levy has no position in any stocks mentioned. The Motley Fool owns shares of and recommends Facebook and Twitter. Try any of our Foolish newsletter services free for 30 days. We Fools may not all hold the same opinions, but we all believe that considering a diverse range of insights makes us better investors. The Motley Fool has a disclosure policy.
Copyright 1995 - 2015 The Motley Fool, LLC. All rights reserved. The Motley Fool has a disclosure policy.