Why Twilio Inc. Stock Skyrocketed Today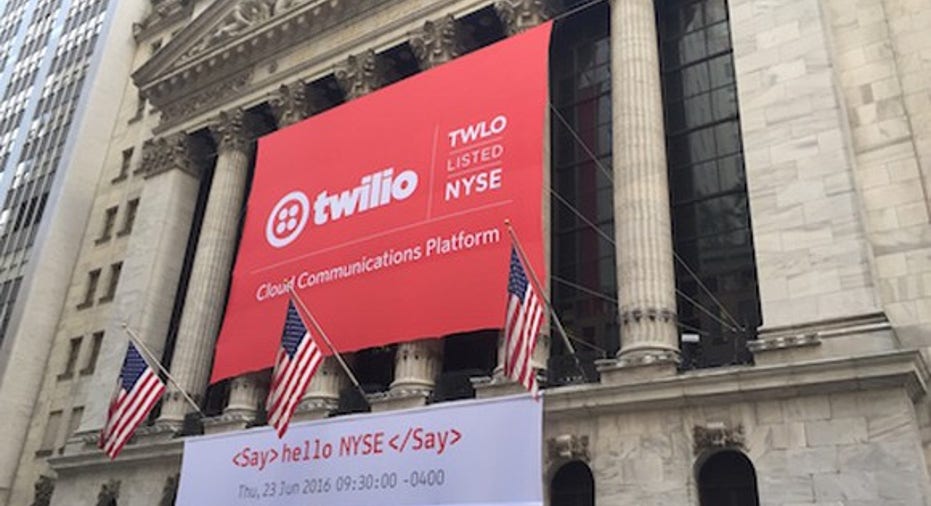 Image source: Twilio Inc.
What:Shares of Twilio Inc. skyrocketed 91.9% Thursday following the cloud-communications platform company's initial public offering.
So what:Twilio announced pricing of its IPO yesterday, for 10 million shares of Class A common stock, at a price of $15 per share -- above its proposed per-share range of $12 to $14 outlined in an updated IPO prospectus last week -- with all shares being offered by Twilio. Twilio also granted the underwriters of the offering a 30-day option to purchase up to 1.5 million additional shares of Class A stock at the IPO price.
In its first day of trading today, however, Twilio stock skyrocketed from that price to close at $28.79 per share.
Now what: Twilio is growing quickly, as revenue in 2015 jumped 88% year over year, to $166.9 million. But Twilio also isn't profitable yet; those sales translated to a net loss of $35.5 million in 2015, and Twilio followed with a net loss of $6.5 million through the first three months of 2016.
But it's not uncommon for tech companies to purposefully forsake bottom-line profitability in favor of driving revenue higher and taking market share in their early stages of growth. For perspective, Twilio's S-1 registration statementhighlights that an estimated $1.5 trillion was spent last year on IT communications services. And over time, Twilio believes a meaningful chunk of that $1.5 trillion will "migrate from existing hardware- and network-centric communications products to contextual-communications solutions that are integrated into software applications" such as its own platform.
I'm not particularly anxious to dive in and buy Twilio stock immediately after its IPO, especially given today's enormous pop. But its growth opportunity is admittedly compelling. At the very least, I think investors would be wise to add Twilio to their watch lists for further consideration once the dust settles.
The article Why Twilio Inc. Stock Skyrocketed Today originally appeared on Fool.com.
Steve Symington has no position in any stocks mentioned. The Motley Fool has no position in any of the stocks mentioned. Try any of our Foolish newsletter services free for 30 days. We Fools may not all hold the same opinions, but we all believe that considering a diverse range of insights makes us better investors. The Motley Fool has a disclosure policy.
Copyright 1995 - 2016 The Motley Fool, LLC. All rights reserved. The Motley Fool has a disclosure policy.