Why Tupperware Brands Corp. Rose 14.5% in April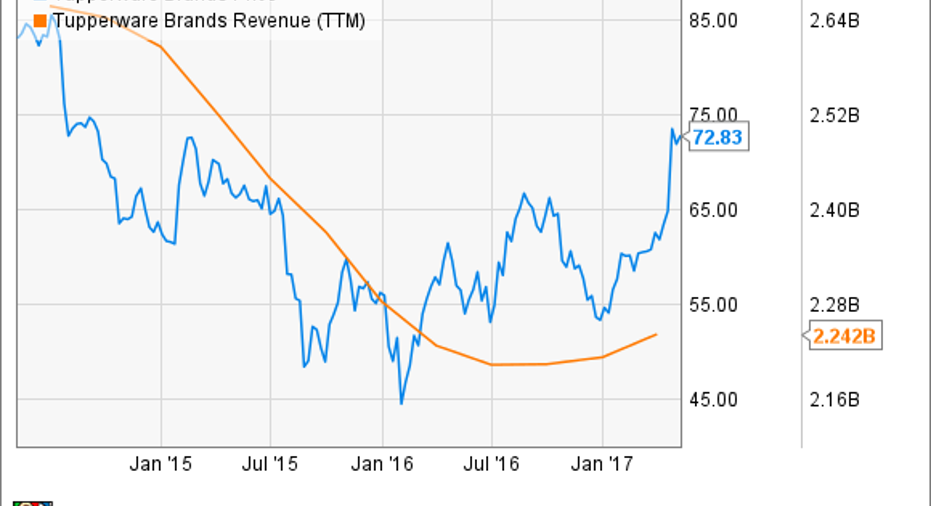 What happened
Shares of Tupperware Brands (NYSE: TUP) gained 14.5% in April 2017, according to data from S&P Global Market Intelligence.
So what
The longtime specialist in social sales networking reported first-quarter sales and earnings that rose above the top end of management's guidance ranges, easily exceeding Wall Street's consensus estimates. The company posted revenue and earnings per share growth of 6% and 11% year-over-year, respectively. Management gave credit for the surprise to solid fundamentals, plus an effective digital-sales strategy, and Tupperware shares skyrocketed 12% higher the next morning. The stock has been trading near two-year highs since.
Image source: Tupperware.
Now what
Tupperware's sales are on the rebound after a couple of difficult years, and share prices have followed suit. My fellow Fool Seth McNew likes the company's newfound love of diversification, in both products and markets. Two-thirds of its sales now derive from high-growth markets like Mexico and China. And its well-known range of household storage containers and other kitchenware has been joined by new lines such as cosmetics and skin care products.
You can buy Tupperware shares for just 14.5 times forward earnings today. They come with a solid -- but admittedly stagnant -- dividend. Tupperware hasn't raised its quarterly payout since early 2014, but the dividend yield still works out to a generous 3.7%.
All told, Tupperware is starting to look like a successful turnaround story. Strategy changes like the company's international foray tend to hurt in the short term, and this one certainly did. But investors are starting to reap the long-term rewards of that sacrifice now.
10 stocks we like better than Tupperware BrandsWhen investing geniuses David and Tom Gardner have a stock tip, it can pay to listen. After all, the newsletter they have run for over a decade, Motley Fool Stock Advisor, has tripled the market.*
David and Tom just revealed what they believe are the 10 best stocks for investors to buy right now... and Tupperware Brands wasn't one of them! That's right -- they think these 10 stocks are even better buys.
Click here to learn about these picks!
*Stock Advisor returns as of May 1, 2017
Anders Bylund has no position in any stocks mentioned. The Motley Fool has no position in any of the stocks mentioned. The Motley Fool has a disclosure policy.