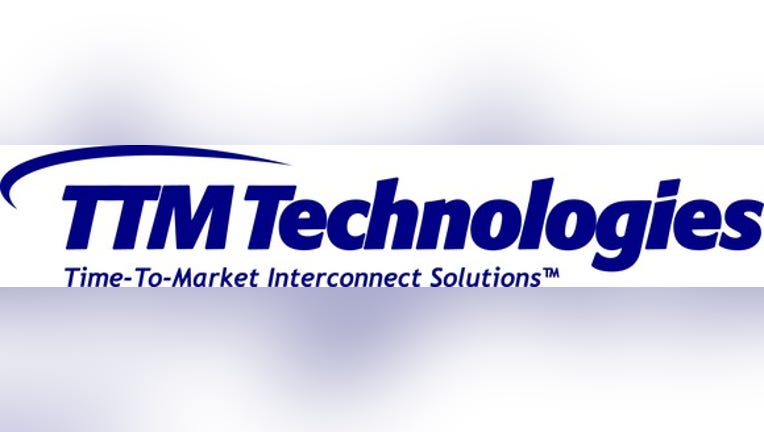 Image source: TTM Technologies.
What happened
Shares of TTM Technologies (NASDAQ: TTMI) have gotten crushed today, down by 11% as of 11:30 a.m. EST, after the company announced a secondary offering.
So what
The secondary offering will consist entirely of a large stockholder selling a substantial portion of its position. Su Sih (BVI) Ltd. Currently owns 27.5 million shares of TTM, which represents a 27.5% stake in the company, but is selling 12 million shares, or over 40% of its holdings. The underwriters have an option to purchase an additional 1.8 million shares. After the offering is completed, Su Sih will have either a 13.7% stake or a 15.5% stake in TTM remaining, depending on underwriter options.
Now what
Su Sih is a holding company that is wholly owned by Tang Hsiang Chien, who is the father of Tom C.Y. Tang, TTM's managing director of Asia-Pacific who also serves on the company's board of directors. Beyond this familial relationship, TTM says that it has not had a material relationship with Su Sih within the past three years related to its share ownership. This is also partially by design, as TTM set up a special security agreement in 2010 that specifically denied Tang Hsiang Chien from having any unauthorized access to classified information related to TTM's defense contracts. The holding company has been slowly reducing its position over the years. For instance, Su Sih had a 34% stake as of the end of 2011. Shares have rallied in 2016 to multiyear highs, so Su Sih may be taking the opportunity to cash out -- a move that certainly doesn't inspire a lot of confidence for public investors.
Forget the 2016 Election: 10 stocks we like better than TTM Technologies Donald Trump was just elected president, and volatility is up. But here's why you should ignore the election:
Investing geniuses Tom and David Gardner have spent a long time beating the market no matter who's in the White House. In fact, the newsletter they have run for over a decade, Motley Fool Stock Advisor, has tripled the market.*
David and Tom just revealed what they believe are the ten best stocks for investors to buy right now... and TTM Technologies wasn't one of them! That's right -- they think these 10 stocks are even better buys.
Click here to learn about these picks!
*Stock Advisor returns as of November 7, 2016.
Evan Niu, CFA has no position in any stocks mentioned. The Motley Fool has no position in any of the stocks mentioned. Try any of our Foolish newsletter services free for 30 days. We Fools may not all hold the same opinions, but we all believe that considering a diverse range of insights makes us better investors. The Motley Fool has a disclosure policy.