Why TripAdvisor Inc. Stock Plummeted 46% in 2016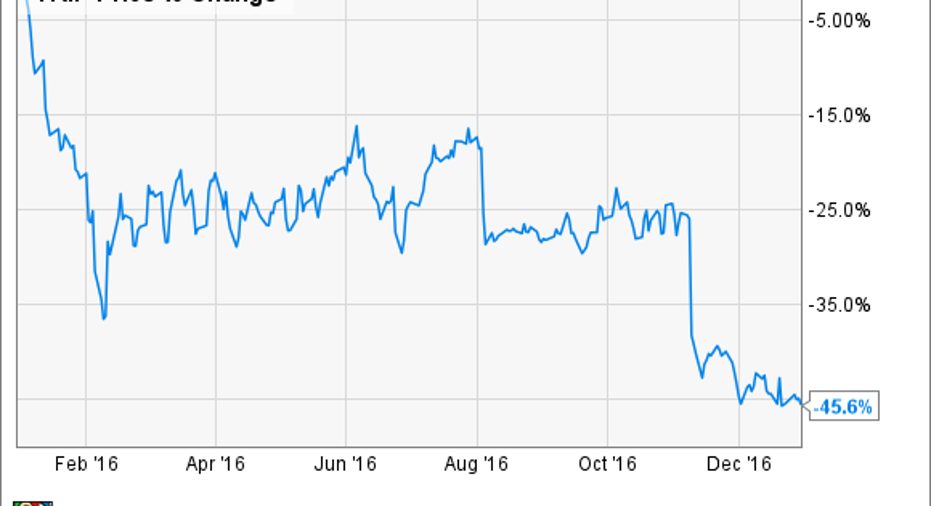 Image source: TripAdvisor.
What happened
Shares of TripAdvisor, Inc. (NASDAQ: TRIP) got trounced last year, falling 46%, according to data from S&P Global Market Intelligence. The travel advisory firm saw its stock slide as a strategic shift was slow to deliver the results promised, and the company missed the mark in its earnings reports.
As the chart below shows, the stock's slide came in two waves -- first amid the market slide at the beginning of the year, and then after its third-quarter results, which caused a sell-off at a time when the rest of the market was rallying on Donald Trump's election victory:
So what
Despite TripAdvisor's drop last year, the stock has still been an overall winner since its 2011 IPO, when it was spun off from Expedia (NASDAQ: EXPE), as it's gained 73% since then -- so last year's performance should be viewed in that context.
Still, there's no question that 2016 was a disappointment for the travel review site. The company has been working on diversifying away from its core ad-based model, and into services like hotel and flight bookings that put it into direct competition with online travel-agency leaders Expedia and Priceline Group (NASDAQ: PCLN). However, the result so far is that revenue growth has slowed suddenly, and new income has not yet materialized. Revenue is down 2% through the first three quarters and adjusted earnings per share have shrunk by 22% to $1.25.
TripAdvisor formed partnerships on its Instant Booking platform with Priceline in late 2015 and Expedia at the end of 2016, allowing consumers to book travel arrangements directly on its site. It also allows users to book hotels directly.
Now what
TripAdvisor management explains that the company is investing in the booking platform to generategrowth over the long term, and Expedia and Priceline have demonstrated that such a business can be highly profitable. However, TripAdvisor's business is still highly dependent on advertising, with about three-quarters of revenue generated by ads. Its non-hotel segment has been a bright spot, with revenue up by 35%, in part due to flight bookings on the platform.
Looking ahead to 2017, the company seems to be trending back toward revenue growth, though a stronger dollar could present yet another challenge. While this year should be better, TripAdvisor does not look ready to return to the blockbuster growth we saw back in 2014.
10 stocks we like better than TripAdvisor When investing geniuses David and Tom Gardner have a stock tip, it can pay to listen. After all, the newsletter they have run for over a decade, Motley Fool Stock Advisor, has tripled the market.*
David and Tom just revealed what they believe are the 10 best stocks for investors to buy right now... and TripAdvisor wasn't one of them! That's right -- they think these 10 stocks are even better buys.
Click here to learn about these picks!
*Stock Advisor returns as of Nov. 7, 2016
Jeremy Bowman has no position in any stocks mentioned. The Motley Fool owns shares of and recommends Priceline Group and TripAdvisor. The Motley Fool has a disclosure policy.