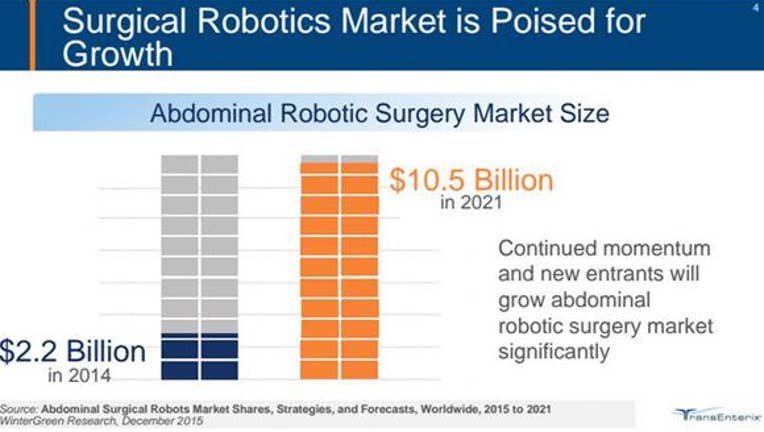 IMAGE SOURCE: TRANSENTERIX.
What: After establishing an at-the-market (ATM) offering earlier this month and one week ahead of its fourth-quarter earnings report, shares in TransEnterix were tumbling by 15.7% at 12:00 p.m. ET today.
So what: In anticipation of the launch of its first two systems for robotic surgery, shares in this upstart have been on a tear this year.
TransEnterix expects a Food and Drug Administration decision that may allow it to begin marketing its SurgiBot mobile robotic surgery system soon and previously it has indicated that it will begin marketing its larger ALF-X system in markets accepting the CE mark of approval this quarter, too.
If all goes well, these two products could put TransEnterix in position to win away market share from industry leader Intuitive Surgical . Intuitive Surgical's Da Vinci system dominates the market for robotic surgery and last year, Intuitive Surgical reported sales of $2.4 billion, up 11.9% from 2014.
Because marketing SurgiBot and ALF-X will require significant investments, TransEnterix announced on Feb. 10 that it has established an ATM offering facility. That facility gives the company the ability to sell shares in the secondary market at prevailing prices. Overall, the ATM facility gives TransEnterix the chance to raise a total of $43.6 million by Jan. 2017.
Now what: Intuitive Surgical is deeply embedded in large hospitals and wresting away customers won't be easy. TransEnterix will need to price its products aggressively and the company may be forced to market primarily to underpenetrated smaller hospitals that could result in longer sales lead times.
Exiting September, TransEnterix had $53 million in cash on the books, $4.8 million in short and current long-term debt due, and $15 million in long-term debt. That's not bad, but it wouldn't shock me if the company is already tapping its ATM facility to bulk up its stockpile ahead of these critical launches. Investors will find out if that's the case when TransEnterix reports its fourth-quarter financials on March 3.
Overall, the market for abdominal robotic surgical systems being targeted by TransEnterix is forecast growing from $2.2 billion to $10.5 billion in 2021 and that suggests that there could be plenty of running room ahead for this company.
However, because the company has yet to generate revenue or profit from its systems, buying this drop is probably best left to investors who can accept the risk of an FDA delay or a stumble related to the launch of TransEnterix robotic surgical systems.
The article Why TransEnterix Shares Are Crashing Today originally appeared on Fool.com.
Todd Campbell has no position in any stocks mentioned. Todd owns E.B. Capital Markets, LLC. E.B. Capital's clients may have positions in the companies mentioned.The Motley Fool owns shares of and recommends Intuitive Surgical. Try any of our Foolish newsletter services free for 30 days. We Fools may not all hold the same opinions, but we all believe that considering a diverse range of insights makes us better investors. The Motley Fool has a disclosure policy.
Copyright 1995 - 2016 The Motley Fool, LLC. All rights reserved. The Motley Fool has a disclosure policy.