Why TransCanada Corporation Shareholders Have Nothing to Worry About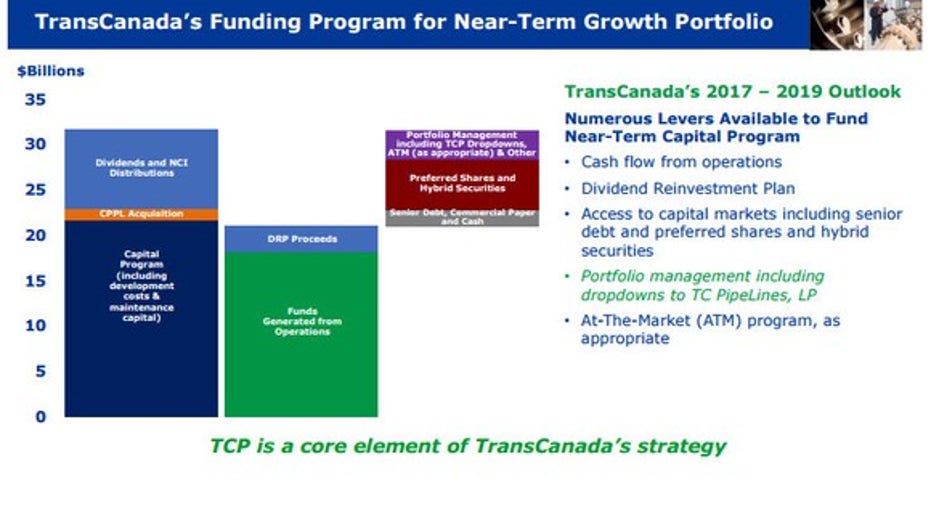 Canadian energy infrastructure giant TransCanada (NYSE: TRP) has an impressive 23 billion Canadian dollars' worth of projects in its near-term growth pipeline. However, what's equally remarkable is that it has most of the funding for that expansion already lined up, thanks to the clear visibility of future cash flows. While the company does have a gap to cover, it has several levers to pull, which is why investors have nothing to worry about when it comes to its ability to meet its growth expectations.
Drilling down into the backlog
In late 2015, TransCanada launched an aggressive dividend growth forecast after the company built a solid near-term project backlog that stood at CA$13 billion, while also lining up another CA$35 billion of commercially secured long-term projects that were waiting in the wings.As a result of the visible cash flow growth coming as it completed those projects, the company expected to accelerate its dividend growth rate from the 5% compound annual average it achieved over the previous five years up to an 8%-10% annual growth rate through 2020.
Image source: Getty Images.
That backlog, however, has changed dramatically over the past year and a half. The company has completed several projects, which it has since removed from the pipeline. However, instead of shrinking, that backlog has ballooned to CA$23 billion of near-term projects and CA$45 billion of longer-term projects. The biggest addition came when the company acquired U.S. gas pipeline company Columbia Pipeline Group, which added $7.1 billion of projects.
Minding the gap
However, as TransCanada's backlog has continued to expand, it also increased the company's need for capital to finance this growth, as well as its other needs, such as the commitment to pay a growing dividend to shareholders. Add it all up and the company needs more than CA$30 billion over the next three years. That said, as the following slide shows, thanks to its low-risk business model, whereby 95% of its cash flow comes from regulated assets or long-term contracts, it knows where it will receive about two-thirds of that capital:
Data source: TransCanada investor presentation.
While some might look at that from a glass half-full perspective and worry about the roughly CA$10 billion it needs to raise, those concerns should ease when we consider how the company plans to fund that gap.
One of TransCanada's many financing options is to drop down assets to its master limited partnership,TC Pipelines (NYSE: TCP). In fact, the company has recently offered to drop down two assets to TC Pipelines, consisting of its 49.3% stake in the Iroquois Gas Transmission System and the remaining 11.8% stake in the Portland Gas Transmission System. These deals follow up on last year's transaction to sell 49.9% of Portland Gas Transmission to TC Pipelines for $223 million. Furthermore, TransCanada has an ample supply of assets that it could drop down to TC Pipelines in the future, especially after spending more than $14 billion to acquire Columbia Pipeline Group and its MLP, Columbia Pipeline Partners, which also brought with them $7.1 billion of growth projects.
In addition, TransCanada has had open access to the capital markets during the downturn thanks to its low-risk business model and A-rated balance sheet. For example, the company launched a CA$4.2 billion bought deal offering last year to help finance the Columbia transaction. However, thanks to high demand, it raised a total of CA$4.4 billion. Later that year, it launched another equity offering, this time seeking CA$3.2 billion to repay a portion of the bridge debt used to finance the deal, but it ended up raising CA$3.5 billion thanks to robust demand. Finally, it announced a CA$500 million preferred share offering last November, only to boost the offering to CA$1 billion due to high demand.
Meanwhile, it was able to use its A-rated balance sheet to secure up to CA$10.3 billion in bridge loan financing to support its acquisition of Columbia Pipeline Group last year. It has since paid down that loan via the equity offerings and asset sales. Given how easy it was for the company to obtain that credit, it shouldn't have any issues tapping the debt markets to finance growth projects if needed.
Investor takeaway
While TransCanada appears to have a significant financing gap to fill over the next few years, investors have no reason to worry. That's because the company has several funding options at its disposal to fill that gap easily. As a result, investors can rest easy knowing that the pipeline giant shouldn't have any issues executing on its ambitious growth plan.
10 stocks we like better than TransCanadaWhen investing geniuses David and Tom Gardner have a stock tip, it can pay to listen. After all, the newsletter they have run for over a decade, Motley Fool Stock Advisor, has tripled the market.*
David and Tom just revealed what they believe are the 10 best stocks for investors to buy right now... and TransCanada wasn't one of them! That's right -- they think these 10 stocks are even better buys.
Click here to learn about these picks!
*Stock Advisor returns as of February 6, 2017
Matt DiLallo has no position in any stocks mentioned. The Motley Fool has no position in any of the stocks mentioned. The Motley Fool has a disclosure policy.