Why Toyota's C-HR Could Be a Bigger Win Than Investors Might Realize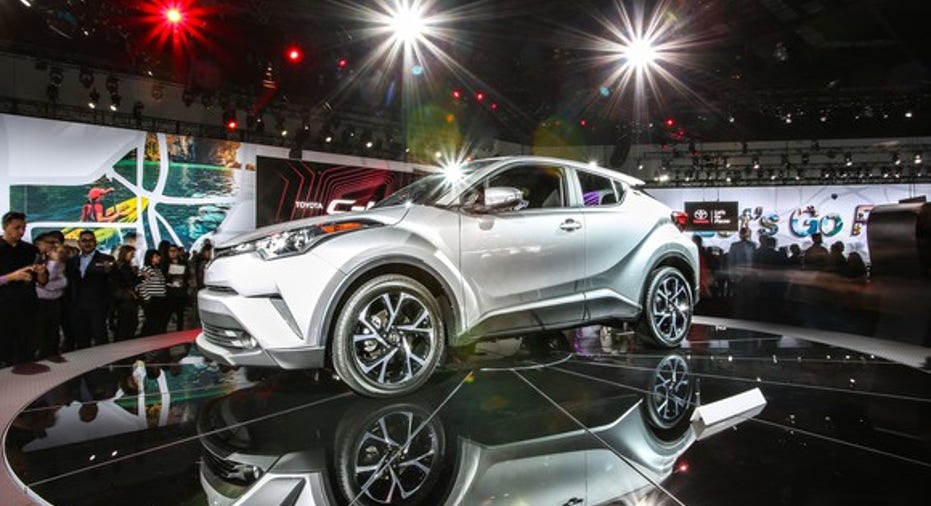 Toyota's 2018 C-HR subcompact crossover will debut in Japan before landing in America. Image source: Toyota Motors.
Toyota Motors (NYSE: TM) once created a brand to try to break out of the bland, boring, and efficient stereotype its vehicles had gained: the Scion. Initially, the brand seemed promising and had a couple of hits before slowly fading into irrelevancy. But in a way, Scion's heart beats on within Toyota's 2018 C-HR, a vehicle that is surprisingly edgy and bold for the Japanese automaker.
Booming market
Stop me if you've heard this before: This year, SUVs are flying out of dealership lots while passenger cars are collecting dust. Because of that, it's important for automakers to be ahead of the curve with SUV and crossover trends, since they represent higher transaction prices and fatter bottom-line margins than non-luxury passenger cars. That's a good thing for investors: With vehicle sales plateauing in the U.S. market, the more high-dollar, high-margin SUVs/crossovers an automaker can sell, the better for salvaging its growth story.
The good news is that Toyota's C-HR will be joining a booming segment, the subcompact crossover, which has only emerged within the past half-decade (and that's being generous). Sales in this segment jumped 31% through the first 11 months of 2016, despite the overall market plateauing compared to the prior year. However, look at how many new competitors have recently jumped into the segment a couple of years ahead of Toyota's C-HR.
Data source: GoodCarBadCar.net.Chart by author.2016 data estimated by author based on sales data through first 11 months of 2016.
General Motors' (NYSE: GM) Buick Encore was ahead of the game for Detroit automakers, which are typically known for their SUV offerings. Right behind it was Fiat Chrysler Automobiles' (NYSE: FCAU) Jeep Renegade, which looks to take advantage of Jeep's brand name in a newer SUV segment. And not even shown on the graph above is Ford Motor Company's (NYSE: F) upcoming EcoSport.
"More people are choosing to spend their time and money sharing experiences with friends and family instead of buying more stuff," said Chantel Lenard, executive director of Ford U.S. marketing, in a November press release. "EcoSport fits perfectly into this growing lifestyle. It's our smallest SUV, packed with features and personality."
Ford's upcoming EcoSport. Image source: Ford Motor Company.
The good news for Toyota
It might come as a surprise to many investors and SUV fans that despite Detroit's well-known prowess for producing SUVs, some of the most popular models in terms of sales volume are actually Japanese. Toyota's RAV4 is currently the best-selling SUV or crossover in the U.S. through November, and it's the fifth-best-selling vehicle overall. Nissan's Rogue and Honda's CR-V are the next closest SUVs/crossovers, before Ford's Escape finally checks in. That showing is positive news for investors in Toyota, who hope the company can keep cranking out incremental SUV sales in the world's most profitable automotive market, America.
"If you like it, you love it. If you don't like it, you never will," said Hiroyuki Koba, chief engineer of the C-HR, according to Automotive News. "We are looking for customers who disliked Toyota before. We want to turn their heads."
That's exactly what Toyota's C-HR is going to have to do if it wants to achieve its goal of conquesting higher than the company's average of 20% -- essentially meaning only 20% of its customers come directly from other brands and reach 170,000 sales annually worldwide. Stealing consumers directly from competitors is critical for success in the automotive industry because it's expensive to lure consumers who are loyal to another brand without compelling designs and popular vehicles.
Toyota's C-HR has its work cut out for it, to be sure, but it has a fighting chance in the increasingly competitive subcompact crossover segment because its discontinued Scion brand got the ball rolling on changing Toyota's boring stereotype -- which might prove a more valuable long-term win for investors than the C-HR itself.
10 stocks we like better than Toyota Motor When investing geniuses David and Tom Gardner have a stock tip, it can pay to listen. After all, the newsletter they have run for over a decade, Motley Fool Stock Advisor, has tripled the market.*
David and Tom just revealed what they believe are the 10 best stocks for investors to buy right now...and Toyota Motor wasn't one of them! That's right -- they think these 10 stocks are even better buys.
Click here to learn about these picks!
*Stock Advisor returns as of Nov. 7, 2016.
Daniel Miller owns shares of Ford and General Motors. The Motley Fool owns shares of and recommends Ford. The Motley Fool recommends General Motors. Try any of our Foolish newsletter services free for 30 days. We Fools may not all hold the same opinions, but we all believe that considering a diverse range of insights makes us better investors. The Motley Fool has a disclosure policy.