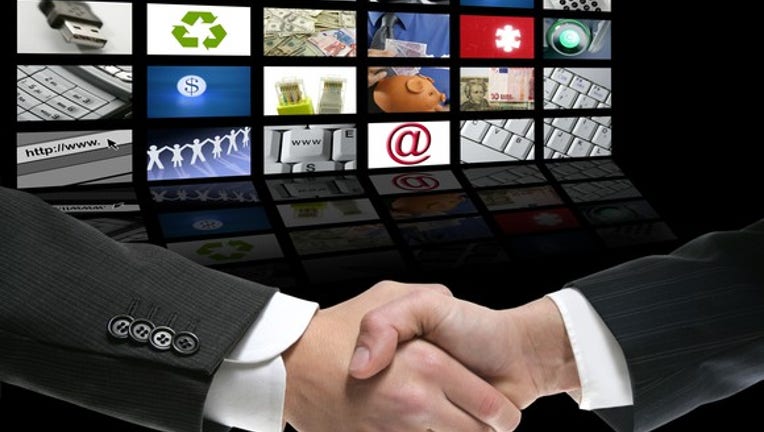 What happened
Shares of TiVo (NASDAQ: TIVO) jumped as much as 13.9% higher on Thursday morning, sparked by a strong fourth-quarter report.
So what
This was the second quarterly report to be filed after the old Rovi company merged with TiVo and adopted the acquisition target's more widely known corporate brand.
In the fourth quarter, the new TiVo reported sales of $252 million and $0.08 of earnings per diluted share, based on $9.8 million of unadjusted net income. In the year-ago period, the pre-merger companies saw a combined $261 million in top-line revenues and $26.5 million of bottom-line net income.
Image source: Getty Images.
Now, the results included a lot of merger-related costs. Backing out items such as integration costs, amortization of intangible assets, and stock-based compensation, TiVo's adjusted pre-tax earnings landed at $90.8 million or $0.76 per share. Rovi reported $49 million of adjusted pre-tax income a year ago and TiVo, Inc.'s comparable metric was close to breakeven. From this perspective, the total results already improved a great deal.
Now what
The company also chose to introduce a brand-new dividend policy, with quarterly payouts of $0.18 per share. At current share prices, that works out to a 3.4% annual yield. There's also a share buyback policy, allowing for $150 million of open-market repurchases. Ithas gotten off to a good start on its new post-merger life. The solid financial results rested on the closing of several high-profile technology licensing deals in the quarter, and management is looking for more of these wins coming up ahead.
This is one of those cases where two plus two equals something more than four. The new TiVo is well equipped to make a difference -- and a good living -- in the increasingly digital world of entertainment and broadcasting.
10 stocks we like better than TiVoWhen investing geniuses David and Tom Gardner have a stock tip, it can pay to listen. After all, the newsletter they have run for over a decade, Motley Fool Stock Advisor, has tripled the market.*
David and Tom just revealed what they believe are the 10 best stocks for investors to buy right now... and TiVo wasn't one of them! That's right -- they think these 10 stocks are even better buys.
Click here to learn about these picks!
*Stock Advisor returns as of February 6, 2017
Anders Bylund has no position in any stocks mentioned. The Motley Fool has no position in any of the stocks mentioned. The Motley Fool has a disclosure policy.