Why Tile Shop Holdings, Inc. Stock Popped Today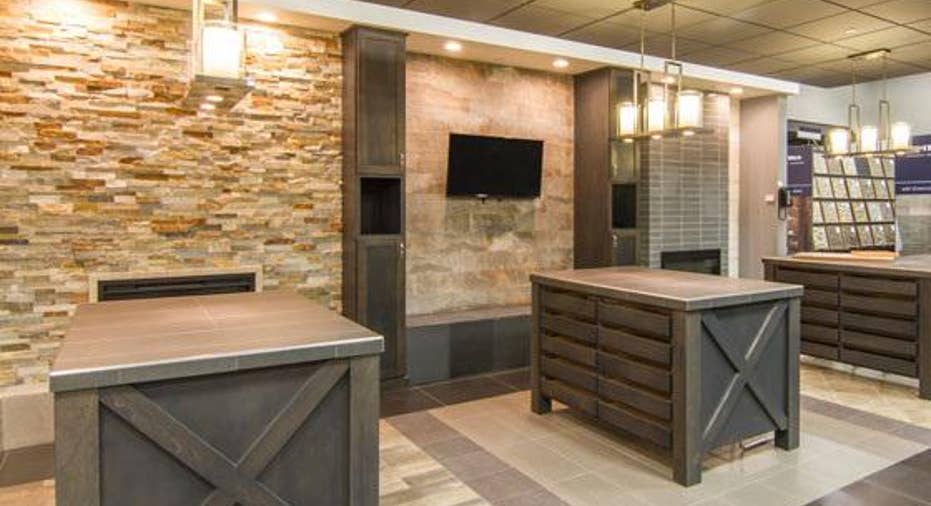 IMAGE SOURCE: TILE SHOP HOLDINGS.
What:Shares ofTile Shop Holdings rose nearly 16% Tuesday after the company announced stronger-than-expected first-quarter 2016 results.
So what:Quarterly revenue increased 16.1% year over year, to $84.7 million, driven by a combination of new stores and 13.2% comparable-store sales growth. Gross margin also increased 60 basis points to 70.5%, thanks to improved margin on customer delivery revenue and inventory control process improvements. That translated to adjusted net income of $7.2 million, up from $4 million in last year's first quarter, and adjusted earnings per diluted share of $0.14, up from $0.08 per share in the same year-ago period.
Analysts, on average, were expecting adjusted earnings of just $0.11 per share on revenue of $80 million.
Tile Shop Holdings CEO Chris Homeister called it a "tremendous start to 2016" and said that "[o]ur continued efforts against our key initiatives concluded with another quarter of very strong results and significant momentum for our business."
Now what:As a result, Tile Shop also increased its full-year outlook, calling for revenue of $320 million to $329 million (up from previous guidance for $312 million to $325 million), comparable-store sales growth in the mid to high single digits (up from low to mid single digits previously), gross margin of 70% (up from 69% to 70%), and adjusted earnings per share of $0.40 to $0.45 (compared to previous guidance of $0.37 to $0.43). By comparison, analysts' consensus estimates called for full-year 2016 revenue of $320.7 million, and earnings of $0.41 per share.
In the end, this is a cut-and-dried case of Tile Shop continuing to deliver on its strategic initiatives and outperforming expectations. Given appeased concerns of slowing growth and on the heels of a solid first year under Homeister, who took the reins at the beginning of 2015, I think investors are right to celebrate the continued momentum Tile Shop demonstrated today.
The article Why Tile Shop Holdings, Inc. Stock Popped Today originally appeared on Fool.com.
Steve Symington has no position in any stocks mentioned. The Motley Fool owns shares of and recommends Tile Shop Holdings. Try any of our Foolish newsletter services free for 30 days. We Fools may not all hold the same opinions, but we all believe that considering a diverse range of insights makes us better investors. The Motley Fool has a disclosure policy.
Copyright 1995 - 2016 The Motley Fool, LLC. All rights reserved. The Motley Fool has a disclosure policy.