Why Thor Industries, Alexion Pharmaceuticals, and Berry Plastics Jumped Today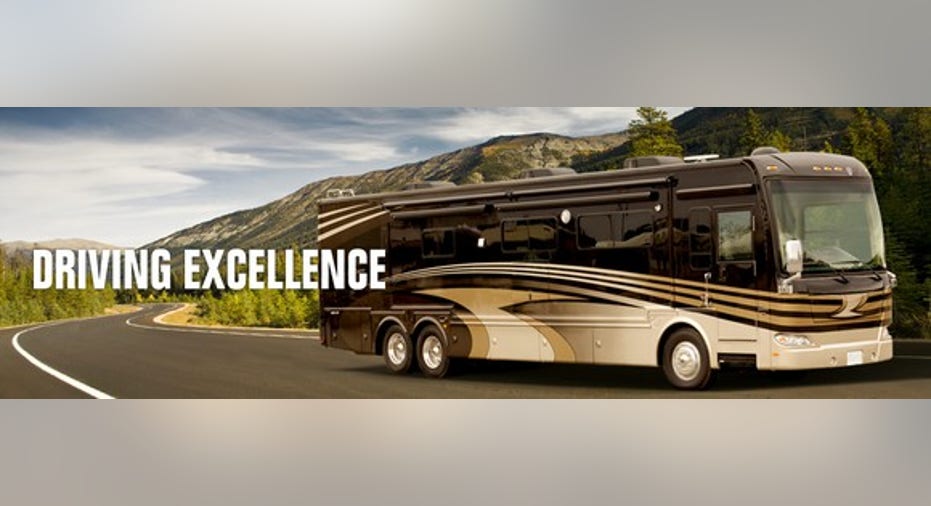 Tuesday was a solid day for the stock market, as major market benchmarks regained a bit of their lost ground from yesterday's session. Within the stock market, crosscurrents hit various sectors. A drop in oil hurt many energy companies, but strength in the healthcare industry helped to offset some of the losses in the oil patch. Moreover, some individual companies fared especially well, and Thor Industries (NYSE: THO), Alexion Pharmaceuticals (NASDAQ: ALXN), and Berry Plastics (NYSE: BERY) were among the best performers. Below, we'll look more closely at these stocks to tell you why they did so well.
Image source: Thor Industries.
Thor rides the RV industry higher
Thor Industries jumped 13% after reporting extremely strong third-quarter financial results Monday afternoon. The maker of recreational vehicles and related accessories reported huge gains in revenue that largely stemmed from the company's acquisition of industry peer Jayco earlier this year. Yet even on an organic basis, Thor produced strong growth, and both the motorized and towable RV segments were successful. Perhaps most encouraging was the fact that Thor sees an influx of younger customers getting into the RV space, boosting sales of entry-level RVs that could represent a brand-new generation of consumers who are more likely to keep buying vehicles far into the future. With record results, Thor is poised to keep climbing higher.
Alexion gets some love
Alexion Pharmaceuticals climbed 5% in the wake of receiving an analyst upgrade from professionals at Barclays. The analysts changed their rating on the biopharmaceutical company, raising it from equal weight to overweight and setting a price target of $155 per share, or more than a fifth higher than its current level. Some investors believe that given all the mergers and acquisitions activity in the healthcare space right now, Alexion might be a viable takeover target. At the same time, allegations of fraudulent sales practices have many shareholders nervous about Alexion, but if an internal investigation of those allegations turns out well, then the stock might well bounce back. With strong sales of its Soliris treatment for a couple of rare blood disorders, Alexion appears to be gaining traction in the industry.
Berry has a good report
Finally, Berry Plastics gained 9%. The plastics manufacturer reported record net sales for its 2016 fiscal year, and adjusted net income per share jumped by nearly half during the fiscal fourth quarter compared to the previous year's period. Some of the top-line gains came from Berry's acquisition of Avintiv, and sluggish results in the consumer packaging and engineered materials areas might have raised some eyebrows among investors. Nevertheless, investors appear to be excited about Berry's growth prospects, and with the company's pending merger with AEP Industries, Berry's future could become even brighter, especially if broader industry conditions manage to improve.
10 stocks we like better than Thor Industries When investing geniuses David and Tom Gardner have a stock tip, it can pay to listen. After all, the newsletter they have run for over a decade, Motley Fool Stock Advisor, has tripled the market.*
David and Tom just revealed what they believe are the 10 best stocks for investors to buy right now... and Thor Industries wasn't one of them! That's right -- they think these 10 stocks are even better buys.
Click here to learn about these picks!
*Stock Advisor returns as of November 7, 2016
Dan Caplinger has no position in any stocks mentioned. The Motley Fool recommends Thor Industries. Try any of our Foolish newsletter services free for 30 days. We Fools may not all hold the same opinions, but we all believe that considering a diverse range of insights makes us better investors. The Motley Fool has a disclosure policy.