Why This Analyst Loves Kratos Defense & Security Stock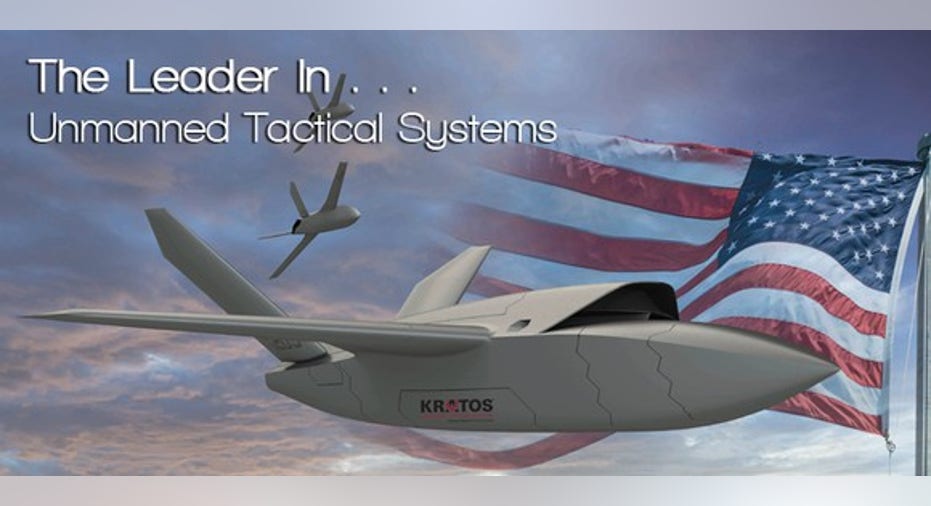 Every day, Wall Street analysts upgrade some stocks, downgrade others, and "initiate coverage" on a few more. But do these analysts even know what they're talking about? Today, we're taking one high-profile Wall Street pick and putting it under the microscope...
Up more than 50% over the past since its lows of last November -- and up nearly 17% in the past week alone! -- shares of Kratos Defense & Security Solution (NASDAQ: KTOS) are flying high. But one analyst thinks this tiny company that builds drone warplanes could fly even higher.
This morning, Seaport Global Securities announced it is initiating coverage of Kratos stock with a buy rating and a $10 price target that implies Kratos shares could soar a further 22% over the next 12 months. Here are three things you need to know about that.
Kratos makes drones -- but will it ever make a profit? Image source: Getty Images.
1. A boom in defense
As explained this morning in a write-up on StreetInsider.com, Seaport's major reason for recommending Kratos at this time is its belief that President Donald Trump will spark a new boom in defense spending in the United States.
"Defense spending," writes Seaport, has reached a "cyclical bottom" in the wake of the Obama presidency, and the U.S. Pentagon is now on a "war footing toward strategic adversaries." This suggests that in the future, defense spending will focus less on weapons systems targeting low-intensity, guerilla conflict, and more on high-tech weapons capable of taking on a near-peer adversary such as "China/Russia."
While drone-building rivals such as Boeing, AeroVironment, and General Atomics all have popular drone systems on the market (ScanEagle, Raven, and Predator respectively), these are generally propeller-driven, slow-moving beasts. In contrast, Kratos leads at the bleeding edge of developing fast, jet-powered drones designed to be more survivable on a contested aerial battlefield. Kratos has at least three separate drone systems currently under contract to the Pentagonthat are designed to deal with near-peer threats.
2. Kratos' "core competencies"
Furthermore, Seaport argues that Kratos also has three "core competencies" that position it well to benefit from a boom in defense spending: unmanned aerial vehicles, yes, but also "training" and "satcom." Three competencies do not line up with Kratos' business divisions exactly, but are incorporated into just two of them:
Kratos Government Solutions, which handles the company's training and satcom work, is Kratos' biggest unit at $466 million in annual revenue. It's also the company's only profitable business, earning $17.3 million in operating profit last year (a 3.7% operating profit margin).
Unmanned Systems, i.e. drones, is the company's smallest business at $76 million in annual revenue. It's unprofitable with nearly $28 million in losses booked last year, according to S&P Global Market Intelligence information.
3. Where Kratos is winning
Despite the financial losses, Seaport argues that Kratos' drones division will ultimately make this stock a winner: "KTOS's high performance aerial drones are in a recap cycle with two large pending orders set to double the business." And in fact, Kratos just announced two more drone contract victories -- albeit they are unlikely to "double" anybody's revenue anytime soon.
On Wednesday, Kratos was awarded $1.6 million to help with "system engineering, avionics, data links and ground systems" work on a new "High Performance Jet Powered Unmanned Aerial Drone System." (Presumably the award relates to Kratos' UTAP-22 Tornado drone prototype, but this is not stated explicitly.)
One day later, Kratos announced it has been tapped to serve as subcontractor to privately held Dynetics to work on Phase II of DARPA's Gremlins drone program -- for a sum so low that the company didn't even bother to disclose it.
Final thing: Mind the fine print (and the small numbers)
But remember: Kratos' drone business produces $76 million in annual revenue already. A pair of contracts of such low dollar value that, combined, they probably don't add up to even $4 million, will probably not move the needle at Kratos -- much less double the business, and much,much less make it profitable.
Meanwhile, Kratos is just coming off a quarter that showed its total sales growing only 10% year over year (a rate that would take seven years to double revenue) while the company continued to lose money and burn cash. And guidance for the current year calls for revenue climbing to perhaps $710 million, an increase of only 3% over 2016 levels.
In short, while Seaport Global makes a valiant effort to explain why Kratos stock might be worth buying if it wins some big contracts, so far it's the "big contracts" part of the equation that remains missing. Until Kratos starts putting some real, big numbers on its income statement, I fear Seaport's prediction of a $10 stock price is little more than a pipe dream.
10 stocks we like better than Kratos Defense and Security SolutionsWhen investing geniuses David and Tom Gardner have a stock tip, it can pay to listen. After all, the newsletter they have run for over a decade, Motley Fool Stock Advisor, has tripled the market.*
David and Tom just revealed what they believe are the 10 best stocks for investors to buy right now... and Kratos Defense and Security Solutions wasn't one of them! That's right -- they think these 10 stocks are even better buys.
Click here to learn about these picks!
*Stock Advisor returns as of February 6, 2017
Rich Smith has no position in any stocks mentioned. The Motley Fool recommends AeroVironment. The Motley Fool has a disclosure policy.