Why These 3 Stocks Soared in 2015: Nike Inc, Home Depot Inc, and The Kroger Co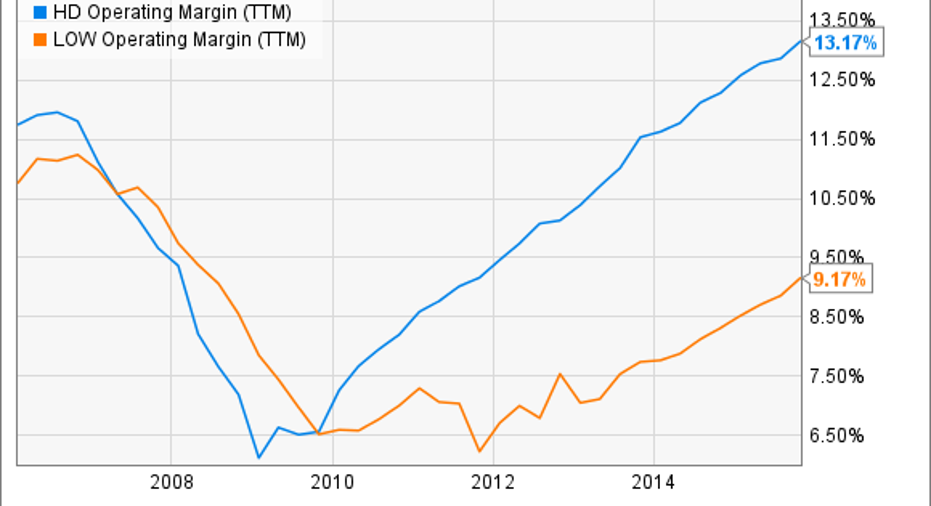 2015 was a rough year for many consumer goods stocks. Giants like Wal-Mart and Whole Foods struggled to find growth as spending moved online and as customers stuck to tight shopping budgets.
But a few consumer-facing companies managed to post awesome sales and profit gains last year. Today I'm looking at three such stocks:Nike , Kroger , and Home Depot . These companies each managed to trounce the market in 2015, according to S&P Capital IQ data.
Kroger's market-share gains At the start of the year, Kroger's management projected that the supermarket chain would grow comparable-store sales by a healthy 3.5% as earnings rose by 11%. Yet that forecast proved to be conservative by a wide margin.
Kroger's latest guidance, issued in December, calls for comps to rise by as much as 5.25% in fiscal 2015 as earnings spike higher by 15%, significantly above Kroger's long-term target of about 10% annual profit improvements.
Kroger has booked four straight quarters of greater than 5% comps gains. Data source: Company financial filings.
That outperformance was powered by market-share gains at both the upper and lower ends of the grocery market. Kroger has eaten away at Whole Foods' competitive advantage by using aggressive pricing to build a blockbuster organic food business. Its Simple Truth franchise last year became its fastest corporate brand to reach $1 billion in annual sales.
Meanwhile, Kroger has kept winning customer traffic from Wal-Mart in major markets, illustrated by its third-quarter comps figure of 5.4%, compared to Wal-Mart's 1.5% uptick. Management sees many more opportunities for growth in the year ahead, in areas such as organic food, home grocery delivery, and new corporate brands. That's why Kroger is planning to spend over $3 billion on capital projects in 2016 -- all while still delivering significant profit growth.
Nike's global portfolio Wal-Mart was the worst-performing stock in the Dow, but Nike was the blue-chip index's biggest percentage-point gainer in 2015. That result was particularly impressive given that over half of the shoe giant's business comes from outside of the United States, where foreign currency swings sapped the reported profits of most global companies last year.
Image source: Nike.
Yet strong sales growth and tight expense management made the difference for Nike. Over the six months ended on Nov. 30, the company posted 12% higher revenue even as gross profit margin improved from 46% to 47% of sales. Meanwhile, overhead costs rose at a slower pace than sales, which helped the company book a 21% spike in net income, to $1.6 billion. "Our powerful global portfolio of businesses, combined with strong financial discipline continue to drive significant shareholder value," CEO Mark Park said in a press release.
Nike's future orders also rose sharply last quarter, which suggests strong revenue gains to start off 2016. However, investors will likely see a drop in profitability in the spring as the company works through excess inventory that's built up in the U.S. market.
Home Depot's operating and financial wins Many factors went into the record year that was 2015 for Home Depot. And yes, those include a steadily rising housing market that was outside of management's control. Capital spending on private residential buildings, according to official statistics, rose to a $620 billion annual pace in Q3 of 2015, up from $555 billion a year earlier.
But Home Depot's story isn't just about being in the right place in the right time. The company is growing faster than competitor Lowe's, most recently posting 7.3% higher comps against its smaller rival's 5% uptick.
Profitability figures show an even more dramatic contrast between the two chains: Home Depot's operating margin has more than doubled since the bottom of the housing market crisis, while Lowe's remains in single digits.
HD Operating Margin (TTM) data by YCharts.
Management's focus for the year ahead includes more big bets on e-commerce, which has so far kept Home Depot insulated from the fierce challenge from online-only retailers. If the company can keep improving its delivery and store-pick-up business -- and if the housing market churns higher still -- then shareholders might see another lucrative year in 2016.
The article Why These 3 Stocks Soared in 2015: Nike Inc, Home Depot Inc, and The Kroger Co originally appeared on Fool.com.
John Mackey, co-CEO of Whole Foods Market, is a member of The Motley Fool's board of directors. Demitrios Kalogeropoulos owns shares of Home Depot, Nike, and Whole Foods Market. The Motley Fool owns shares of and recommends Nike and Whole Foods Market. The Motley Fool recommends Home Depot. Try any of our Foolish newsletter services free for 30 days. We Fools may not all hold the same opinions, but we all believe that considering a diverse range of insights makes us better investors. The Motley Fool has a disclosure policy.
Copyright 1995 - 2016 The Motley Fool, LLC. All rights reserved. The Motley Fool has a disclosure policy.