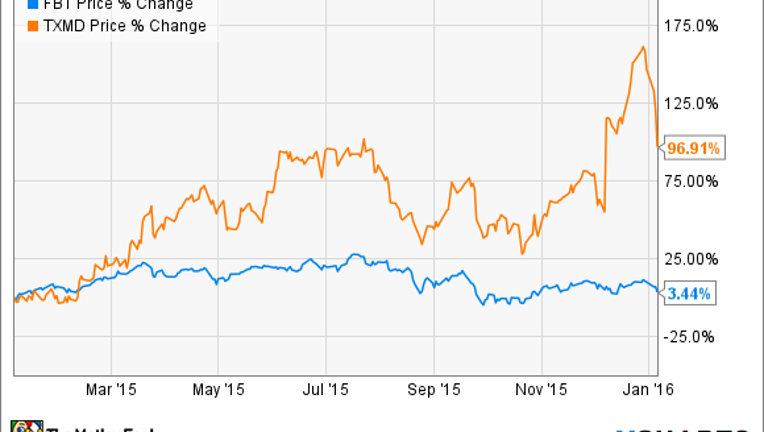 What: Shares ofTherapeuticsMD ,a drug manufacturer with a focus on women's health, were down by more than 10% as of 3:00 p.m ET Wednesday after news broke that the company was raising capital via a share offering.
So what: The Florida-based company announced that it plans to sell $125 million worth of its common stock in a secondary share offering. It also will be providing the deal's underwriters a 30-day option to purchase up to an additional 15% of the shares of common stock, which could bring the total deal value to roughly $143 million.
TherapeuticsMD management is planning to use the proceeds to help fund commercialization activities related to TX-004HR, its leadcompound that is being researched as a treatment formoderate to severe dyspareunia, or vaginal pain during sexual intercourse.
Investors do not appear to be thrilled with the news that they are being tapped for more money, hence shares are tanking today.
Now what: Its been a rough day to have money invested in the healthcare space as many exchange-traded funds that focus on the industry are being sold off. For example, the First Trust NYSE Arca Biotech ETF , which holds a collection of biotech stocks, is off by more than 3% today so it's possible that TherapeuticsMD simply picked a bad day to raise capital.
Still, even after this downward move, shareholders of TherapeuticsMD have done quite well for themselves over the past year. Shares have nearly doubled in value after the company released good clinical news related to TX-004HR, which leaves the returns of theFirst Trust NYSE Arca Biotech ETF in the dust.
If you are a long-term believer in the future prospects of TX-004HR, then I see no reason to be concerned with today's sell-off.
The article Why TherapeuticsMD Inc. Is Tanking Today originally appeared on Fool.com.
Brian Feroldi has no position in any stocks mentioned. The Motley Fool has no position in any of the stocks mentioned. Try any of our Foolish newsletter services free for 30 days. We Fools may not all hold the same opinions, but we all believe that considering a diverse range of insights makes us better investors. The Motley Fool has a disclosure policy.
Copyright 1995 - 2016 The Motley Fool, LLC. All rights reserved. The Motley Fool has a disclosure policy.