Why the Overhauled 2017 Buick Encore Is Big for General Motors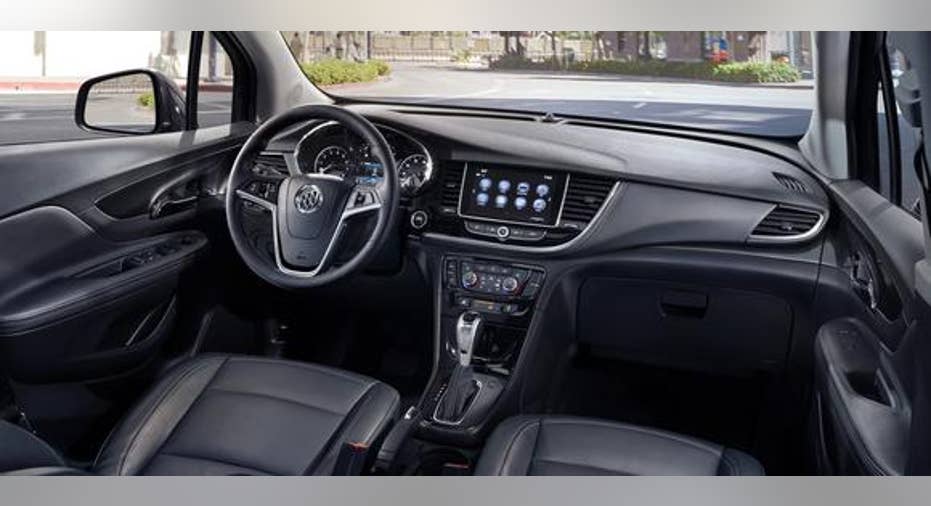 The 2017 Buick Encore gets a new front-end fascia and grille, a more upscale interior, and some new technology. Image source: General Motors.
General Motors just gave its hottest-selling Buick a makeover. (Yes, believe it or not, there's a hot-selling Buick, and it's pretty important.)
The General took the wraps off of the 2017 Buick Encore at an event in New York on Tuesday.The refreshed Encore gets a new front-end treatment similar to that on other recent Buick models, along with a nicely upgraded interior and a bunch of new high-tech amenities.
Your humble Fool was at the New York event and spent some time with a pair of overhauled Encores. The 2017 revamp isn't an elaborate redesign, but it's a solid set of upgrades for a model that has put up surprisingly strong sales figures in markets around the world.
Quietly, the Encore has become a big hit for GM around the worldWe've heard a lot of talk in recent months about U.S. auto sales, which might (might) be at or near a cyclical peak. Lately, a lot of brands that have posted big growth numbers in the years since 2009 have seen that growth stall.
Still, the little Buick Encore keeps posting terrific year-over-year sales gains for General Motors. U.S. sales of the Encore were up 38% in 2015,on top of a53%year-over-year gain in 2014. And the growth has continued: Encore sales were up another 29% this year through February.The Encore has posted year-over-year monthly sales gains for the last 26 months.
It's not just a U.S. story, either. GM doesn't break out model-by-model sales figures for its vast China operation, but it did say that between the U.S. and China, it sold over 140,000 Encores last year. With just over 67,000 sold in the U.S. in 2015, that means it sold even more in China, where demand for small premium SUVs has been exceptionally brisk.
The Opel Mokka is a near-twin to the Encore, and it will also get a revamp for 2017. Image source: General Motors.
Its near-twin has also been a big hit for GM's struggling Opel brand in Europe: Over 500,000 units of the Encore's sibling, the Opel Mokka, have been sold in Europe in its three years on the market, GM said recently.
A strong contender gets some updates for 2017Once we look past the "Buick" nameplate, it's not hard to figure out why the Encore has been such a strong seller: It's a strong contender in a "sweet spot" of the market.
Over the last few years, small premium SUVs have been big sellers in major markets around the world, and the Encore is a good one at a good price. It's a small crossover SUV with a quiet ride, smooth handling, and an upscale look and interior that starts at just over $24,000. A well-equipped one runs about $29,000 -- a nice price for a model that can hold its own against some luxury-brand rivals. And like most of its brand-mates, it gets very good marks for quality and durability. The Encore was thehighest-ranked small SUVin the latest J.D. Power Vehicle Dependability Study, which measures three-year reliability -- beating out not only GM's Detroit rivals, but also strong-selling models from bothToyotaandHonda.
The Encore's 2017 revamp doesn't change that equation, it just updates it. The Encore's new grille gives it a familial resemblance to the handsome new 2017 Buick Lacrosse sedan. Buicks in general suffered from somewhat bland styling for years, but a strong design point of view has emerged recently under Brian Nesbitt, the brand's well-regarded design chief. It's a good look for the old brand.
The 2017 Buick Encore's interior has been given a complete overhaul for 2017. It's a well-finished, upscale design that improves on the prior model's somewhat cluttered dash. Image source: General Motors.
The interior has been given a complete overhaul, moving the overall look of the Encore a bit further upscale. There's some new technology, too, including the latest edition of GM's IntelliLink infotainment system with a new 8" touchscreen and upgraded smartphone connectivity.
Another good step forward for GM's premium-brand revampThe revamped Encore is one of four new or overhauled Buicks coming to the U.S. market this year. Buick's continued success in China has prompted GM to make more investments in its old brand.
GM is always careful to call Buick a "premium" brand rather than a "luxury" brand, so as to avoid stepping on Cadillac's turf. But where Cadillac is making an all-out effort to beat the big German luxury brands at their own game, GM is aiming Buick at a somewhat different spot, lining it up against other premium-but-not-quite-luxury brands like Honda's Acura brand andFord'sLincoln (which is in the midst of an overhaul itself, with China in mind.)
Given Buick's recent reputation as an old-folks' brand, it seems a somewhat unlikely contender against polished premium offerings from the likes of Acura. Lately, though, Buick has more than held its own, in sales, quality ratings, and critical reviews.
For investors, here's the takeaway: GM's recent string of strong, margin-boosting new or revamped products looks set to continue when the revamped Encore hits dealers later this year.
The article Why the Overhauled 2017 Buick Encore Is Big for General Motors originally appeared on Fool.com.
John Rosevear owns shares of Ford and General Motors. The Motley Fool owns shares of and recommends Ford. The Motley Fool recommends General Motors. Try any of our Foolish newsletter services free for 30 days. We Fools may not all hold the same opinions, but we all believe that considering a diverse range of insights makes us better investors. The Motley Fool has a disclosure policy.
Copyright 1995 - 2016 The Motley Fool, LLC. All rights reserved. The Motley Fool has a disclosure policy.