Why the Nintendo Switch Really Costs More Than $299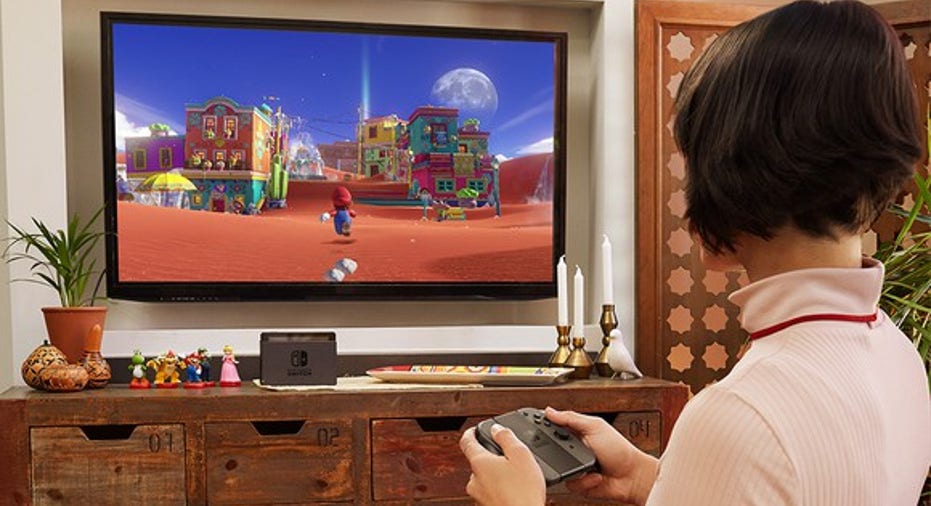 Nintendo (NASDAQOTH: NTDOY) has repeated a formula with its Switch console that worked for its original Wii.
The company has delivered a family friendly gaming system that may not have the horsepower and fancy graphics of its rivals from Microsoft (NASDAQ: MSFT) and Sony (NYSE: SNE) but competes well when it comes to being fun to play. Nintendo has targeted younger players and fans of all ages of its enduring franchises including Legend of Zelda, Super Mario Bros., and others.
What the console-maker has not done with Switch is continue the pricing strategy it's used with Wii. That device was cheaper than Microsoft and Sony's top-tier consoles at the time. That gave Nintendo an edge with families and even made it a stronger option for people who already owned an Xbox or a PlayStation.
The Switch however is not cheaper than its rivals. In fact, despite its $299 base price, it's actually the most expensive standard-model console on the market right now.
The Nintendo Switch has been sold out at many stores. Image source: Nintendo.
What does the Nintendo Switch cost?
While it's next-to-impossible to find a base model Switch due to it being out of stock pretty much since it launched, if you could find one it would set you back $299. That's the same price as Sony's cheapest PS4 bundle, and $50 more than Microsoft's Xbox One. And, unlike its two rivals which are sold as bundles with a game at those prices, Switch does not come with one.
Without a game the Switch is of absolutely no value. PS4 and Xbox One can use apps including all the major streaming services, and while Nintendo plans that for its console, at the moment, the Switch is strictly a game console.
Like games for PS4 and Xbox One, a new Switch title can cost as much as $60 (more for special edition versions). There are however a number of older titles from previous Nintendo consoles that can be downloaded in Switch's online store that are as cheap as under $10. These games, some of which date back to the 90s, are fun but not really substitutes for the latest Zelda game or the upcoming Mario Kart, which are the games most people are buying the console for.
What are Switch's other hidden costs?
One of the more misleading things from early Switch ads and promotions is the idea that the device's Joy-Con controller is enough for two people. The innovative joystick does split into two pieces and it can be used by two separate players from very basic games (like 1-2 Switch which was created to show off the technology). For most games however, you will want a second full-sized controller or another set of Joy-Cons with a second docking station (the innovative way Nintendo turns the two little controllers into one).
If you always intend to play alone this won't be an issue, but since most Switch titles are meant to be played with others most people will want to invest in a second one. That's not a small cost as unlike Xbox One and PS4 where there are cheaper models and even refurbished controllers on the market for around $35, a Switch controller costs at least $79.99. That may come down over time, but for now it's a significant added expense that along with a game means that most people buying the console will spend close to 50% more than its base price.
Is the Switch worth it?
While it's more expensive than it seems, Switch does offer strong value. It has games that appeal to more-involved gamers while also offering a bunch of accessible titles that might appeal to more casual players. The console was designed to be family friendly and Nintendo has delivered on that.
In addition, the fact that Switch works as a portable tablet, as well as hooked up to a television adds value. It's fair to say that the $299 list price for the console does not buy you everything you need to play. That's an important fact to know before you consider buying one.
It's also worth noting that constrained supplies have pushed some retailers to offer mostly bundled sets which include a console as well as games and other items you may or may not want. Whereas the Xbox and PS4 bundles tend to be very good deals -- especially the ones offered during the holiday season -- that has so far not been the case for the Switch.
Gamestop, for example, has a Switch bundle for $499.99 guaranteed to ship by May 5 (though it may be sold out by the time you read this). The bundle includes the base console Mario Kart and The Legend of Zelda: Breath of the Wild along with its digital expansion pack, and a memory card. The games, plus the expansion pack are worth $140, while the SanDisk Ultra 128GB microSDXC UHS-1 Card with Adapter retails for $59.99. Assuming you want all of those things, you will still be paying a slight (around $20) premium for the bundle, and you will still need an extra controller.
With Switch Nintendo has a fun gaming system that may keep it in the console business. Initial hype could cause consumers to overpay for bundles, or even pay a premium in the resale market. Ultimately, though, supply will catch up with demand, and at its base price Switch is worth it, especially for families, but you need to consider the true cost before buying the console.
10 stocks we like better than NintendoWhen investing geniuses David and Tom Gardner have a stock tip, it can pay to listen. After all, the newsletter they have run for over a decade, Motley Fool Stock Advisor, has tripled the market.*
David and Tom just revealed what they believe are the 10 best stocks for investors to buy right now... and Nintendo wasn't one of them! That's right -- they think these 10 stocks are even better buys.
Click here to learn about these picks!
*Stock Advisor returns as of April 3, 2017
Teresa Kersten is an employee of LinkedIn and is a member of The Motley Fool's board of directors. LinkedIn is owned by Microsoft. Daniel Kline owns shares of Microsoft. The Motley Fool has no position in any of the stocks mentioned. The Motley Fool has a disclosure policy.