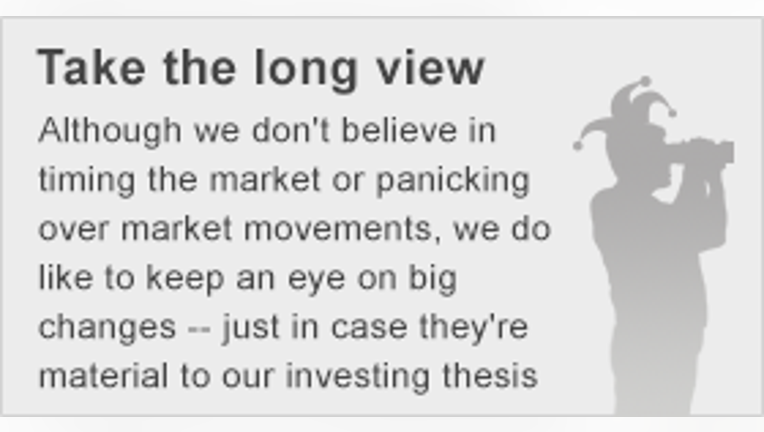 What: The Mosaic Company watched its shares fall 10.5% last month. That caps a year in which the stock declined just shy of 40%. That's better than fertilizer competitor Potash , which saw its shares fall around 50% in 2015, but not much.
So what:The story at Mosaic is pretty much the same as at Potash: The price of food commodities, like grain, have been weak. Although neither of these companies sells such products, they do sell fertilizers, which are a vital part of the crop-growing process. So when farmers feel the pinch of lower prices, there's a trickle-down effect as they pull back on their farming operations.
So the logical reaction by farmers to pull back has led to an oversupply of fertilizer. To give a sense of the scope of the issue, the company's revenues in both its phosphates and potash segments were down in the third quarter because of lower volumes and lower pricing. The company's international distribution was up, but that was because added volume from an acquisition offset a decline in pricing. In other words, it's tough in fertilizers right now.
That's unlikely to change in the near term. In fact, competitor CF Industries noted in its third-quarter earnings release that it expects fertilizer volumes to be up year over year in 2016, but that oversupply is the real driving force for pricing right now. So there's no light at the end of the fertilizer tunnel just yet.
Now what:Mosaic's shares have been hit hard by the broad commodity downturn. That said, we all need to eat, and the fertilizer the company sells is a vital part of the growing process. The company is also still turning a profit despite the tough operating environment. But conservative investors are probably best avoiding Mosaic, Potash, and CF at the moment. However, contrarian types willing to take on some uncertainty may be well rewarded by a deep dive here when supply and demand finally come back into balance. The question is, how long will you have to wait?
The article Why The Mosaic Company's Shares Fell More Than 10% in December originally appeared on Fool.com.
Reuben Brewer has no position in any stocks mentioned. The Motley Fool has no position in any of the stocks mentioned. Try any of our Foolish newsletter services free for 30 days. We Fools may not all hold the same opinions, but we all believe that considering a diverse range of insights makes us better investors. The Motley Fool has a disclosure policy.
Copyright 1995 - 2016 The Motley Fool, LLC. All rights reserved. The Motley Fool has a disclosure policy.