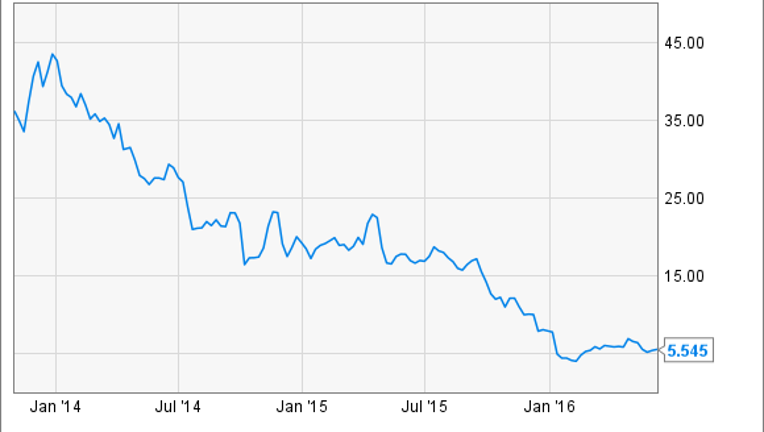 Image source: The Container Store
What: Shares of specialty retailer The Container Store fell 24.2% in May, according to data from S&P Global Market Intelligence. The stock surged in late April after the company reported earnings, but those gains were erased in May as reality set in.
So what: The Container Store has been a huge disappointment since going public in 2013. The stock currently trades for about $5.50 per share, 88% below its all-time high. The company has struggled to grow comparable-store sales, and its profit margins have declined due to higher costs.
Data by YCharts
The Container Store reported its fiscal fourth quarter results on April 25. The numbers were mixed relative to analyst estimates, with the company slightly beating on revenue and missing on earnings. However, a 0.2% rise in comparable-store sales sent the stock rocketing higher. In just a few days, the stock soared about 30%.
The Container Store's quarter was much better than the company expected. Its previous guidance called for a comparable-sales drop of 3% to 5%, but the company's outlook for fiscal 2016 wasn't great. Comparable-store sales between a 1.5% loss and a 0.5% gain are expected, along with earnings per share between $0.20 and $0.30. Following the late April surge in the stock, the price-to-earnings ratio based on the midpoint of this guidance stood at a whopping 30 times. That's pretty high for a company struggling as much as The Container Store.
It's no wonder, then, that those gains were erased in May, bringing the stock back to Earth.
Now what: The Container Store has managed to report comparable-store sales growth for three straight quarters, which is a major improvement. But another issue is that the company isn't very profitable. Operating costs are way too high at 55.2% of revenue during fiscal 2015. This means the company either needs to seriously cut costs or that it simply isn't selling nearly enough product in each store. With anemic sales growth, growing its way out of the problem doesn't seem likely.
While investors were initially thrilled with The Container Store's fourth quarter results, sending the stock soaring, the mood cooled quickly in May as those gains were erased.
The article Why The Container Store Stock Dropped 24% in May originally appeared on Fool.com.
Timothy Green has no position in any stocks mentioned. The Motley Fool owns shares of and recommends The Container Store Group. Try any of our Foolish newsletter services free for 30 days. We Fools may not all hold the same opinions, but we all believe that considering a diverse range of insights makes us better investors. The Motley Fool has a disclosure policy.
Copyright 1995 - 2016 The Motley Fool, LLC. All rights reserved. The Motley Fool has a disclosure policy.