Why The Container Group, Inc. Stock Dropped 23% in January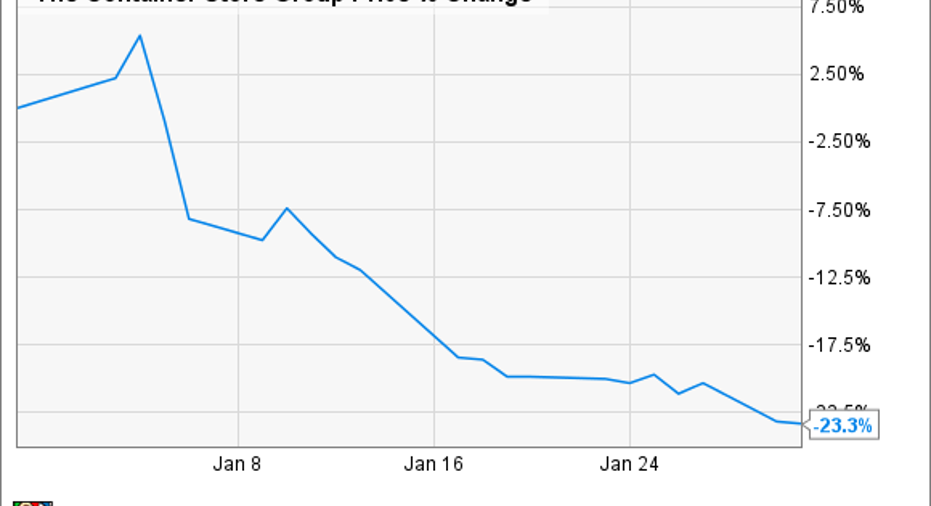 What happened
Shares ofThe Container Store, Inc.(NYSE: TCS) were getting squeezed last month as the struggling retailer got hammered by weakness in the sector and some analyst downgrades.
Image source: The Container Store.
Though there was little company-specific news out during the month, those developments were enough to send the stock down 23% according to data from S&P Global Market Intelligence. As the chart below shows, the stock started falling on January 6, when department-store chains began reporting disappointing holiday sales, and it continued to slide from there.
So what
The Container Store shares fell 7.3% on January 6 afterMacy's(NYSE: M) andKohl's(NYSE: KSS) reported disappointing results in November and December. Comparable sales fell at both department-store chains, and they were forced to lower the earnings estimates for the quarter.
The news seemed to confirm what investors already suspected: that traditional retailers would lose the holiday season toe-commerce vendors. That conclusion weighed on The Container Store as the struggling organization-themed chain seems unable to find its niche in the larger retail industry, a problem that only grows with the rise of e-commerce.
Later in the month, the stock was downgraded to a "strong sell" by Zack's and to "underweight" byMorgan Stanley.
Now what
The Container Store brief history as a publicly traded stock has been nothing but painful for investors. The company debuted on the market with promising expansion plans and positive comparable sales, but comps quickly turned negative, and it has struggled to deliver a meaningful profit.
With competition from home-furnishing giant IKEA and e-commerce players, the investing thesis for The Container Store never seemed all that convincing. The company will report third-quarter earnings tomorrow, February 7. Analysts are expecting an $0.11 per-share profit and revenue of $218 million.
10 stocks we like better than The Container Store GroupWhen investing geniuses David and Tom Gardner have a stock tip, it can pay to listen. After all, the newsletter they have run for over a decade, Motley Fool Stock Advisor, has tripled the market.*
David and Tom just revealed what they believe are the 10 best stocks for investors to buy right now...and The Container Store Group wasn't one of them! That's right -- they think these 10 stocks are even better buys.
Click here to learn about these picks!
*Stock Advisor returns as of February 6, 2017.
Jeremy Bowman has no position in any stocks mentioned. The Motley Fool owns shares of The Container Store Group. The Motley Fool has a disclosure policy.